Advertisement
Click Logo For Information
Mercadel Motorsports Has High Hopes For 2007 Season After One Year Bout With Katrina!
November 30, 2006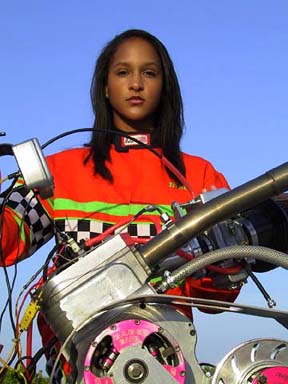 Rebekah Mercadel

Rebekah Mercadel, born in New Orleans, Louisiana and now living in Fort Worth, Texas (via Hurricane Katrina) is the driver of the Mercadel Motorsports Top Alcohol Jr. Dragster. She is making a name for herself around the country, but not in the way one would expect this 14 year old to perform. In 2004 she won the "Mahalia Jackson Music Award of Excellence." Although she is a talented singer, she has chosen to perform on a different stage… the DRAGSTRIP! She is one of about 8,500 National Hot Rod Association (NHRA) junior drag racers and one of a very few licensed minority top alcohol junior drivers in the country. Her race car is about fifteen feet long and goes from ZERO to 85mph in just SEVEN SECONDS!

Mercadel Motorsports, consisting of driver-Beka, crew chief / dad- Michael, mom- Kelly, sister- Gabrielle and brother- Joshua, has been burning up the asphalt from Texas to Florida and all points in between for four years. A racing season for the Mercadel's may consist of between thirty to forty events per year (i.e. racing and show appearances). Since Hurricane Katrina, they have only competed in twelve events. Despite the lack of racing this year, Beka still had some bright spots in 2006. She had one final round and four semi-final appearances.

Hurricane Katrina temporarily split up the family for nine months sending her dad who is employed by American Airlines to Dallas/Fort Worth, while the rest of the family stayed in Springfield, Illinois with family members. Michael reflecting on the days after the storm said, "My wife and I were more worried about our children's mental state than our home in New Orleans. Gabrielle (12), and Joshua (9), seemed to have taken things a little better than Beka." "Even though racing was not high on the priority list, we knew a few weeks after the hurricane that this is exactly what Beka needed. "That cockpit was the only normal thing to her, and we had to get her back into her race car," said Kelly, Beka's mom.

Two months after the hurricane, Beka finally got her chance and returned to the track. She competed at the Halloween Nationals just outside of St. Louis, MO. at Gateway International Raceway and won five rounds of racing on the first day and came just two rounds short of making it to the finals. Beka has tasted victory many times. Just two months before Katrina hit, Beka won the "King of the Coast Bracket Series" race in Gulfport, Mississippi. It came only six weeks after she suffered a top end crash that sent her rushing to the 'ER' in Hattiesburg, Mississippi and sidelined her for a month. "Most adults would have quit after less circumstances," said Beka's dad, Michael. He recalls Beka asking him on the way to the hospital, "How bad is the car?" Gaylon Rolisen and Tommy Castanedo, founders of bracketnews.com and the "King of the Coast Bracket Series", surprised Beka with a special Sportsmanship Award for not only being brave to race again after her crash, but to race and win their event.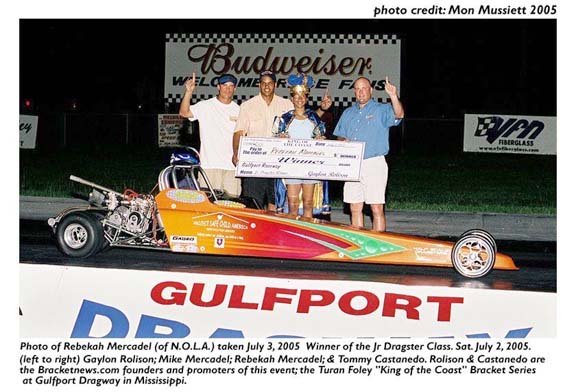 Despite criticism from some family and friends about the dangers of the sport, Beka is undaunted. She sums it up the best; "How many girls get to drive a race car from ZERO to 85 MPH in just seven seconds? Besides, there's not a sport out there that you can't get injured in (i.e. gymnastics, volleyball, softball, basketball etc.) It's especially cool beating the boys!" Beka has been learning more than just driving a race car, she has also been active in her community working on her people skills. Beka often displays her race car at local school fairs and car shows. She also speaks with her dad at area clubs and schools about career goals, peer pressures, and the pitfalls of drugs and alcohol abuse. When asked, is this what you want to do when you grow up? Beka replies, "I really like drag racing however, my hope is to become a Pediatrician!"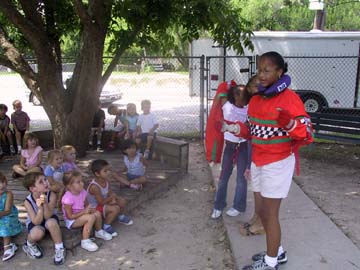 Beka speaking to some young fans!
Mercadel Motorsports looks forward to a full Season of racing and sponsorship appearances in 2007.
For more information on the NHRA Jr. Drag Racing League or Mercadel Motorsports call, 217-816-2247 or email: mercmotorsports@yahoo.com