Farmer Last Man Standing @ Bradenton Super Chevy Show!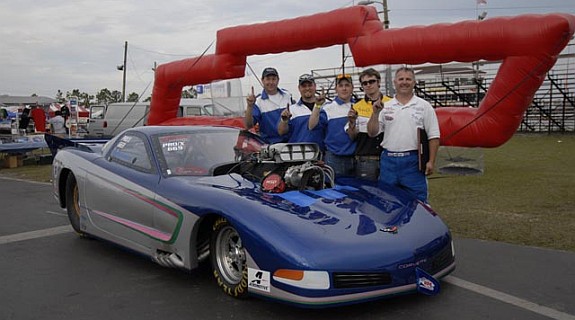 Nitro Coupe Winner Buddy Farmer
It wasn't the weather, which was great...maybe it was some kind of left-over rotovirus that only infects Nitro Coupes....but Buddy Farmer of Granby Missouri can be called the winner...and the survivor...of the Super Chevy 2007 season opener at Bradenton Motorsports Park.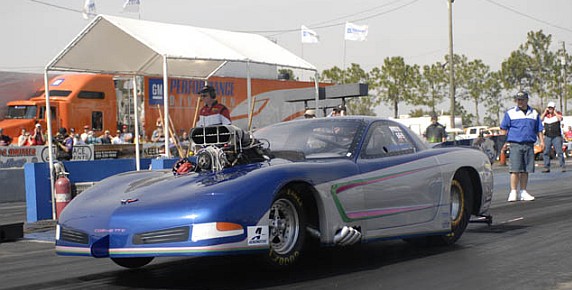 Farmer's 2003 Corvette Nitro Coupe Took The Finals Over Willie
Brainerd With a 6.479 @ 220.42 mph
The Nitro Coupe race had a hint of greatness about it in the first round when Zach Barklage of Lake Ozark, Missouri, ripped off a blistering 6.123 lap at 234.00 miles per hour, one of the fastest Nitro Coupe runs ever. That would be it for Zach, though, as he couldn't come back for the second round.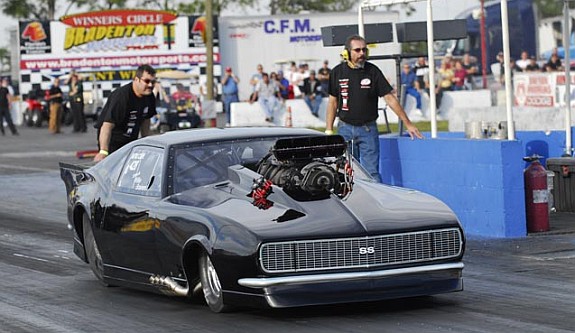 Nitro Coupe Runner-Up Willie Brainard

Defending Nitro Coupe world champ Randy Adler found it's harder to defend that "1" on his car as his 2006 GTO fell to a baffling series of mechanical gremlins in qualifying and made an exit in Round One. Nitro Coupe veteran Jeff Merritt of Merrillville, IN also fell victim to mechanical woes, finding himself unable to come back for the second round. It was definitely a non-elegant way to the winner's circle, but the victory does give Buddy Farmer the early lead in the Aeromotive Nitro Coupe Challenge points race.

The ProCharger Bracket One (electronics) winner in Bradenton was hometown hero Mark Mullen. He took a killer .008 light, got his '70 Chevelle on a rail and ran a 10.151 at 124.39 miles per hour to edge David Scigluto of Seminole, FL driving as Worthy chassis RED. David ran a tight 7.480 on his 7.43 dial at 178.42 but couldn't overcome Mullen's starting line advantage. Charlie Allen and Larry Hart were the semi-finalists.

Jeg's is the 2007 title sponsor of the Bracket Two race at all Super Chevy Shows. The Bradenton Champ is James Thompson of Edgewater, FL who took the win in his '72 Chevelle when Cara Wilson of Plant City, FL red-lighted in her pink Chevy S-10. Thompson ran a 14.881 at 88.62 miles per hour. Daron Livingston was the lone semi-finalist. Cara also runner-upped in Saturday's TREMEC Transmission Bonus Race.

In the DOT (Street Legal) class, Bradenton, FL racer Chris Adams took the win in another '72 Chevelle, defeating Shane McFadden in the finals. Adams was perfectly on pace, running a 13.100 on his 13.10 dial. Kevin Roberts was the lone DOT semi-finalist.

The Super Chevy Show's 27th Annual Tour opened with a couple of surprises: GM Performance official Craig Shantz came to the PA booth to announce that they were donating a brand new 572 cubic inch Chevy motor for a drawing some lucky Super Chevy fan, racer or show car participant will win at the end of the season. Then came TREMEC Transmission's Jim Averill who announced that TREMEC would donate a top-end TKO transmission to go with the engine! Details on the drawing will be put up soon on superchevyshow.com

Super Chevy is also celebrating the birthday of some classic cars: Danchuk Manufacturing is sponsoring a "Best of the Best" contest to celebrate the half-century mark of the '57 Chevy. At each event, every 57 Chevy entered or shown will be photographed and placed on the Internet for voting by the general public; that car then becomes the event winner which will compete against other event winners at the end of the season for a feature spread in Super Chevy Magazine.

Super Chevy magazine is featuring a similar contest for the 40th birthday of the 1967 Camaro. Again, the end-of-season winner will get a magazine spread.

The next stop on the 2007 Super Chevy Show tour is at Auto Club Dragway at California Speedway March 23-25