There have been many outstanding Black drag racers over the past 50 + years, and they are making new inroads today. We are here to celebrate their past and present accomplishments and contributions to the world of drag racing.
THE PRESENT!
Jonathan Womack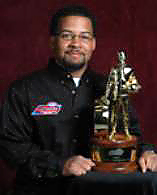 2004 NHRA Division
4 Sportsman Driver
Of The Year.

Of Houston, Texas., made history by becoming the frist black to win a NHRA National Championship. Womack won the 2004 Super Gas National Championship at the 40th Annual Automobile Club of Southern California NHRA Finals-Pomona, Calif.

Not only did Womack achieve his championship status at the young age of 23, but it also took place in only his third full season of Super Gas competition.

There has never been a lack of excitement at the Automobile Club of Southern California NHRA Finals when it comes to determining the Lucas Oil Drag Racing Series champions. Just two years ago, for instance, four different drivers had a mathematical chance of passing the points leader at that event.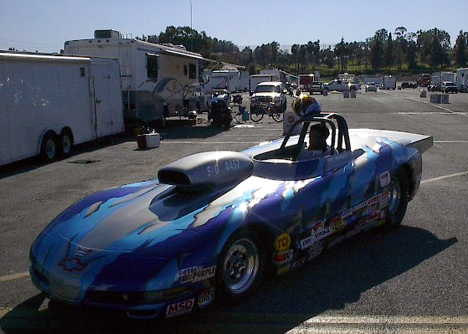 Womack Family Racing Super Gas 2000
Corvette Roadster
Fast-forward to 2004, and Jonathan Womack was the leader going into the event, needing only to win three rounds to hold off the only other contender: Stalba. Womack rose to the occasion with a holeshot-aided 9.928 to 9.916 win over Chip Rumis in the third stanza. But it was only after the win light came on in that round that the real drama began.
Said Womack, "I remember the car launched crooked, but I got it straightened out, and everything was fine for the rest of the run. Then, after I crossed the finish line and started pumping my fist while beginning to apply the brakes, I saw what I thought was a puff of smoke, but it was actually water. One of the freeze plugs, which must have been leaking at the start, popped out of the block, and I couldn't slow the car down.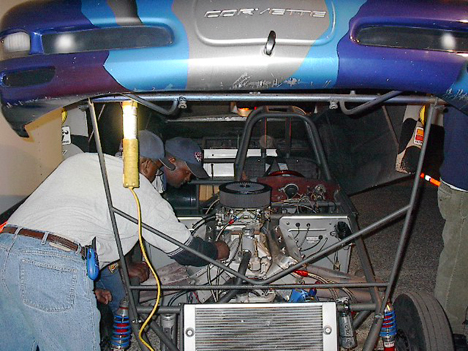 The Team Checking Over The Car Before Returning
Sunday Morning For Round Four
" Then, right before the sand traps at the end of the shutdown area, the car did a complete 360-degree turn, then turned some more; the front of my car was pointing toward the starting line when I finally came to a stop. Fortunately for us, that was the last round of eliminations Saturday night, so we were able to take an hour or so to check the car out before returning Sunday morning for round four."
" This is just as awesome as it gets, especially when you consider that we weren't even thinking about going for the title at the beginning of the year," said Womack. "Our primary focus was just doing well at the Division 4 Lucas Oil Drag Racing Series events, and we were fortunate enough to do very well at those as we went through our schedule without ever going out in the first round."
Of the races that Womack claimed for his points total, he started off strong with a semifinal finish at the NHRA Cajun SPORTSnationals in April and a win at Texas' Cherokee County Motorsports Park in June.
" That win at Cherokee really set the table for us," said Womack, "but at that time we still weren't thinking about going after the title."
But Womack had the bar raised for him following his national event victory in Dallas in September.
" That put us in the hunt for the points," said Womack. "And after we were runner-up at the Division 2 race in Gainesville about a month later, we added the Division 7 points meet in Las Vegas and the NHRA Finals to our traveling schedule."
At the Las Vegas event, Womack went at least four rounds to improve on one of his prior events, and by reaching the semi's at the Finals, he ended up with a 633 to 605 point advantage over Stalba.
Said Womack, who makes a living as a barber in Houston, "I'm living a dream because I'm the two things I've always wanted to be: a barber and a drag racing national champion. My ultimate goal is to race in Pro Stock. I love Pro categories, and I love the Pro Stock class. I know that it will take a lot of help with financial banking from sponsors, but we're already working on things now that will help us toward that goal. Winning the championship this year in Super Gas certainly will be a big help to our prospects."
Womack was emphatic about thanking those who have made his racing career possible.
" I have to thank my parents Warren and Madelyn and my brother Warren Jr. My parents have provided me with financial and moral support, without which I wouldn't be racing," said Womack. "I'd also like to thank the guys at Hoosier, Dennis Faerman of Faerman Racing Engines in Houston, Jimmy Arabie Sr. and Jr. at Arabie Racing Transmissions in Baytown [Texas], and all of the Division 4 racers. In addition, I thank the racers in Pomona who helped me go over my car after the spinout in the first round. Even Pete Bothe, the guy I had to run on the next round Sunday, offered to help. All of that made winning this thing all the more special. Like I said, I'm living a dream."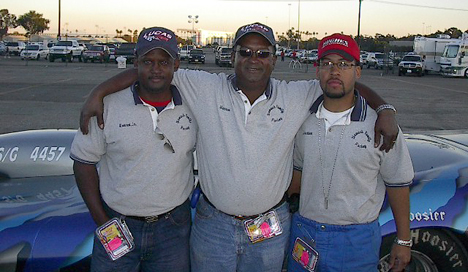 Womack Family Racing Members Are From Left To Right:
Warren Womack Jr., Warren Womack Sr. And Jonathan Womack
Career highlights:
2004
NHRA Cajun SPORTS Nationals Semifinals

Cherokee County Motorsports Park(Div. 4) Won event

State Capitol Dragway (Div. 4) Third round

Thunder Valley Raceway Park (Div. 4) Fourth round

O'Reilly NHRA Fall Nationals Won event

Gainesville Raceway (Div. 2) Runner-up

The Strip at Las Vegas Motor Speedway (Div. 7) Fourth round

Automobile Club of Southern California NHRA Finals Semifinals

2003
Winner - Super Gas Shootout in Baytown, Texas

Winner - Texas Pro Stock Race in Sealy, Texas

2002
Semifinalist - Sears Craftsmen Nationals in Madison, Illinois

Runner-up at O'Reilly Spring Nationals at Texas Motorplex

Steve Hamilton, The 40-year-old from Lake Villa, Ill., has been racing for over 17 years. He began his racing career at Great Lakes Dragaway in the track's weekly points program, and eventually moved up to IHRA's Quick Rod class. He earned his Top Fuel license in 2000, and made appearances at two IHRA national events in 2002.

Hamilton has announced he will race for John Mitchell Racing's Montana Express Top Fuel team during the 2004 Hooters IHRA Drag Racing Series.
Eric Shelton , current Pro Stock driver from Atlanta, GA, Started out in Pro/ET class and learned the ropes at the Atlanta Speedshop Dragway where he raced every weekend. Eric began totravel to other tracks and steadily honed his skills against different competition. Eric worked consistently on his car, making sure every component was properly tuned while searching for more horsepower, always striving to try something to go faster. After getting the Duster to run 11.17 seconds in the quarter, Eric moved on to his first chassis car, a 1980 Plymouth Arrow. By 1991, Eric was running bracket points at two tracks running Saturday nights in Dallas, GA and Sunday afternoons in Covington, Ga. After 32 consecutive weekends and 248 passes that year, Eric finished 5th in Super Pro and on to the ET finals, where the Arrow made 9.70 passes with the Shelton-built 340 smallblock Chrysler. After sitting in the stands at the Southern Nationals and watching Super Gas eliminations, Eric promised himself that he would no longer be a spectator. Eric sold the Arrow and began his Dodge Daytona project. Beginning with a TAKASH RaceCraft Chassis and VFN body, Eric completed the car himself. NHRA National and Divisional Competition was next on the menu.
A surprise for their fans, friends, and competitors --- In 2004, the team will feature a brand new Jerry Hass built 2004 Dodge Stratus RT. With the new aerodynamic body style, new power plant and new spirit. They hope to be one of the best NHRA Pro Stock teams. They look forward to meeting all the fans at the track this year.
Shelton's 2000 Dodge Avenger R/T Pro Stocker
Ronnie Hood, will ago down in history as the first Black driver to win an NHRA Pro Mod event at the 47th Annual U.S. Nationals.
Hood's '63 Corvette Pro Mod

The record, a 6.71 second quarter mile at 206 mph, was unheard of in the Top Sportsman category prior to Hoods's accomplishment. Hood finished the '96 season as the number seven driver in the IHRA points standings.

Harold Martin


Current Pro Modified star from Detroit and formerly a General Motors development engineer, has embraced technology like few other racers. He has pushed the envelope of technology to etch his name in the record books. Harold has contributed to the automotive industry with innovative and revolutionary designs that resulted in 10 world patents. Each of the patents yielded products that were sold worldwide. He has also implemented and directed several OEM Powertrain programs that led to the development of the first automotive computer control system in addition to numerous OEM production programs.
Martin's Pro Mod Grand Am

Phil Coleman


Based out of Detroit, started racing in the early seventies in his hometown of Indianapolis, Indiana and at surrounding tracks in Ohio and Kentucky. Coleman stayed in the sport until his business DMI Computer Services needed more direction, limiting his involvement. Today however, Phil is back in full stride and making his present felt at tracks all across America match racing his professionally built, 706 CU IN., 1800 HP Pro Modified Camaro. The car travels in excess of 220 MPH in less than 6.3 seconds and is the backup car to team driver, Ronnie Hood's '63 Corvette. Phil is excited about his full time return to the drivers seat for the 2004 racing season and being able to utilize all of Coleman Motorsports' technical and human resources.
Coleman's Pro Mod Camaro

Harry Lartigue


Pro Stock Bike owner, rider and tuner since 1976. Went professional in 1978. He got off the bike in 1992 when drag bike racing became a jockey sport. He always had a ten pound disadvantage. He also helped spring the pro careers of Michael Phillips, Reggie Showers, Redell Harris and Peggy Llewellyn.

Michael Phillips


In 1993 Advanced to the semifinal in his professional debut; Qualified for all 11 races. 1994 Made first career final round appearance, earning runner-up finish at Gainesville; Finished a career-best fifth in the final standings. 1995 Notched his first career-win sweeping the class at the Slick 50 Nationals in Houston; Runner up at Atlanta; Tied career-best with second straight fifth-place finish in the final standings and recorded career-best time and speed Advanced to the semifinals at Pomona 2. In 2002 Competed in his first full season since 1995. In 2003 Phillips earnd is second career win, riding his Calmes Motorsports Suzuki to the finish line in 7.133 seconds at 189.07 mph, ahead of three-time series champion Angelle Savoie. Phillips is the third Black to win the Pro Stock Bike category in the last four races of 2003.

Phillips will always be an important historical figure as he was the first Black to win an NHRA pro title.

Antron Brown


1998 Finished in seventh place in the standings despite missing one event. 1999 Won the Automobile Club of Southern California Road to the Future award that is presented to the NNHRA racer destined for future greatness. 2000 Won the U.S. Nationals and the Holley Pro Stock Dominator Duel, earning him the $10,000 double-up bonus. 2001 Finished a career-best second in the final POWERade standings; Earned six No. 1 qualifying positions; Won three events for the third consecutive season. 2002 Finished in the top four in the standings for the fourth consecutive year. Established career-bests in both elapsed time and speed. His .669 winning percentage in elimination rounds places him seventh among active racers and won at Englishtown. 2003 Brown, who pilots the U.S. Army Pro Stock Bike, defeated John Smith in the finals for his first win of the season. Brown has 11 NHRA Career Wins and 19 Career Final Rounds, making him the winningest Black NHRA drag racer ever.

Redell Harris, is a rising star in Pro Stock Bike and sponsored by Master P's, No Limit Inc.


Steven Thomson


From Ft. Lauderdale, Fla., is the 2003 Pro FWD NOPI Fast & Furious Champion. At the end of 10 gruelling events he won a total of 1750points to take first place and bring home the trophy.

Thomson's of Pacific Performance has again entered the record books as a proven performance race shop.The 2003 civic coupe produced 850hp at the wheels from b18c motor(no nos). That by itself is an outstanding achievement.

Career highlights:



First Honda on the East Coast in the 10s
First Turbo-charged Nissan SE-R on East Coast
First FWD Nissan in the 9s
3rd place 2002 World Import Challenge
Runner-up 2000 NIRA Finals Pro FWD
2nd place 1999 Texas Drag wars
2nd place 1997 Florida Drag wars
Thomson's 3/4 tube-frame FWD 1999 Honda Civic HB

Wanda Exum


When people spot Wanda Exum climbing out of her Altered, they usually stop and stare.

They usually think she's just sitting behind the wheel of someone's race car or just steering it while it was being towed someplace. Wanda is one of the few women drivers found on drag racing tracks around the Carolinas. Even when they see her wearing her fire suit and helmet, they still ask if she's the driver. They assume her husband is the driver, not her. It's really comical to Wanda.

Wanda didn't move from car enthusiast to driver until her husband, Thurman stopped driven and became her crew chief.

Wanda has excelled in the male-dominated International Hot Rod Association Top Dragster class. Every chance she gets, Wanda talks with women, especially college students, about drag racing. One goal, she said, is to change the perception of drag racing as a dangerous, male-dominated sport. She's made about 20 appearances at Rockingham.

Wanda's racing career has picked up speed since she graduated from Roy Hill's Drag Racing School in Rockingham in 1993.

The Greensboro resident has driven her S&W, 150-inch Altered to a best elapsed time of 6.83 at 196 mph.

"Her car is very unique," said Steve Earwood, owner of Rockingham Dragway. "In fact, it's one of the most exciting cars out there. It's a front engine, short-wheel base. That makes it fairly erratic and you have to be pretty talented to handle it on the track."

Wanda, works as a business administrator with a Greensboro company and the mother of two grown sons who have not been attracted to drag racing. They contend their parents' past-time is "too loud, too dirty, and too hot. Her love for fast cars can be traced to her childhood in Rocky Mount.

Safety is always a priority with Wanda. She feels safe because she knows that Thurman makes sure that everything is in place before they get to the track. Wanda has not been involved in any major crashes.

"She's the fastest Black female in the nation in drag racing," said Wayne Clapp, founder and executive director of the Association for Minorities in Motor Sports.

Association for Minorities in Motor Sports also recognized the contributions of pioneering minority racers such as NASCAR's Wendell Scott, Bill Lester, Harold Mills and Willie T. Ribbs.

Wanda's plans are to keep racing until she can't get in -- or out of -- the car anymore. "Not everyone can drive a race car or have the nerve to do so. I'd be remiss in not using that talent."

Highlights:



1993 - Graduated from Roy Hill's Drag Racing School in Rockingham, NC
1994 - Earned IHRA license in classes of Top Dragster and Quick Rod. Lowered E.T. from 6.60 to 5.20 in the 1/8 mile.
1995 - Earned NHRA license in Super Comp class. Lowered E.T. to 4.98 in 1/8 mile and 7.90 in 1/4 mile. Won Match Race at Colonial Beach, VA. Received Editor's Choice Award from Super Chevy Magazine at Super Chevy Show at Virginia Motorsports Park. Received plaque and trophy for achieving the 7 second zone from the Quarter Masters Racing Club in MD.
1996 - Won Low E.T. at two local race tracks. Received coverage in two publications (The Greensboro News and Record and UpScale Magazine (a national publication).
1997 - Acquired Shell Oil Lubricants as major corporate sponsor. Display at Dudley Cosmetic Products, Kernersville, NC, promo photoshoot at Piedmont Dragway in Greensboro, NC; display at Gilbarco for Shell Oil dignitaries, NC; presented key to city in home town in VA; display at Career Day-Whiteville, NC Elementary; coverage in Roanoke Times, VA and IHRA Drag Review. Won Low E.T. at Coastal Plains Dragway, NC and Low E.T at Piedmont Dragway. Lowered E.T. to 4.66 in 1/8 mile and 7.50 in 1/4 mile.
1998 - Display at Shell SuperRigs Show in Kenly, NC. Featured in Shell SuperRigs calendar for 1999 and in Shell Lubricant's jobber publication. Display at N.C. National Guard Armory's Drug Awareness Program.
1999 - Acquired the Rotella T brand of Shell lubricants as additional sponsor. Featured on ESPN2's Inside Drag Racing television series and Fox 8 TV Sports Sunday segment. Qualified at IHRA Winter Nationals - Top Dragster. Round winner at WCS Points series at Farmington, Mooresville, and Piedmont.
2000 - Acquired N.C. Army National Guard and Industrial Devices, Inc. as associate sponsors. Display and parade participant at NASCAR Coca-Cola 600 in Charlotte, NC. Finished #16 in IHRA Division 1 Points.
January 2001 - Wanda received a Trailblazer Award from the Association for Minorities in Motor Sports, a 2,000-member organization based in Greensboro.
2002 - Qualified at Spring Nationals, Rockingham, NC and AC/DELCO Nationals, Dinwiddie, VA. Awarded "Best Appearing Sportsman Crew" at Rockingham (3/02). Article in Charlotte Observer. Semifinals at Budweiser Mean 15, Piedmont Dragway. Acquired Acme Comics as associate sponsor.
2003 - Qualified #21 at IHRA Nationals in San Antonio, TX; qualified #44 at IHRA Spring Nationals at Rockingham, NC; qualified #17 at ACDelco Nationals at Virginia Motorsports Park in Dinwiddie, VA. Won low E.T. at Coastal Plains and Dunn-Benson raceways in NC and Capitol Raceway in Crofton, MD. Achieved best elapsed time of 6.83 at 196 mph at the World Finals in Rockingham, NC.

Thurman Exum


Thurman, a professor in motorsports technology at N.C. A&T, raced for a while but now stays active in drag racing, in a different way. In 1993, his wife Wanda expressed an interest in driving. He didn't listen to her for about a year. Finally, she kept insisting that she wanted to drive. He had a new car built for her and sent her to Roy Hill Drag Racing School. Thurman builds engines for his wife Wanda and serves as crew chief, often staying up till the wee hours preparing the car for the next event.

Thurman says he gets a thrill out of watching Wanda race. "Wanda's one of the few minority drag racers, and being a female, it's enjoyable seeing "Wanda progress as a driver and wining rounds. In fact, she probably can drive better than I can now". With Shell Oil Company as their sponsor, they race in International Hot Rod Association events from North Carolina to Canada. They haven't won a national event yet, but they are getting there.

Thurman says, They have fun at this. They use this as relaxation. When they go racing, Thurman can forget about everything. This comes as no surprise, as he has fun at anything to do with cars. It's all part of his continuing love affair with the automobile, whatever phase it may be in.

Danny Booker


Based out of Pomona, CA raised the bar for black sportsman racers on the west coast with his 1994 racing operation. Booker's, reputation as a meticulous detailer, along with the color coordination of his Chevy Lumina, support vehicles and team uniforms, along with the car's performance was unmatched.

Booker was the first black sportsman racer in So. Cal. to make a seven second pass in a door car. In 1995, Booker's hard work paid off when his team won best appearing crew at the World Finals in Pomona. He should have also won best appearing car at that same event in 1995.

Booker left drag racing in the late '90s to concentrate on his business affairs and to secure the finances needed for his son Daniel, college fund to UNLV.
Bookers's Chevy Lumina

Booker will return to drag racing this year with his cousin Ron Weems to form a two car team. Booker will drive his Chevy Lumina and Weems, a Chevy S-10 truck. Booker will compete in Super Comp, Super Eliminator and possibly Comp Eliminator.

Geneva Williams


From Columbia, MD., has been around racing since, as she puts it, "She was knee high to a grasshopper." Her dad and her brothers were all drag racers and she supported them faithfully, all the while saying, "Hey, I bet I can do that!"

They finally gave her a shot in 1998 when they built her first racecar, in which she promptly turned 11 seconds in the 1/4 mile. Now in her fifth year, she is now turning 7.97 seconds at 173 mph, and 5.05 seconds at 148 mph. She aspires to compete professionally in the NHRA Pro Stock class. In just this short amount of time, "Gee Wiz," as her friends and fans call her, has discovered that drag racing is her true passion.
William's 1968 Camaro

In 2003 Gee Wiz was running at the top of the Outlaw Pro Street class. She broke her own track record of 2002, which was 5.10 @ 139 mph in the 1/8 mile, by going 5.05 @148 in the 1/8 mile.

Gee Wiz has set a lifelong goal to go 200 mph in 6 seconds. Prayerfully, when she gets her professional job in Pro Stock, this dream will become a reality.

She is truly grateful to God, the Wiz Racing family, and her BOSS - The Wiz (who is also her brother and crew chief).


Melvin LeForbes


from So. Cal. was one of the first black sportsman racers to win a National event, the 1986 Chief Nationals in Super Gas. LeForbes still competes in the sportsman ranks, Super Comp & Super Gas with his wife Deanna.

LeForbes' Super Comp Dragster

Dwight Strickland


Of Duarte, CA., at the age of 8, attended his first drag race with Wesley Johnson a very experienced racer for 30+ years.

It was at this time that Dwight found the sport he wanted to compete in.

Dwight had tried other sports, Baseball, Football, Basketball etc; but racing cars got his attention because of the competitive nature and the skills that it takes to navigate a vehicle at high speeds.

Through Mr. Johnson, Dwight was introduced to another racer, Randy Fabbro, Randy took him under his wings and taught him the skills of maintenance and repair and most important he taught him the safety skills and encouraged him to pursue the sport of racing cars.

After attending many racing events for several years with Wesley Johnson and Randy Fabbro, Wesley gave Dwight the coming of age opportunity to drive his 1966 Ford Mustang down a race track to obtain his National Hot Rod Association (NHRA) credentials to operate a race car.

Several years later Dwight purchased a car of his own a 1978 Ford Pinto and installed a big block 460 Chevy engine to compete in the Super Gas class, he still own the vehicle today.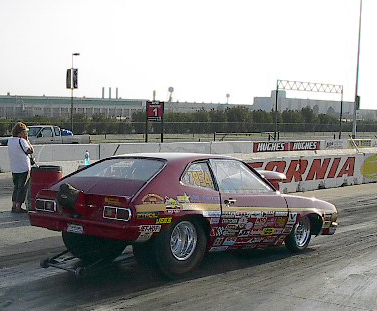 Strickland's Super Gas 1978 Ford Pinto

After successfully competing in Super Gas Dwight had a desire to move up another class, Super Competition.

Dwight's brothers John Strickland Jr. and Larry Strickland gave him the encouragement to race two cars, so he began to build a Dragster from the frame up, installing a big block 502 Chevy motor that he purchased from Reher Morrison Motors, a racing engine manufacturer that specialize in building racing engines.

After a short period, they had the dragster assembled and ready for competition.

Dwight have worked to afford his own race vehicles and have done much of the work to assemble and install all the components on his own.

Dwight have attempted to secure sponsorship on several occasions only to be let down with promises.

With the assistance of his family, too include his brothers John and Larry, his Mother Barbara Strickland, sister Wendy Strickland Busby, his Uncle Wayne McGhee and a very close friend Charles Hunter, Dwight is given the support needed to continue his quest to win a championship.

With the good Grace and Blessings of his Lord and Jesus Christ, Dwight feels that he have accomplished a great deal, especially in years 2002, 2003 and 2004 placing in the semi finals at racing events in Las Vegas, Sacramento and going deep into rounds four and five in other racing events in Phoenix, Arizona, Sonoma and Pomona, California.

In September 2003, Dwight won the National Open at LACR (Palmdale).

In 2004 at the 50th Anniversary in Indy qualified #4 in Super Comp. Also in 2004 qualified #1 in Super Gas at the finals In Pomona.

"The opportunity to race has been educational for me I have met many people from all walks of life and have gained knowledge from this experience."

"To sum it up, it all began when the Late Wesley Johnson decided to take me on an outing, to the Drag Races when I was just a child."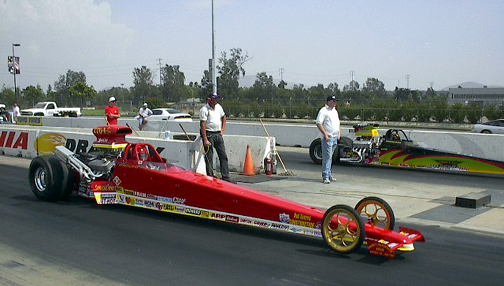 Strickland's Super Comp Dragster
Willie Evans, crew chief for many-time Super Stock World Champ Jeff Taylor and the late Vinston Holmes.
Paul Pittman, based out of Bloomington, Minn. Won the NHRA Champion Auto Stores Super Gas crown in 1991.
Bracket Masters Racing Team (BMRT) of Baton Rouge - Jr. Dragster program

The BMRT Jr.Dragster Team

is for drivers 8 -16 years of age. Children who will drive the Jr. Dragsters must become members of the NHRA Castrol GTX Jr. Dragster League. The main thrust of the Jr. Dragster program is to teach children about the different "systems" that make a car run. BMRT would like to teach them how to build and maintain a car. They want them to know about the many careers associated with the automobile industry, and to instill in them that there is more to a car than just driving. It takes many types of engineers, biologists, chemists, physicists, mathematicians and other disciplines to build an automobile. The after-the-sale people involved in the automobile industry are just as diverse.
BMRT Jr.Dragster Drivers The Herbert's
Scholarship Program Children participating in their Jr. Dragster Program can earn a $500 College Scholarship upon graduation from High School. They must have a combined GPA, equal to or greater than 2.5, good conduct, and the written recommendation of one of their teachers. Children competing for the Scholarship must submit an official BMRT Scholarship Form (Essay Cover Letter) and participate in an interview by a board, made up of members of BMRT, a teacher and/or members of the BMRT Board of Directors. The scholarship will be awarded upon submission of proof of acceptance to an accredited Trade School, 2-year or 4-year college or university. BMRT is the sole authority on the validity of the acceptance criteria. After acceptance to college, and approval by BMRT, there is no restriction on how the money can be used once awarded. Five (5) $500 scholarships may be awarded each year.
Jeremy Herbert

Learning

NHRA, in partnership with the U. S. Army, has developed Youth & Education Services (YES) programs that uses Drag Racing as a powerful learning tool. (YES) is being used in classrooms across the United States as educators from elementary schools through universities are incorporating the programs developed by NHRA into their lesson plans. More than 200,000 students have been involved in trackside activities or classroom programs developed by (YES).
NHRA officials have been in contact with Bracket Masters Racing Team about the development of their Jr. Dragster Program, and have provided literature and training tapes to help develop their program. This training material is being used in the Glen Oaks High School Auto Technology Program and has been used at Zachary High School's Career Day Program in March 2003.
BMRT Jr.Dragster Team Helps Barbara Get Ready For A Run
Career Paths
Toshia Helps Jeremy Get Ready For A Run

In engineering alone there are mechanical, electrical, industrial, chemical and design engineers involved with making the automobile a reality. Insurance people, financial personnel, paint and body people, auto driver school teachers, auto repair people and engine builders, service station attendants, chassis builders and welders, just to name a few. The oil industry almost exists to supply the needs of the transportation industry. This is the focus of Their Jr. Dragster program, not just the driving.
Liz & Jeremy Herbert
Bracket Masters Racing Team has been chosen by NHRA to take part in delivering information from their Youth & Educational Services (YES) program to the youth of their area. The (YES) program takes into account all the things mentioned above and puts it into a format that can be taught in High Schools and Elementary Schools. Members of Bracket Masters go into schools and take part in Career Day Programs and deliver the (YES) educational materials along with showing the (YES) video.


Barbara Herbert After Her First Pass!

They take two team cars and show the many systems that are needed to drive the cars. They also point out the many different craftsman that are necessary to construct the race cars, as well as, the careers necessary to operate a successful racing organization. They also show the education necessary to achieve success in these same fields. In addition, the (YES) materials can be used by teachers as a part of their regular curriculum. For more information about Bracket Masters race team, go to: www.bracketmasters.com
BMRT President O. A. "Skip" Holbert & Grandson Jeremy Herbert

Naasia Flournoy, is a 10-year-old from Carson, CA., who competes in the NHRA Jr. Dragster class.

She is the fourth member of her family to take up the sport. Her grandfather, Eddie - father, Rodney and sister, Thais all participated in drag racing.

Braylen Bennett


The 10 year old from Rialto, CA., is a third generation drag racer following in the foot steps of his grandfather, Daniel, and father, Greg.

Braylen will compete in the NHRA Jr. Dragster class a smaller versions of full-scale dragsters powered by Briggs & Stratton engines and capable of reaching 80 mph in the 1/8 mile.

Amanda Smith


from Reading, PA., started drag racing in junior dragsters at the age of 8. Now at age of 12, Amanda has done very well in school and on the track. Amanda became the first black female to win an NHRA Divisional race in 2002, and was National runner-up in 2003. For more information about Amanda and her race team, go to: www.amandasraceteam.com


Career highlights:



2001 finished 4th in points @ Englishtown
2002 NHRA Division 1 Champion
2002 finished 3rd in points @ Englishtown
2002 IHRA 1st Annual 12.90 Index Champion @ Virginia Motorsports Park
2003 NHRA National Runner-up
2003 Points winner @ Island Dragway
2003 NHRA Challenge Champion @ Atco
2003 Pro Vs Super Pro Champion @ Atco

THE FUTURE!

The future is in our hands, as seen from our past and present contributions and accomplishments. We know we've only scratched the surface. There are more Black drag racers and stories about Blacks in drag racing to be told. As we find the stories, we will present them to you.

Join Black Dragracers.com in helping to make the future the brightest and best it can be.