There have been many outstanding Black drag racers over the past 50 + years, and they are making new inroads today. We are here to celebrate their past and present accomplishments and contributions to the world of drag racing.

THE PAST!

Eddie Flournoy


The world has come a long way since Mr. Flournoy, was drag racing. At 70, he still builds cars and engines in the Los Angeles area and is a noted expert at running nitro Funny Cars. Mr. Flournoy drag race from 1959 to 1976. He set association and national records for elapsed time and held the Palmdale track record for five years from 1968 to 1973. He was one of the first black nitro tuners during the time that Blacks were heavily discriminated against, Mr. Flournoy often had to sleep in his car when competing at races because the hotels were for whites only. "It was strange, but you had to deal with it," Mr. Flournoy said. "They had their rules, but when I got to the racetrack, I had my own rules (winning)."

Even when his son Rodney followed him into drag racing, the discrimination was still pretty evident. "We would go to Orange County Speedway," Mr. Flournoy said. "And people were shocked to see there was a Black driver. " I thank we have come a long way but, we still have a ways to go."

Rodney Flournoy


Rodney, a popular West Coast drag racing competitor from the mid-1970's through the mid-1990's. He campaigned extensively in Nitro Funny Car, Top Alcohol Funny Car, and Top Alcohol Dragster. Among his many career highlights was qualifying for all three of the above fields at a Bakersfield (CA) March Meet.

Flournoy is quick to credit the influence of his father, Eddie, for his own racing efforts. Flournoy said, his dad basically came from the Jazzy Nelson and Jim Nelson era of drag racing. He ran top fuel and injected-gas entries at tracks like San Fernando, Lions, and Bakersfield. His parents started taking him to the races when he was 2 years old, and as soon as he could hold a wrench in his hand, they had him helping out with the team.

By the time he was 16, he was the head crew chief for John Kimbles's top fuel car in the mid-1970's.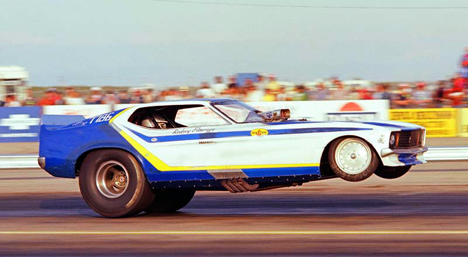 Flournoy's Mustang Mach 1 @ Bakersfield (CA) 1979
He helped provide the tune-up for John's first five-second run against Dennis Baca at Orange County Int'l Raceway around that time. They also went on tour, running at tracks like Indianapolis Raceway Park, Union Groove, and other popular venues.
After Flournoy completed his licensing runs in a nitro funny car, his father bought Jerry Ruth's former Competition Specialties Mustang Mach 1 Funny Car entry for Rodney to drive, setting the stage for a career in which he would drive a variety of quarter-mile vehicles. After the Mustang, in 1982 they began running a Dodge Omni, which was followed by a Firebird that was purchased from Dale Pulde about a year or two later. It was one of Dale's old War Eagle cars. "We ran that car until the late 1980's when it was replaced by a Beretta Funny Car. My last funny car was the Trans Am that we purchased from Mike Dunn. That was the car he ran with the Snickers sponsorship until the early 1990's. By that time, the corporate sponsorships were starting to really raise the cost of racing. When we weren't able to get that kind of backing for ourselves, I parked my car, having run a best of 5.63, 248 (mph)."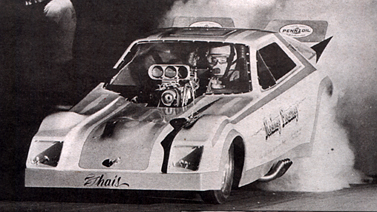 Flournoy's Dodge Omni
Flournoy continued to compete as a hired driver, piloting Charles Markuese's Top Alcohol dragster for several seasons until he retired from the sport in 1996. "I would have kept going if I had been able to get the added funding. As it is, I sure have a lot of good memories, the best of which was qualifying three cars at Bakersfield. I had made the Top Alcohol Funny Car program with Bud Bailey's car, the Top-Alcohol Dragster show with Charles' car, and qualified my own car in the Nitro Funny Car eliminator. I went out in the first round with my Funny Car and the Top Alcohol Dragster, but I made it to the semi's in Top Alcohol Funny Car before being defeated by Lou Gasparrelli. I remember that being a real busy day, getting back and forth between the shutdown area and the staging lanes. I had a friend giving me a lot of rides on his motorcycle that day."
Flournoy's Firebird
As was the case with many black racers of his era, Flournoy's drag racing career was primarily a hobby. He was a mechanic for Pacific Bell for 18 years. He was contracted through American Auto Service as a fleet mechanic. Having a lot of mechanical experience really helped his racing activities, since he basically did all the work on his own cars. He worked swing shift from 3:30 p.m. to midnight, and then he would work a few hours on his car. What he lacked in money he made up for with lots of hours of his own time. Near the end of his career, as the costs started to climb, he concentrated on local national events and the Division 7 points meets.
In keeping with the family tradition, Flournoy remembers how much his father helped him in his drag racing career and how that was such an inspirational thing for him when he was growing up.
Rodney Flournoy & oldest daughter Thais

The family tradition continues with Rodney daughters, his oldest daughter, Thais competed in Jr. Dragster till she reached the age limit in 2002 and his youngest daughter, Naasira is only 11, so she has some time left in Jr. Dragster competition. Flournoy's still have the parts from his last Funny Car and is considering converting the chassis to accept a altered body and equipping it with a carbureted big-block engine so that Thais could possibly run in Super Comp.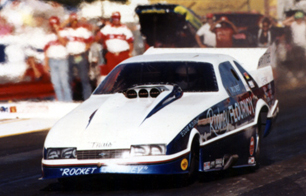 Flournoy's Chevy Beretta
At 45, Flournoy says that he would get back into racing if the right opportunity came along. Flournoy still attend the Winter-nationals and the World-finals at Pomona every year, and he is amazed by today's performances. Flournoy, said a lot of that comes from the funding that the corporate sponsorship has provided.
Flournoy said if he can win the lottery he can be his own corporate sponsor.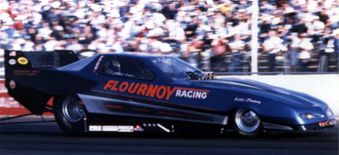 Flournoy's Trans Am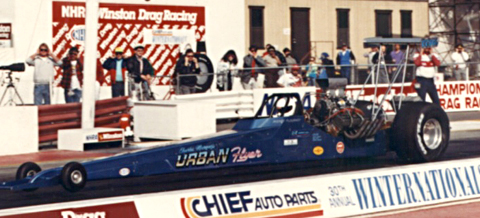 Flournoy driving Charles Marquez's Urban Flyer Top Alcohol Dragster

Malcolm Durham


Durham, was one of the truly great pioneer Funny Car racers from the 1960s. He was also one of the first Blacks in drag racing to receive factory sponsorship. Durham's "Strip Blazer" Funny Cars were all Chevrolets and it's a safe bet that if he wasn't the first he was almost the first in the eight-second zone for Chevrolets. In the mid-1960s, Durham was given the nickname "D.C. Lip" in an attempt to ally himself with the controversial Muhammad Ali, then known as Cassius Clay. But Durham was actually a soft-spoken, hard-working, individual whose storied match-race accomplishments were the result of many long hours of hard work. Durham also ran in Pro Stock towards the end of his active driving days match racing the Don Nicholsons, the Ronnie Soxes, the Dick Landys, the Ramchargers, and the Tasca Fords routinely.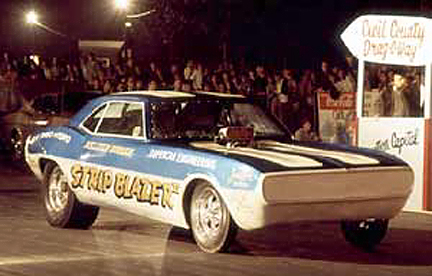 Durham's Strip Blazer II
"Mean" Billye Jean Dent Armstrong, has been around drag racing since the late 1950s.
Armstrong was most comfortable inside her '67 Chevy SS Chevelle. This history blazing woman in the 1960's became the first Black woman to compete in a nationally televised major IHRA event. Wendell Scott, the first Black stock car driver in the US, often referred to Billye as "the fastest Black woman in the East."
Lack of sponsorships drove Armstrong, into a 20-year retirement in 1975.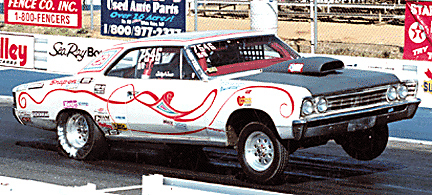 Billye Jeane Dent Armstrong in 1995.

But in 1995, Mean Billye Jean reappeared on the drag strip to the amazement of all who watched her. Armstrong was operating on a shoestring budget, but she managed to find a way to compete. Although still in need of a major sponsor, her plans were to participate in as many NHRA and IHRA events as possible in the late '90s.

"If only I had more sponsorships, I could have done a lot more"
--- Billye Jean Dent Armstrong

Ronald Lyles

East Coast, Ronald Lyles was the best black Pro Stock Mopar racer in history. He joined the Pro Stock ranks in 1971 and raced heavily on the Atlantic seaboard, especially at New York National, Cecil County, Capitol, and the various Pennsylvania and New Jersey tracks. He really hit the big time in 1972 with former Sox-Martin team driver Joe Christie shoeing for the first five months. Lyles took over running elapsed times in the 9.3s at 145-mph and winning numerous two-car and eight-car match races.

In 1973, Lyles stunned the world with the second eight-second Pro Stock run in history, an 8.89 at New York National on March 24 in a Ron Butler-built '73 Dodge. He would have had the first eight, except that Nicholson ran an 8.93 a day earlier in his Ford Pinto at Cecil County.

John Kimble, based out of Compton, CA., the trucking company owner really rumbled in Top Fuel on the West Coast. Kimble's racing budget was his wallet, but he hauled butt regardless. Kimble's big claims to fame were semi-final appearances at the Winternationals and Bakersfield races. His best elapsed time was a 5.79 with a top speed approaching the 250-mph mark.

Maurice Dupont, from Northern CA., driver of the Hammertime Dragster for rapper M.C. Hammer in the early 90's.

Eric Reed

Reed, from Chino Hills, CA., got into Funny Car in 1988. In 1989, he went out and kicked butt. Lance Larsen and later Larry Meyer got his car competitive and Reed enjoyed his finest moment at the 1989 NHRA Fram Nationals at Atlanta Dragway where he runner-upped to Mike Dunn. A few months later, he won National DRAGSTER's Upset of the Year award when he knocked off the heavily sponsored Budweiser King, Kenny Bernstein, in the first round of the Autolite Nationals at Sears Point Int'l Raceway in July. Reed was out of drag racing by 1990.

Tim Woods & Fred Stone, AA/GS & Funny Car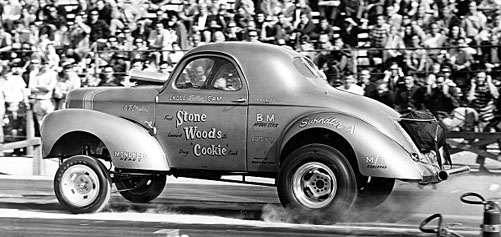 Stone, Woods & Cook's AA/Gas Supercharged Willys
Stone, Woods & Cook. Does that ring a bell? The late Tim Woods owned Woods Construction at the corner of 43rd and Broadway in south central Los Angeles and used his play money to field the sport's greatest match-race AA/Gas Supercharged Willys of all-time. "Ohio George" Montgomery may have won more NHRA national events, but Tim, Fred Stone, and driver Doug Cook ran the match race world (with some gaps) between 1961 and 1966. Woods ran the first 9-second time in A/GS competition at San Gabriel in 1962 and got the better of the great "Big John" Mazmanian's Willys in the Lions and Fontana races of the middle 1960s.
Tim Woods and his partner Fred Stone were the first black-owned race team to win an eliminator in any hot rod association competition, when Doug Cook drove their blown Olds powered '41 Willys to Middle Eliminator honors at the 1963 NHRA Winternationals.
The Stone, Woods & Cook team entered Funny Car in 1967 winning Bakersfield and the AHRA Grand American in Detroit that year, and match raced through 1973.
Clarence Bailey, was one of the few Black fuel racers from Southern CA., in the 70s... He ran nitro funny cars from the mid-70s through the end of the decade. Bailey ran a slightly dated Hemi powered "King Cougar" a '71 Cougar in 1974 and 1975, and ran the "King Boogaloo" Duster from 1976 - '79, and stepped up in 1980 with a Challenger.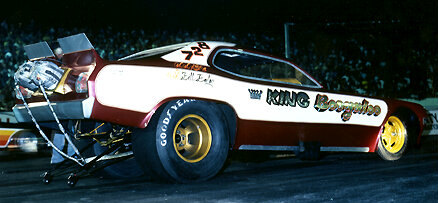 Bailey's "King Boogaloo" Duster
(Photo by John Shanks)
Bailey was one of the many funny car owners in the 70s that confined efforts to match racing and open local shows filling the almost weekly nitro events occurring on the west coast. Bailey's entries almost always made the show, rarely advanced past the first couple rounds. In '95 he came back for a short time with a TA/FC Firenza.
Rufus Boyd, the well-known "Brooklyn Heavy," Pro Stock racer. He drove himself and also utilized the skills of Herb McCandless.
The Brougham Cruisers Northern CA., Pro Stock team
"Killer" Brooks, Detroit-based 200-plus mph IHRA Pro Mod star
Willie Bullock, 1980s Pro Stock owner of the "Cisco Kid" cars
Western Bunns Yep, that's the way it read. Michigander drove the "Soul Twister" Vega Funny Car in the mid-1970s.
Leon Cain, was a Funny Car racer straight out of Compton and began racing his Mustang with the help of Eddie Flournoy. Cain raced the Mustang from 1976 to 1979. Leon?s best performance in the car had to be at the 1977 March Meet, where he ran a 6.44 to qualify near the top of the field. Cain raced his "Ebony Prince" Omni after the Mustang.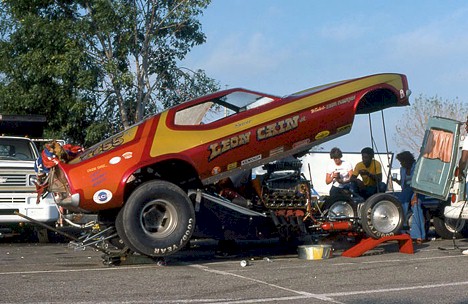 Cain's Mustang
(Photo courtesy of Mike Ditty)
Paul Gant, was a Florida Pro Stock driver. Ran the second 7.5-second time.
Levi Holmes, was a great New Jersey street/Pro Stock racer who reportedly won over a million dollars with his skills on the street.
Lovell Hunter, Southern CA., Top Fuel racer.
Barry "Machine Gun" Kelly, was from Compton, CA., and drove a Dodge Top Fuel Funny Car.
Ron & Tyrone Jackson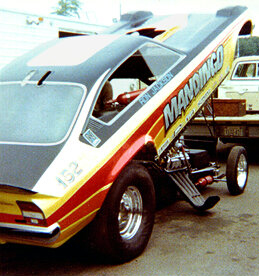 (Photo courtesy of James Morgan)

Based out of Washington D.C., they raced their "Mandingo" Vega which was named for the popular literary slave who gained recognition as an incredible lover. They ushered in the 1970's with an ex-Bob Banning Charger. By 1973, the brothers had their first new race car in the form of the Woody Gilmore built "High Explosive" Vega. The car was upgraded in 1976 with a new body and tin supplied by S&W Race Cars, paint scheme designed by Kenny Youngblood and sprayed by Circus. Their biggest event win came at the 1975 Suffolk "Little Guy Nationals." Bill Barrett of "Black Magic" fame wrenched the Mandingo entry. In 1977, the Jacksons sold their entire operation, the buyer is unknown.

Roosevelt Johnson, was a Georgia Pro Stock racer.

Lee Jones, from Los Angeles, CA., was driven his own "Jet Age Special" Camaro floppers when he teamed up with Malcolm Durham. Jones' drove the second generation Strip Blazer entries on both the east and west coasts while Durham concentrated on the east with a Pro Stock Vega.


(Photo by Bob Plumer)

Tony "Teeny" Kelly, co-owner of A&B Auto Pro Stock, was the co-owner of the car that Tony Christian drove to win 2 NHRA titles in 1988.

Captain Kirk, (real name unknown) was a tuner of alcohol and fuel cars from the east in the late 1970's and early 1980's.

Charles Marquez, Los Angeles, CA., based Top Fuel & Top Alcohol Dragster owner.

Tony McCallum, from Northern CA., was the first black Top Fuel Funny Car winner at the 1989 IHRA Springnationals in Bristol, TN

Harold Miller, was a truly outstanding Top Fuel wrench from the San Diego, CA area. He worked with Croshier-Baltes-Lavato and Bill Leavitt in the 1960's.

"Fast Earl" Mitchell, was a New York/New Jersey Pro Stock racer.

Freeman Morris, was a Top 10 NHRA Pro Stock owner in 1984 with "Coyote Kid" Chevys.

Doug Newby
and Tommy Olds, were the owners of "Hot Tuna" a Top Fuel dragster in 1978.

Ernie Nicholson, ran a AA/GS Studebaker on the West Coast in the 1960's.

Billy & Shorty Palmer, owned the Pro Stock Camaro that Joe Lepone and Sam Carroll drove.

Joe Penny & family, were major league IHRA Pro Stock owners. Roy Hill drove their T-Bird to a Popular Hot Rodding championship.

"Big Willie" Robinson
& Tomiko, were Goodwill street ambassadors. "Big Willie" was probably the country's most famous street racer in the late 1960s, early 1970s. "Big Willie" was the driving force behind establishing the Terminal Island dragstrip in early 1980's.

Stacy Shields, was an Indianapolis Pro Stock racer who ran the "Super Fly" Fords.

Dee Simmons, drove the "Big Black Gorilla" and other Chevy Funny Cars.

Po' Willy Smallwood, drove Pro Stock.

Mrs. Fill Smith, was the first black lady pro racer. She drove her husband's jet dragster.

Clarence Thomas, not the supreme court justice, was a Nevada-based Pro Stock owner.

R.S. Thomas, drove the "Soul Shaker" Top Fuel dragster.

Eugene Wells, was a New Jersey Pro Stock owner/promoter.

Harold Whitmore, was a Texas Pro Stock owner of the car that Tony Christian won the Chief Nationals Pro Stock title for in 1990.

Tommy Whitmore, from Los Angeles,CA., set a Top Fuel license record in 1986 with a 5.59 first charge. He was also part owner of the 1987 Bakersfield runner-up Top Fueler.

"Big Willie", real name unknown, was from Long Island and was an original USSC Pro Mod racer.

Tommy Bolton, was a Pro Stock Bike racer who was one of the kings of the L.A. street racers.

Alonzo Moore, was a former IHRA Super Rod World Champ.

Butch Peterson, was the crew chief for the 1999 IHRA Pro Stock World Champ.

Daniel Booker, from San Bernardino, CA., grew up around drag racing and was the second member of his family to take up the sport. He was one of the first black youngsters to race in the Jr. Dragster ranks in 1994. His father, Danny, raced in Super Comp & Super Eliminator. Daniel raced until he went off to college(UNLV).

Thais Flournoy


Thais, is from Los Angeles, CA., and continued the drag racing heritage as the third member of her family to take up the sport. She was one of the first, if not the first, black female to compete in the NHRA Jr. Dragster class. Her father, Rodney, and grandfather, Eddie, also raced in Top Fuel Funny Car.

While many area kids were spending their summer playing baseball, basketball or just hanging out at the mall, Thais, was living life in the fast lane. Thais raced until she reached the class age limit of 18 in 2000.

Samuel Tompkins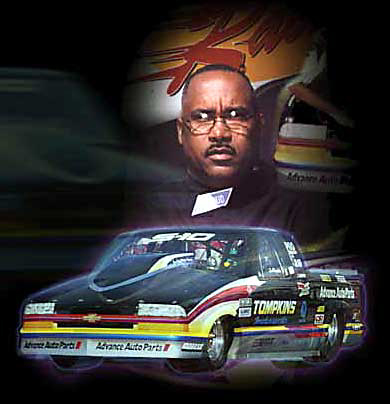 Tompkin's Chevy S-10 Pro Stock Truck


It was at the age of ten that Tompkins, himself, was exposed to the electric excitement of the sport of drag racing. Traveling with friends and an adult mentor, he saw his first drag race in Colonial Beach, Virginia. This one thrilling experience paved the way for the many accomplishments in Tompkins' life - - to include the decision concerning his college major; his later transition into entrepreneurship; and finally his dedication and commitment to community service. Tompkins has invested close to $300,000 in building his Chevy S-10 pickup to compete in NHRA Pro Stock Truck competition. Thanks to profits from his business, Tompkins is able to go first-class with everything from chassis to engine to the paint job. He competed in five events. He never qualified but we think he would have, but the NHRA decided not to run the class in 2002. His mere presence on the track had attracted industry media such as Truckin' Magazine. Just like his business, Wood and Tompkins Cores, he had once again become a pioneer as the only Black driver in NHRA Pro Stock Truck.

Larry Nance


During his playing days in Phoenix, Larry discovered the sport of drag racing...

Phoenix was where he first went to a drag strip. It was Firebird Raceway. He fell in love with a Camaro there. The name of the Camaro was 'Blue Thunder.' He ended up buying it. Since then, which was 1986, he has been racing, racing, racing. He raced that Camaro in Super Gas. Actually, his friend Kirk Gisi drove the car in competition, but he would sort of sneak a little seat time and he would take it down the track every now and then. He wasn't supposed to race while he was playing ball.

After he retired from the court in 1996 and turned to professional racing, he qualified for his first NHRA race at Firebird at the national event in 1997, added Nance, who won the first NBA Slam Dunk contest in 1984.

He also raced briefly on the IHRA circuit, winning the first professional IHRA event he entered. That was in 1996 in the Pro Stock mountain motor class at the quarter mile strip in Darlington, S.C. Nance played for the Suns from the 1981- '82 season until the 1987-'88 season. He was traded to the Cleveland Cavaliers about half way through the '87-'88 season. He retired from the Cavs after the 1995-'96 season.

Nance's team name -- Catch 22 Racing -- comes from his basketball jersey, number 22, that he wore throughout college and the pros. His No. 22 jersey was retired by the Cleveland Cavaliers in the 22nd game of the 1996-97 season (ironically, or by design, against the Phoenix Suns) and now hangs from the rafters at Gund Arena in Cleveland with the retired numbers of other Cavaliers players.

The three-time NBA all-star ('85, '89 and '93) insists that racing his Marine Corps Pro Stock Olds and playing NBA basketball have a lot of similarities. "When I was playing, I got butterflies on the court and now the same thing happens to me in the race car," says Nance. "But, that's part of the fun.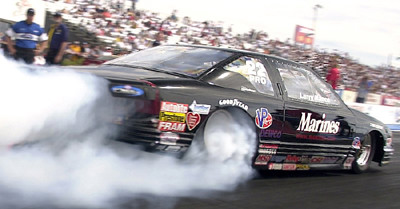 Nance's Pro Stock Olds Cutlass

The competition and intimidation factors are the same in either sport. Whether you play basketball or race cars, even though you are part of a team, you have to play your own game."

When Nance decided to go NHRA Pro Stock Racing in 1996, he picked arguably the toughest category in NHRA drag racing. He says he wouldn't have it any other way. "The reason I picked Pro Stock racing is that I feel it is the toughest professional class on the NHRA circuit. That's where I wanted to be. I didn't want to play in the CBA (Continental Basketball Association), although I probably could have been the best in that league. I wanted to play in the NBA, where the competition is. That's what drives me, competing with the very best competition," reflected Nance.

Nance has made great contributions in both basketball and now in racing; but, his greatest contribution has to be his influence upon children and youth. He states that he wants to be, not only a competitive Pro Stock driver, but a good role model for others. In 1991, Nance received the FBI Director's Leadership Award recognizing him for his commitment to furthering drug prevention education.

2002 Nance's Pro Stock Oldsmobile Cutlass was proudly sporting the U.S. Marine Corps name and logo. As part of the marketing partnership with the U. S. Marine Corps, Nance will once again combine his basketball talent with the NHRA POWERade Drag Racing Series as a recruiting aid for the Marines.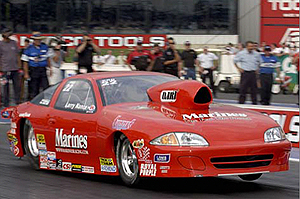 Nance's Pro Stock Chevy Cavalier

Reggie Showers


Despite being a double-amputee, losing both of his legs in a childhood accident, In 1989 became International Drag Bike Association Pro Comp World Champion and Rookie of the Year. 1990: International Drag Bike Association Pro Comp World Champion. Former International Drag Bike Association racer with 25 wins in 32 final round appearances. Holds 14 world records in elapsed time and mph. 2000 Competed in his first full schedule of NHRA Pro Stock Motorcycle events. 2001 Broke into the NHRA top 10 Pro Stock Bike standings for first time in his career; Established career best speed. 2002 Results: Tied a career-best with seventh place finish in the POWERade standings Recorded career-best elapsed time (Englishtown).

Showers' who came off a career-best season, announced he will not compete in 2004. The 39-year-old, Philadelphia native cited the lack of necessary funding and the desire to spend more time with his family as the reasons for taking the year off.

"After much thought, I am going to sit out the '04 POWERade season," Showers said. "I could easily race and finish somewhere in the top 10 but after the effort that was put forth in 2003 by myself, Prosthetic Design, and Star Racing, the POWERade Championship is my only goal. Pro Stock Bike, like all of the other professional classes, is so expensive to race and until I secure the needed funding to win the championship I will not compete."

Showers, teamed with championship tuner George Bryce of Star Racing in 2003. The association delivered immediate results as Showers scored the first two national event wins of his career in Indianapolis and Memphis. He also advanced to the championship round in Chicago, earned the first No. 1 qualifying position of his career in Brainerd, and recorded his quickest elapsed time 7.07 seconds and fastest top speed of 194.27 mph.

The highlight of Showers and Bryce's year came during the prestigious U.S. Nationals in Indianapolis where the Prosthetic Design team won both the biggest race in drag racing and the K&N Filters Pro Stock Bike Klash, an annual all-star event for the top eight qualifiers of the previous year.

"This semi-retirement will also allow me more time at home with my family. My daughter Autumn is 5 and before you know it she will be asking for my motorcycle keys. I want to be there for my parents as they age as well. I am very excited about this new path that God is leading me down. Thank to Racers For Christ for all their support."

Eric Shelton , Pro Stock driver from Atlanta, GA, Started out in Pro/ET class and learned the ropes at the Atlanta Speedshop Dragway where he raced every weekend. Eric began totravel to other tracks and steadily honed his skills against different competition. Eric worked consistently on his car, making sure every component was properly tuned while searching for more horsepower, always striving to try something to go faster. After getting the Duster to run 11.17 seconds in the quarter, Eric moved on to his first chassis car, a 1980 Plymouth Arrow. By 1991, Eric was running bracket points at two tracks running Saturday nights in Dallas, GA and Sunday afternoons in Covington, Ga. After 32 consecutive weekends and 248 passes that year, Eric finished 5th in Super Pro and on to the ET finals, where the Arrow made 9.70 passes with the Shelton-built 340 smallblock Chrysler. After sitting in the stands at the Southern Nationals and watching Super Gas eliminations, Eric promised himself that he would no longer be a spectator. Eric sold the Arrow and began his Dodge Daytona project. Beginning with a TAKASH RaceCraft Chassis and VFN body, Eric completed the car himself. NHRA National and Divisional Competition was next on the menu.

A surprise for their fans, friends, and competitors --- In 2004, the team will feature a brand new Jerry Hass built 2004 Dodge Stratus RT. With the new aerodynamic body style, new power plant and new spirit. They hope to be one of the best NHRA Pro Stock teams. They look forward to meeting all the fans at the track this year.
Shelton's 2000 Dodge Avenger R/T Pro Stocker

Steven Thomson


From Ft. Lauderdale, Fla., is the 2003 Pro FWD NOPI Fast & Furious Champion. At the end of 10 gruelling events he won a total of 1750points to take first place and bring home the trophy.

Thomson's of Pacific Performance has again entered the record books as a proven performance race shop.The 2003 civic coupe produced 850hp at the wheels from b18c motor(no nos). That by itself is an outstanding achievement.

Career highlights:



First Honda on the East Coast in the 10s

First Turbo-charged Nissan SE-R on East Coast

First FWD Nissan in the 9s

3rd place 2002 World Import Challenge

Runner-up 2000 NIRA Finals Pro FWD

2nd place 1999 Texas Drag wars

2nd place 1997 Florida Drag wars
Thomson's 3/4 tube-frame FWD 1999 Honda Civic HB