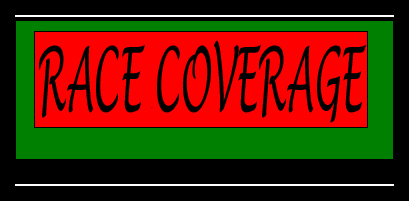 We are in the process of placing correspondents in each division, but until then we are asking the assistance of race participants and/or spectators to help by sending in race results, news and photos. It's simple just Click Here so we can post it!!!!

If you've been off the web, you can go back into the Race Coverage Archives 2005


10/17/2006
Hitman Hits Tree To Take $10,000 10.5 Outlaw Crown @ World War IV!

Mike Hill

by Hank Schmitt
Montgomery, AL -
It wasn't going to happen twice to 10.5 Outlaw ace Mike Hill. He lost a $5,000 winner take all shootout Saturday night at Montgomery Motorsports Park's World War IV on a hole shot to fellow Georgian Steve Kirk. Hill had the faster ET (4.527 to Kirk's 4.529) but didn't match up on the tree.

The two staged a repeat Sunday night in the 10.5 Outlaw finals and Hill drilled the tree with an .010 for the win. His 2006 Mustang snarled its way to a 4.586 at 160.59 mph.

Hill's '06 Mustang

10/10/2006
Lonnie Patrick Continues His Winning Ways @ Auto Club Dragway-Fontana!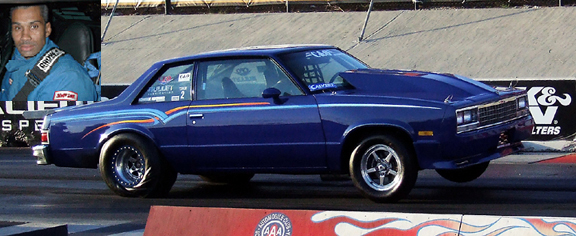 Lonnie Patrick's Chevy Malibu

After Qualifying #1 with a 8.168 @ 173.25 Patrick"Dominated" True Street. In round 1, Lonnie ran a 8.204 @ 174.57 round 2, ran a 8.195 @ 173.94 round 3, ran 8.213 @ 173.94 in the finals he takes the win over S. Zeinaty with a 8.197 @ 173.85 mph to Zeinaty's 9.662 @ 101.64 mph.

10/1/2006

J.R. Todd Win For The Third Time In Top Fuel!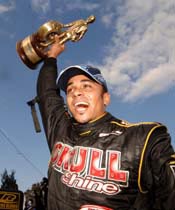 J.R. Todd

J.R. Todd put a lock on the Rookie of the Year balloting Sunday with his third Top Fuel victory of the year. He's only had 16 professional starts, but it's unlikely Todd will ever forget this day as he ran his final-round record to a perfect 3-0 with a string of career-best passes. After out-running Cory McClenathan in the opening round, he lowered his personal best time to 4.502 in a holeshot win against Tony Schumacher and then posted a career-best top speed of 327.82 mph versus Dave Grubnic. But he saved his best for last, dipping into the 4.4s for the first time to extinguish fellow Skull Shine racer Troxel with a 4.494 at 324.12 mph.

"I never thought I'd be standing here with three wins and people talking about Rookie of the Year," Todd said. "We were only going to run part-time this year but [sponsor] Evan Knoll stepped up his involvement and said straight out he wanted to beat Tony Schumacher. I was like, 'Well who doesn't?' but he's given us what it takes to do it.

"Jimmy [Walsh, crew chief] has this thing running so strong. I knew all I needed to worry about was doing my job at the starting line and we'd have a chance. He came on a tune-up last week in Dallas when we ran a 4.54 and it showed today. To run a 4.51, 4.50, and a 4.49 in one day is awesome."

9/5/2006
McDaniel Wins Back-to-Back in Las Vegas!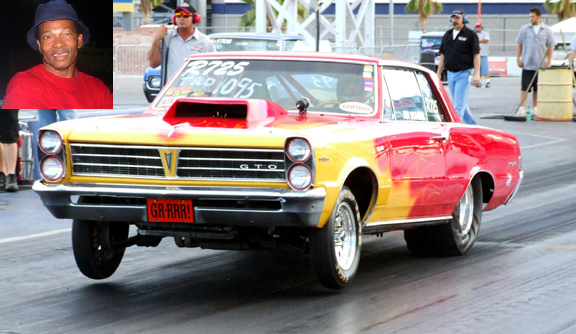 Ken McDaniel's 1965 Pontiac GTO


Las Vegas resident, Ken McDaniel, first win in the Trophy class came @ the PSCA "Summer Nationals" with a 12.366 on a 10.88 Dial-In over Jason Hacker 9.586 on a 9.19 Dial-In Las Vegas, NV. June 23rd - 24th, 2006. Ken second win came @ the PSCA Labor Day Nationals in Las Vegas, NV. Sept 1st - 3rd, 2006. McDaniels drove to victory in his 1965 Pontiac GTO with a 10.886 on a 10.95 Dial-In over Scott Parsons 12.166 on a 12.32 Dial-In.

8/13/2006
Brown Wins @ Lucas Oil NHRA Nationals!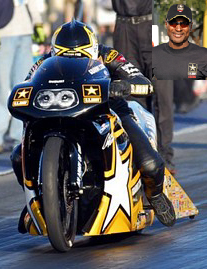 Antron Brown

After a runner-up finish at the last event in Sonoma, Calif., Brown made sure he took care of business here with a 7.108 to 7.159 win over 20-year veteran Johnson. The victory shuffled the top of the POWERade standings and moved Brown from an afterthought to the new leader.

Brown's fourth Brainerd victory lifted his final-round record to 2-2 on the year and 16-16 lifetime. He held the points lead earlier this year after the Atlanta race, which was his last win.

"I just wanted to get my head out of my butt this weekend," Brown said. "Believe it or not, I really felt sorry for Andrew [Hines] when he red-lighted in the first round because I've done it five times this year and I felt his pain. I got a couple of red-light wins today so that definitely helped my cause along.

"The only bummer of the day was my teammate [Angelle Sampey] winning her race and then getting thrown out because she was light. I think the rain screwed up the scales because we were all getting different readings. She just came up short.

"I'm really proud of Steve Tartaglia, my crew chief. It's just his second year as a crew chief and he's hanging with all the big boys. Any one of the top four bikes can win the title this year. It's going to be exciting."

Brown, moved from fourth to first and now leads Andrew Hines by 15 points. Chip Ellis is third, 45 points behind Brown.

8/8/2006

Hill Continues His Wining Ways!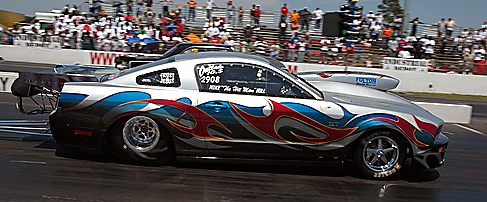 Mike Hill


ORSCA-Mike Hill added to his 2006 win column and his bank account Aug. 6, by beating Michael Robinson in the $6,500 Outlaw 10.5 final at Phenix City, AL. Hill, the number-five qualifier of just six entries, had a first-round bye in his '05 Mustang, then narrowly edged Jack Barfield and his recently purchased 2000 Camaro before going on to pick up his $5K winner's share with a 4.62-second pass against the 4.79 by Robinson in the VIP Camaro.

8/7/2006
Lonnie Patrick Win @ The PSCA Extreme Speed West Coast "Nationals" August 4th - 6th @ AAA Dragway at California Speedway-Fontana, CA!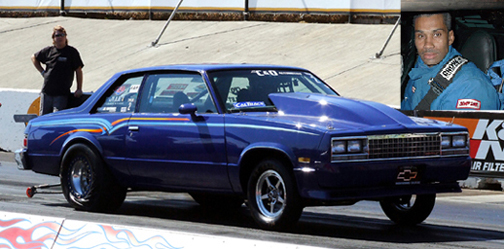 Lonnie Patrick's Chevy Malibu

#2 Qualifier Lonnie Patrick takes the win over Manny Figueroa with a 8.416 @ 172.36 mph to Figueroa's 8.998 @ 113.85 mph in True Street.

7/30/2006

Todd Wins Again!!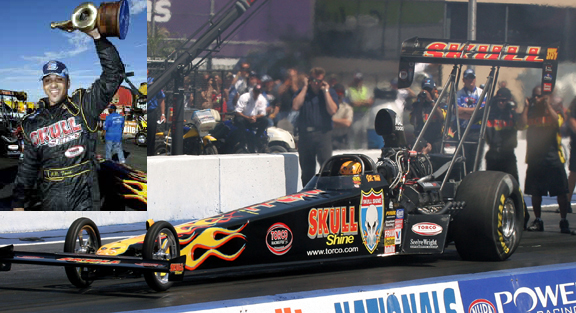 J.R. Todd


Top Fuel rookie J.R. Todd upset three-time POWERade champion Tony Schumacher for the second time in three weeks Sunday in the final round of the Fram-Autolite NHRA Nationals. Just as he did in Denver 14 days ago, the 24-year-old Todd simply outran Schumacher, taking this win in 4.619 seconds at 309.27 mph to Schumacher's 4.679 at 316.01 mph.

Racing in just his 11th national event, Todd is now 2-0 in final-round appearances in his Skull Shine dragster with both wins coming against Schumacher. The two men have faced each other in each of the last four national events, with each man winning twice.

"You couldn't write it any better than this," Todd said. "Beating Tony and that team once for your first trophy ever is like a dream. To do it twice in three races is unreal. I can't even believe this is happening. You work so hard just to get to this level and you don't even think what it will be like to actually win.

"I knew when Evan Knoll stepped up and gave us the backing to run full-time that we were really increasing our chances to win rounds and maybe even a race. This is beyond my expectations. Two races ago people were asking me where the driver was. Now they're screaming my name. It's so cool.

"I'm not thinking about rookie of the year. I'm more excited about being three rounds out of the top 10. If we can finish in the top 10 and keep running like this, the rookie of the year deal should take care of itself."

7/28/2006
Brown Joins Six-Second Club!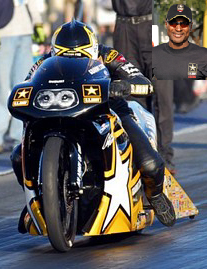 Antron Brown

Antron Brown became the third Pro Stock Motorcycle rider in drag racing history to post a six-second run Friday when he traversed Infineon Raceway in 6.983 seconds during the first round of qualifying at the FRAM-Autolite NHRA Nationals.

Brown's 6.983-second pass at 191.51 mph on his U.S. Army Suzuki was remarkable, but the track record remains with point leader Andrew Hines, who posted a 6.968 at last year's race. Nevertheless, Brown is the third member of the NHRA Mickey Thompson 6-Second Pro Stock Bike Club and will receive a $2,000 bonus from the tire maker for his effort.

7/16/2006

J.R. Todd Makes NHRA History!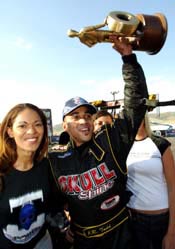 J.R. Todd

Rookie J.R. Todd upset Tony Schumacher Sunday afternoon at the Mopar Mile-High NHRA Nationals to score his first NHRA POWERade Series Top Fuel victory in just his ninth career start. Todd, who with the victory becomes the first African-American to win an NHRA Top Fuel title, never trailed in the race at Bandimere Speedway, dismissing the three-time series champion with a performance of 4.906 at 291.63 mph in his Skull Shine/Torco Race Fuels dragster to Schumacher's 4.966 at 306.33 mph in the U.S. Army dragster.

Todd went deep into the sand trap after his semifinal win over Larry Dixon, but several crewmen from the Valvoline/David Powers Motorsports team as well as a few from the Bud camp were waiting in Todd's pit to help the Torco team get their car turned around in time for the final.

"You never expect to get your first NHRA win by outrunning Tony Schumacher in the final," Todd said. "I didn't even know how to act down there. I was stunned. To beat that team straight up is almost unbelievable.

"It's been a wild weekend. It's so hard to race up here but we qualified real strong with a 4.63 that placed us No. 2. Today was a different story. It was so hot out there and I had to pedal the car every round except the final.

"A lot of teams came over to help us and we would not have made it up for the final without their help. I didn't realize I had so many friends out here. They were talking about me being the first African-American to win in Top Fuel but out here it's all equal, especially when the helmet goes on."

6/25/2006
Ron Weems And The Toy Factory Race Team Continue Their Winning Ways @ The Strip!

Ron Weems And The Toy Factory Race Team In The Winners Circle!

Ron Weems and the Toy Factory race team Win @ the PSCA Calvert Racing Products "2006 Summer Nationals" June 23rd & 24th @ Las Vegas Motor Speedway, Las Vegas, NV.

Weems drove the "R" Trucking and Outlaw Racing Engines sponsored Pontiac Grand Am to a 7.380 et @ 191.46 mph over Rich Zehring 7.908 et @ 135.10 mph to take the win in Outlaw Street 10.5.

6/15/2006
Toy Factory Racing Runner-Up @ The PSCA Borla California Nationals!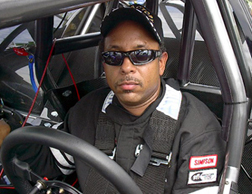 Ron Weems

Ron Weems and the Toy Factory race team was the runner-up @ the PSCA Borla California Nationals held June 9th - 11th @ AAA Auto Club Dragway of California Speedway - Fontana CA.

After fighting new engine and traction blues during qualifying , the team's hard work paid off. Weems drove the "R" Trucking and Outlaw Racing Engines sponsored Pontiac Grand Am to a 7.365 et @ 190.89 mph over D. Sciandri 11.727 et @ 76.24 mph to take the frist round win . In the finals, Weems 7.383 et @ 190.57 mph was runner-up to Rich Zehring's 7.218 et @ 195.56 mph.

Weems & Zehring In The Finals

6/14/2006
Adler Survives New Car Blues To Take Virginia Super Chevy Nitro Coupe Win!


Nitro Coupe Winnner Randy Adler

Former Super Chevy Nitro Coupe World Champion Randy Adler scored his first win in his new hot rod Sunday (6/11) at the Super Chevy Show's Virginia Motorsports Park event.

Adler's new ride is a slick 2006 Pontiac GTO and it swept the table, taking low qualifier honors Saturday and eliminations on Sunday. In the finals, Adler, who hails from Tinley Park, Illinois, ran a 6.494 at 216.48 to defeat Nitro Coupe veteran Bruce Boland of Hamilton, Ontario, Canada. Boland's '33 Willy's had traction issues in the final and ran a 6.992 at 151.70.

Nitro Coupe qualifying on Saturday was marred when defending Nitro Coupe World Champ Wayne Torkelson went into tire shake in his new '59 Corvette Nitro Coupe and smacked the Virginia Motorsports Park wall. Torkelson was slightly injured but is reported to be doing OK. His team tells AutoStar Productions that damage to the car was relatively minor and that Wayne will be back to the Super Chevy Show series as soon as the car is fixed.

A large field participated in the Virginia Super Chevy Bracket Racing program, now open to all GM brands (Bracket Racing results follow). After a weekend off for Father's Day, the Super Chevy Show heads to Thunder Valley for a June 23-25 event.

5/25/2006

Mike "The Hitman" Hill Wins Again!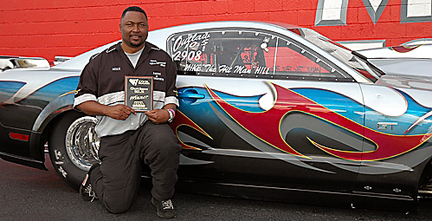 Mike Hill


Mike "The Hitman" Hill is on top of the world these days. His new Race Factory 2005 Mustang is performing like a dream and he recently became the father of a new baby girl. But it takes more than that to get this drag racing hitman excited. "I'm enjoying it," was about all the soft-spoken, but hard-driving Hill had to say after his latest conquest.

Consistency was Hill goal for the day and he managed that with runs of 4.667, 4.684, 4.669, and 4.677, good enough to set low E.T. in three of the four elimination rounds. Still, he wasn't taking Miller for granted. "I knew Craig would be tough and I know I saw him through the middle of the racetrack, but probably about the 330 is where I made my move. Then I just hoped I wouldn't see him again."

Hill secured his third major win with a .042 rt 4.677 et @ 161.67 mph to Craig Miller's .047 rt 4.723 et @157.96 mph on May 21st in the ORSCA Outlaw 10.5 final at Carolina Dragway-Jackson, SC.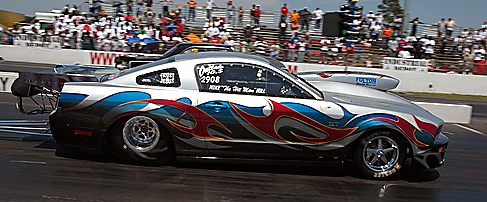 With Three Major Wins This Year, Hill Has Already Topped $67,000
In Prize Money

5/23/2006

Dyar Has The Right Medicine To Score First Nitro Coupe Win!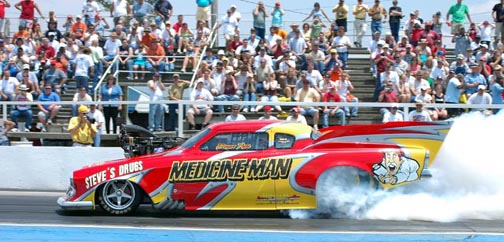 Nitro Coupe Winner Bryan Dyar

Bryan Dyar of Hillsboro, Alabama calls his racing operation "Medicine Man Racing" and is sponsored by a drug store. Whether it was that or his home field advantage, he scored his first Nitro Coupe win in the inaugural Super Chevy Show at Huntsville Dragway May 20-21. Race fans packed the Huntsville stands both days despite an early guest appearance by summer. The three-day event even included a special match race by members of the Middle Tennessee Avalanche Club, whose 6,000 pound behemoths lumbered down the Huntsville strip before Friday's Test and Tune session.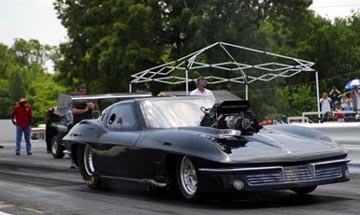 Nitro Coupe Runner-Up Jerry Rhodes

Used to racing in the Alabama heat and humidity, Dyar was the most consistent car in the class, claiming the Trim Parts Low Qualifier prize with a 4.211/174.55 mph shot on Saturday at the legendary 1/8th mile track. He stayed around that mark all weekend, speeding up to a 4.167 shot in the semis when cloud cover briefly cooled the track. In the finals against fellow Alabamian Jerry Rhodes of Southside, AL. Dyar gave up two hundredths to Rhodes and his '63 Corvette Nitro Coupe on the starting line, but his '53 Studebaker stayed on a rail as he turned in a 4.213 (172.35mph) to Rhodes' 4.372 (168.04).

In addition to the Super Chevy menu of Mr. Gasket Bracket One (Electronics), Bracket Two (Footbrake) and D.O.T. (street legal) bracket classes, George Howard threw in three heads up classes, 7.0, 6.0 and 5.50 (bracket results below).

After a week off, the Super Chevy Show continues its 26th Annual Tour with a stop at Atlanta Dragway June 3-4.

Nitro Coupe Qualifying - Saturday 5/20 (Event qualified and raced 1/8 mile)

1 Bryan Dyar, Hillsboro, AL '53 Studebaker 4.211 174.55
2 Jerry Rhodes, Southside, AL '63 Vette 4.244 170.58
3 Larry Sinke. Wellmann, Ontario, Canada '67 Nova 4.278 169.43
4 Bruce Boland, Hamilton, Ontario, Canada '33 Willy's 4.312 170.07
5 Bill Doucet, Lawtell, LA '63 Vette 4.443 171.95
6 Tony "Sandman" Williams, Millington, TN '69 Camaro 4.456 168.86
7 Toney Russell, Ardmore, AL '55 Nomad 4.857 124.55

Nitro Coupe Eliminations - Sunday 5/21 (1/8 mile)

Semi - Finals R/T ET MPH
Jerry Rhodes def. .140 4.204 173.48
Larry Sinke .137 4.270 157.89 (car broke rear end)
Bryan Dyar def. .051 4.167 175.64
Bruce Boland .062 4.281 169.68

Finals R/T ET MPH
Bryan Dyar def. .090 4.213 172.35
Jerry Rhodes .069 4.372 168.04

Low E.T. for season---------- 6.249 Randy Adler (Pomona)
Top M.P.H. for season------ 225.56 mph - Trevor Lowe (Pomona)

Bracket Racing Series Eliminations Sunday 5/21 (all races 1/8 mile)

Mr. Gasket Bracket One Pro Eliminator

Winner - Chris Tolar, Shelbyville, TN, '67 Camaro

Bracket Two Eliminator

Winner - Matt Self, Lawrenceburg, TN, '74 Nova

DOT Winner - Bubba Boyd, Harvest, AL, '79 Malibu

Jr. Dragster Winner - Carlton Douglas, Greenbrier, TN

TREMEC TRANSMISSION BONUS RACE (Sat. 5/20)

Winner - Russ Almand, Spring Hill, TN

Heads -Up Classes (1/8 mile)

7.0 - Jerome Terry, Trinity, AL, '68 Chevy II

6.0 - George Bolton, Trinity, AL, '95 Olds

5.50 - Mike Davis, Ardmore, AL, Chevy II

5/7/2006
Antron Brown Wins In Atlanta!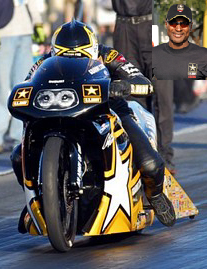 Antron Brown

In a classic Suzuki versus Harley final, Brown decided the race with his riding ability by stealing away the win light on a holeshot. Brown left with a near-perfect .005-second light against Hines' .038-second reaction time, and held on for the win with a 7.098 et @ 187.44 mph to Hines' quicker but losing 7.089 et @ 187.94 mph.

The win was the first for Brown this year and the 15th of his career, drawing him level at 15-15 lifetime. He is now the POWERade points leader.

Brown's U.S. Army Suzuki was quickest of the first two elimination rounds with a track-record 7.045 in the opening session and a 7.065 in the quarterfinals. Then Hines' Vance & Hines Screamin' Eagle Harley-Davidson V-Rod came to life, earning him lane choice in the final with a 7.057 in the semi's, which was .003-second quicker than Brown's pass.

5/3/2006

Oh Canada! Canadians Go 1-2 in Super Chevy Maryland Nitro Coupe Wars!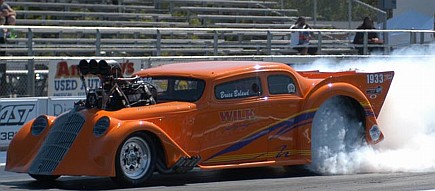 Nitro Coupe Winner Bruce Boland

Canadians Bruce Boland and Larry Sinke met in the finals of the Super Chevy Show's Mickey Thompson Nitro Coupe Challenge Sunday at Maryland International Raceway and it was Sinke who blinked.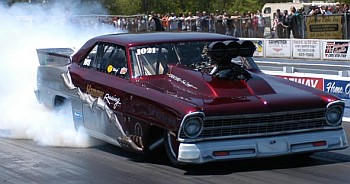 Nitro Coupe Runner-Up Larry Sinke

Boland benefitted from Sinke's red light foul, as Boland's 6.717 at 203.00 blast in his '33 Willys Nitro Coupe wouldn't have covered the 6.486 at 216.79 Sinke and his '67 Nova turned in after going red. Historians think it may have been the first all-Canadian Nitro Coupe final in the 26 years of the Super Chevy Show.

Even the exhibition jet dragster passes between another Canadian, Lou Pereira, and Jessica "Jessie" Harris were tight; each of the 8 jet passes made during the inaugural Super Chevy event at Maryland International Raceway were over 300 miles per hour, with one race being decided by only six hundredths of a second in Jessie Harris' favor (5.173 at 303.64 to 5.234 at 302.14).

The Super Chevy Show's 26th anniversary tour lands at Norwalk Raceway Park this weekend, then takes a week off before heading to another new venue for 2006, George Howard's Huntsville Dragway.

Nitro Coupe Qualifying - Saturday 4/29

Qualifying Position

Driver/Hometown Car ET MPH

1.Larry Sinke. Wellmann, Ontario, Canada '67 Nova 6.404 216.79
2.Dave Tomasino, Kent, NY, '69 Camaro 6.462 209.43
3.John Diemer, Brewster, MA '37 Chevy 6.498 218.62
4.Bruce Boland, Hamilton, Ontario, Canada '33 Willys 6.732 216.03
5.Mike Swinarski, Hamburg, NY '63 Vette 6.862 211.03
6.Chris Russo, Cedar Grove, NJ '63 Vette 9.527 96.64
7.Timothy Baptista, Rochester, MA '67 Camaro 10.011 92.61

Nitro Coupe Eliminations - Sunday 4/30

Semi-Finals R/T ET MPH

Larry Sinke def. .179 6.592 215.24
Mike Swinarski .148 9.127 92.56

Bruce Boland .123 7.305 185.26

Finals
Bruce Boland def. .024 6.717 203.00
Larry Sinke Foul -.014 6.486 216.79

Trim Parts Low Qualifier - Sat 4/29

Driver ET MPH Nitro Coupes Larry Sinke, '67 Nova 6.404 216.79

Bracket Racing Series Eliminations Sunday 4/30

Mr. Gasket Bracket One Pro Eliminator Driver

Winner

Tony Washington, Laplata, MD, '90 Firebird -.046 8.27 8.334 160.59

Runner-up

George Cable, Jr.. Hughesville, MD, '01 Racetech RED Foul Broke

Semis Adam Polikoff, Hughesville, MD

Bracket Two Eliminator

Winner

Jason Stern, Warrenton, VA, '67 Camaro .037 11.89 11.910 108.74

Runner-up

Scooter Hoover, Powhatan, VA, '72 Chevelle .056 1004 10.028 132.04

Semis Brian Freels, Baltimore, MD Chris Poshbrook, Davidsonville, MD, '80 Malibu

DOT

Winner Chubby McDonald, Inwood, WV, '55 Chevy .177 11.50 12.082 102.79

Runner-up Patty Nebel, Mechanicsville, VA, '97 Grand AM Foul 16.89 16.912 81.40

Semis Bernie Pyles, Millersville, MD

4/25/2006
Ron Weems Runner-Up On Friday Night And Win On Sunday @ The Strip!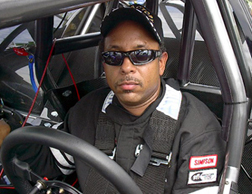 Ron Weems

Ron Weems and the Toy Factory race team were runners-up @ the PSCA Mickey Thompson Tires WinterNationals make-up race on Friday, April 21st. The Deeds Performance "Las Vegas Nationals" were held April 21 - 23 at The Strip in Las Vegas, NV at which Ron Weems and his team took the win in Outlaw Street 10.5 over Rich Zehring.

Weems posted a 7.588 @ 182.70 mph over Zehring's 7.691 @ 195.87 mph for the win.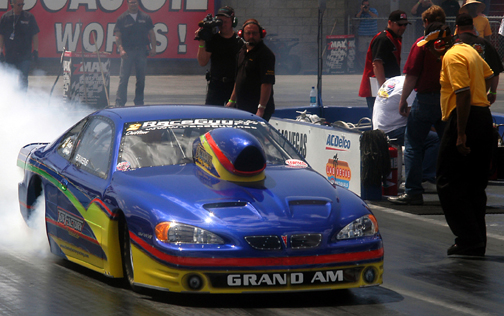 Ron Weems Grand Am

4/7/2006

Super Chevy Show @ Pomona!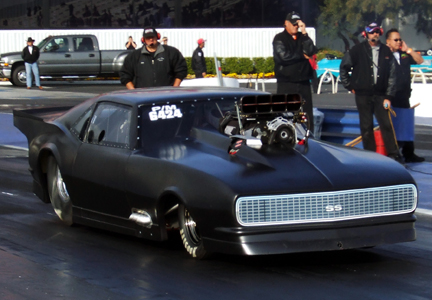 Nitro Coupe Winner Trevor Lowe


Canadian Trevor Lowe claims Chilliwack, British Columbia, as his hometown. It's not anywhere close to Auto Club Raceway at Pomona, but Pomona is where Lowe notched a win April 2 in the Super Chevy Show's 2006 stop at the high temple of drag racing.

Lowe qualified second in the field Saturday behind 2004 champ Randy Adler with a 6.315 at over 225 miles per hour and kept the consistency on race day with only one run out of the 6.35 range. In the finals, he faced former Nitro Coupe Champ Dan Nickelson and his '03 Corvette. Lowe did the trick with a 6.350 run at 225 miles per hour. Nickelson had traction issues and ran a 7.455 at 166.56 miles per hour.

In the Bracket One Finals, it was an all door car affair as Long Beach, CA racer Mike Blodgett took the win over Scott Hudson of Yorba Linda. Blodgett's '72 Nova dialed a 11.46 and ran a 11.485 at 123.70 miles per hour. Hudson lost on the tree and ran a 10.656 on his 10.65 dial at 131.61 miles per hour. In the Bracket Two wars, Bob Chagnon of Temecula, CA took the win in the finals over Robert Smith of Valinda, CA. Chagnon, driving an '88 Beretta, dialed a quarter mile 10.44 and ran a 10.564 at 114.64. Smith drove an '80 Chevy Stepside truck and rumbled to a 12.581 run on his 12.45 dial at 110.61 miles per hour.

In the Street-Legal DOT class, the 2005 Pontiac of Gary Hairfield of San Diego ruled the roost at Auto Club Raceway. He defeated Ontario, CA racer Sam Johnson in the finals. Both racers dialed correctly, as Hairfield predicted a 12.81 and ran the number with a 12.818 at 106.32 miles per hour. Robinson dialed his '57 Chevy in at 13.43 and ran a 13.438. The difference in the race lay on the starting line and Hairfield's .034 versus a .066 for Robinson.

The Super Chevy Crew is pausing to load up on fried peanut butter and banana sandwiches before heading to Memphis Motorsports Park for an April 21-23 event. AutoStar Productions President Roger Gustin reminds racers that any GM brand is welcome in the Super Chevy Show's bracket program.

Check Out The Super Chevy Show Photo Gallery Click Here.

February 24-26, 2006
Firebird Raceway

Checker Schuck's Kragen NHRA Nationals Firebird Raceway-Chandler, AZ.

February 17-19, 2006
Las Vegas Motor Speedway

PSCA Winter Nationals Las Vegas, Nevada

February 9-12, 2006
Auto Club Raceway @ Pomona

NHRA-CarQuest Auto Parts Winternationals Pomona, CA.

1/22/2006
NHRA Top Fuel Newcomer J.R. Todd Led First & Second Day Of Professional Testing Among The Dragsters @ The NHRA Nitro Blast-Off @ The Strip!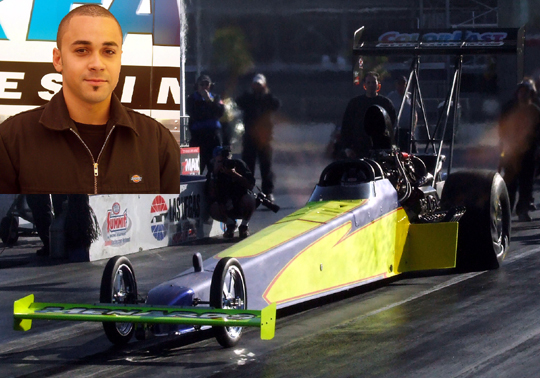 J.R. Todd

NHRA Top Fuel newcomer J.R. Todd was tops on Friday's testing among the dragsters with an early-lifting 5.075 @ 196.87 mph. Todd also led Saturday, the second day of professional testing with a 4.631 @ 277.94 mph at the NHRA Nitro Blast-Off at The Strip at Las Vegas Motor Speedway behind the wheel of the Menards-sponsored dragster.

More photos from the Nitro Blast-Off at The Strip Coming Soon!!

Day 1 (Friday) best elapsed times and speeds.

Top Fuel
JR Todd: 5.075 @ 196.87 mph mph
Mike Strasburg: 7.031 @ 121.97 mph
Larry Dixon: 8.681 @97.91 mph
Brandon Bernstein: 10.168 @ 81.37 mph
David Baca: 11.548 @ 78.50 mph
David Grubnic: 11.876 @ 77.59 mph
Doug Kalitta: 11.746 @ 82.86 mph
Hillary Will: 12.078 @ 72.37 mph

Day 2 (Saturday) best elapsed times and speeds.

Top Fuel
JR Todd: 4.631 at 277.94 mph
Doug Kalitta: 5.272 at 181.54 mph
Mike Strasburg: 5.709 at 163.79 mph
Hillary Will: 7.029 at 109.38 mph
Arley Langlo: 7.681 at 109.17 mph
Larry Dixon: 9.466 at 95.03 mph
Clay Millican: 11.237 at 72.69 mph
David Baca: 11.393 at 83.46 mph
Brandon Bernstein: 11.736 at 75.17 mph
David Grubnic: 11.856 at 74.85 mph

Day 3 (Sunday) best elapsed times and speeds.

Top Fuel
Doug Kalitta: 4.553 at 319.98 mph
Larry Dixon: 4.593 at 273.44 mph
Brandon Bernstein: 4.626 at 317.27 mph
Hillary Will: 4.634 at 255.58 mph
David Grubnic: 4.802 at 217.07 mph
David Baca: 4.941 at 217.60 mph
Clay Millican: 4.945 at 200.71 mph
Mike Strasburg: 6.158 at 140.18 mph
Morgan Lucas: 8.486 at 101.96 mph
Doug Foley: 13.540 at 60.00 mph

Day 4 (Monday) best elapsed times and speeds.

Top Fuel
Hillary Will: 4.483 at 324.83 mph
Brandon Bernstein: 4.510 at 326.08 mph
David Grubnic: 4.671 at 317.05 mph
J.R. Todd: 4.692 at 249.03 mph
Larry Dixon: 4.845 at 215.86 mph
Clay Millican: 4.924 at 222.07 mph
Morgan Lucas: 6.496 at 123.19 mph
Doug Foley: 7.670 at 92.00 mph
Mike Strasburg: 10.048 at 83.80 mph

The next major test session event is the National Time Trails, Jan. 28-30, at Firebird International Raceway in Phoenix.

© Copyright 2004-2006 Black Dragracers.com All Rights Reserved.
Designed & Maintained by: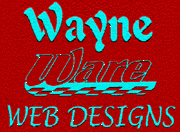 Brought to you by: