Click to visit our sponsor's website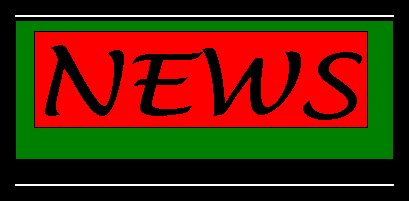 Get On Track!

Just can't wait for the next issue. Want to receive breaking news and find out whaz-up.

Come on racers, send us your press releases or any race news, photos or results. It's simple just Click Here so we can post it!!!!

If you've been off the web, you can go back into the News Archives 2007


11/10/2008
Ron Weems Claim Back To Back PSCA Outlaw 10.5 Championships!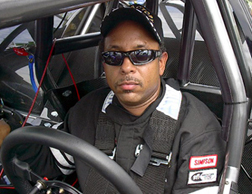 Ron Weems

Congratulations To Ron Weems & The Toy Factory Race Team On Your Back To Back PSCA Outlaw Street 10.5 Championships

Mesa Contracting and PRW Outlaw 10.5 driver Ron Weems won 5 events in 2008 including the final four and he needed every point to catch Rich Zehring who had built up a pretty big lead early in the season to become Back to Back Outlaw 10.5 Champion!!

Ron Weems & The Toy Factory Team is going to trim a few ponds off the Grand Am and take on all comers at the Street Car Super Nationals November 20-23 at the Strip at Las Vegas Motor Speedway...

2008 PSCA Outlaw Street 10.5 Champion

11/10/2008
Craig Williams Wins 1st PSCA Limited Street Championship!

Congratulations To 1st Time PSCA Champion Craig Williams & Crew On Their Limited Street Championship!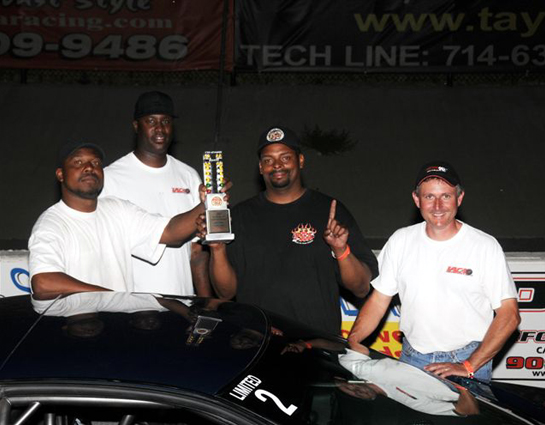 Craig Williams PSCA Limited Street Champion!

In a season where Limited Street seen a record 5 different winners, Craig won 2 events and came out on top by a slim 5 points over 2007 Champion Gary Brandt.

Even though this fine class has lost a lot of competitors, the five that were on hand were the nation's very best. Both Craig Williams and Gary Brandt have been the guys to beat all this season, and then both drivers unfortunately crashed on the same run at the Strip in Las Vegas. Brandt did fix his ride on the spot at LVMS and made it to runner up while Williams honestly thought about throwing in the towel and selling everything he had left. But Craig is a true racer, so guess who the two top qualifiers were? Brandt and Williams, of course, with the Brandt family operation Mustang #1 at 8.951, 151.88 while Craig put his Camaro back together and was #2 at very close 8.959.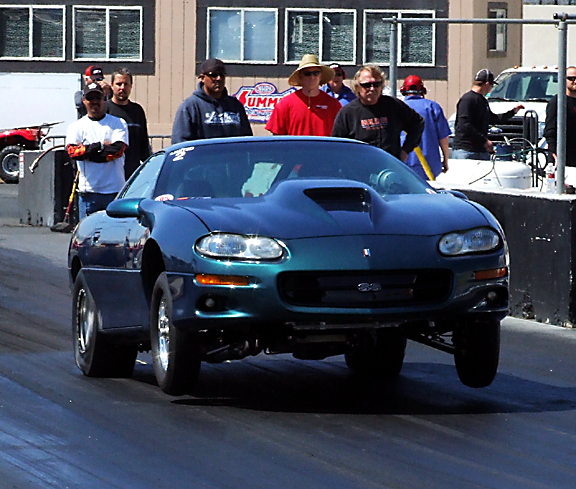 Craig Williams' 2000 Limited Street Camaro

Mike Saiki, a former champion in this class himself, put Brandt on the trailer in the semi's and that set the final against Williams and only a few points between the rivals Williams and Brandt. Williams had to win this event to take the championship back to Los Angeles and that is what he did with a career best 8.862, 155.57 mph to a 9.103, 154.44 for Saiki's Vette. By a mere five points, Craig Williams wins his first K&N Filters Limited Street Championship!

9/22/2008
J.R. Todd Win First Race In '08 Season @ The NHRA Fall Nationals!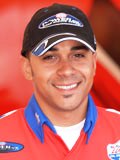 J.R. Todd

Todd, who has suffered through about as disappointing a season as the 2006 rookie of the year could have imagined in his worst nightmare, having scored just five round-wins this year, pushed the John Stewart-tuned Lucas Fuel Treatment dragster to his first win in more than a year, since the 2007 event in Houston, upsetting the heavily favored Schumacher on a holeshot in the final, 3.912, 309.84 to 3.910, 310.64. Three of Todd's six wins have been against Schumacher in the final round.

"Tony's the toughest guy out here, and if you beat him, you've accomplished something," said Todd. "I was pretty jacked up anyway, but racing him you know you have to leave first because Alan Johnson makes big horsepower, and Tony doesn't usually beat himself. When I heard the fans chanting my name, that was pretty special. I'm kind of choked up.

"The way our year's gone, I didn't think it was ever going to turn around. Every race, we'd be gaining ground in qualifying and thinking, 'This is going to be it, finally,' and then get out there and struggle first round, and if we won first round, we couldn't get back second round. When we got past second round today, I knew we had some momentum. Getting Jimmy Walsh onboard has been the turning point for us."

9/6/2008
Hammonds Hires Kenny Tom As Crew Chief!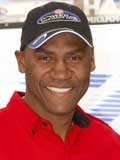 Tom Hammonds

Tom Hammonds Enterprises, LLC has hired Kenny Tom as the crew chief for the Tom Hammonds Racing Pro Stocker. Tom has 23 years of motorsports experience and has served as crew chief for Ron Krisher Racing and Mark Osborne Racing. He also served as race team manager, clutch manager, and lease engine representative for various motorsports organizations.

"Kenny brings a wealth of knowledge and has been in Pro Stock a number of years with quality teams," said Tom Hammonds, president and driver of Tom Hammonds Enterprises, LLC. "What I like about Kenny is he is a hard worker and fits right in with what we are doing. He knows what he is doing, and we are extremely happy to have him."

In 1966, Tom began racing his 1962 Plymouth D/Stock on the NHRA Sportsman and Super Stock, where he raced for 14 years before transitioning into team management.

"As the driver of our No. 20 Chevy Cobalt, I have not sat in the lounge of our transporter for a long time. Bringing Kenny Tom on board allows me to do what I do best and that is driving our Chevy Cobalt down the track."

Tom will lead Team Hammonds at the inaugural NHRA Carolinas Nationals in Charlotte, N.C.

9/2/2008
2007 Outlaw Street 10.5 World Champion Ron Weems And The Toy Factory Race Team Win @ The PSCA Labor Day Nationals August 29th - 31st, 2008 @ The Strip (LVMS) Las Vegas, NV!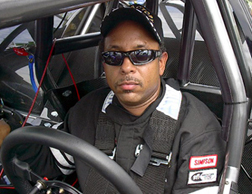 Ron Weems

A great turn out of Outlaw 10.5 Street competitors, were on hand at the Strip, with 2007 World champion Ron Weems from Riverside, Calif., taking the pole position at a 7.159 and a record setting 199.86 mph.

In the first round when Weems' competition could not make the call, he ran a 7.108 et & another mph record of 202.39 with his Mesa Contracting & PRW sponsored Grand Am.

In the second round Weems received a single and ran another great pass of 7.451 et @ 200.02 mph.

In the third round Weems advanced to the finals with a 7.072 et @ 200.56 mph over Rick Shavely, 7.244 @ 197.10 mph.

The Outlaw final has been an ongoing rival between Weems & Zehring, for a couple of years, but not with these huge Top Speeds. At the green light they both left together with 2007 Outlaw 10.5 Champ Weems collecting the trophy and the win with a 7.045, 201.16 mph while Zehring once again clocked another MPH record pass of 205.10, but his 7.219 was only good for the runner up spot.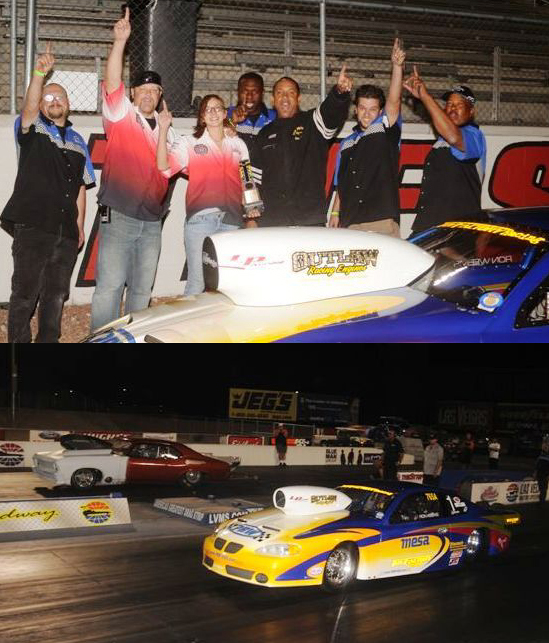 Photos By Tim Marshall

7/28/2008
Charles Jackson Win @ The PSCA's West Coast Shootout @ AAA Auto Club Dragway-California Speedway-Fontana CA. July 25-27!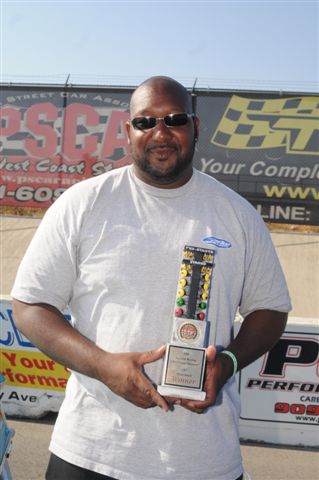 Charles Jackson

The PSCA's 10.60 index class is called Mean Street and it was a very tight race indeed. After Hemet's Joe Bennett and his trusty red Vega set the pace at 10.604/125.33, Charles Jackson's immaculate Chevy Nova from Los Angeles narrowly defeated many-time winner Mike Nordahl and his black Vega. Nordahl got the holeshot (.049 RT to Jackson's .134 RT), but Charles had his Nova dialed in perfectly at a fine 10.605/125.72 to Nordahl's 10.726 at 126.23 mph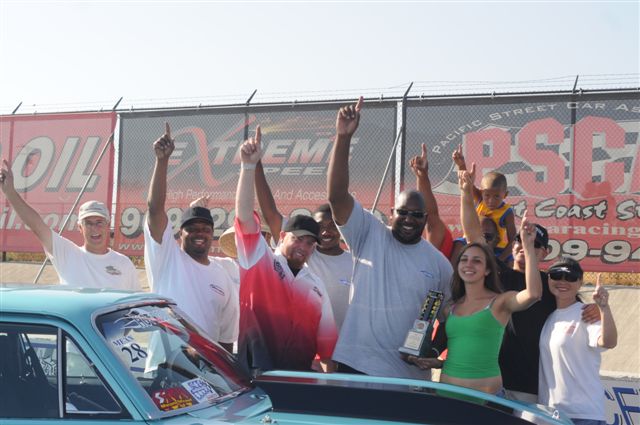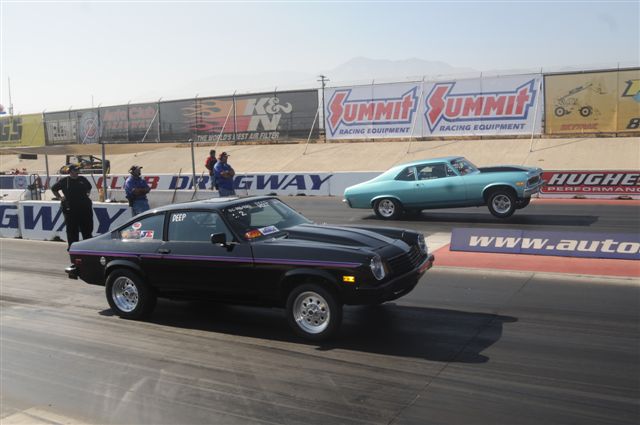 Photos By Tim Marshall

6/25/2008
Former NBA Star Nance Returns To Compete In Norwalk!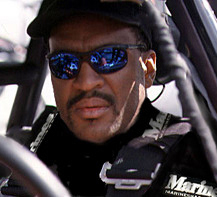 Larry Nance

The NBA's first Slam Dunk champion will return to Summit Motorsports Park for the second year in a row in Pro Stock, the deceivingly competitive category where every thousandth of a second is a tease – the difference between racing Sunday and packing up for home.

Larry Nance, formerly of the Cleveland Cavaliers, will field his Blaster Products Chevy Cobalt at the second annual Summit Racing Equipment NHRA Nationals June 26-29 at Summit Motorsports Park. It's the 12th of 24 events in the NHRA POWERade Series Countdown to the Championship.

Nance has been called the lynchpin veteran to the Cavaliers' young talent that ushered in arguably the most successful era in franchise history. "Leapin' Larry" proved there was more to his game than style, averaging 17 points per game in the pros after a stellar college career at Clemson University, and with the help of Brad Daugherty and Mark Price, he carried the Cavaliers to the playoffs every year that group played together except one.

Nance began his drag racing career as an owner in 1986, farming out his Camaro to a driver who was willing to compete with it while Nance played for the Phoenix Suns. Two years after his retirement, he began driving on his own.

"I think [the NBA and NHRA] are a lot alike," Nance said. "[But in drag racing] you rely on a machine, and you've got more parts on a car that could go wrong, instead of teammates, which are a whole lot more reliable."

In both, practice is required, Nance said.

"I think drag racing is very competitive and basketball is very competitive," Nance said. "And when we as basketball players are programmed to compete every day, we compete in practice and everything we've ever done. I've been programmed like that all my life. When you get out [of the NBA], you still want to compete. Drag racing allows me to do that."

Nance is in search of a sponsor that will allow him to compete full-time and partner with the Alzheimer's Foundation in honor of his mother. In the meantime, Nance, who still lives near Cleveland, will send his oldest child, Casey, to college, and watch sons Larry Jr. and Pete play basketball with his wife, Jaynee.

He is one of two former NBA stars trying to make their way into the difficult-to-crack Pro Stock class. Tom Hammonds, who is taking a break from the NHRA POWERade Series until the Mac Tools U.S. Nationals Aug. 27-Sept. 1, began the 2008 season but has struggled.

Both Nance and Hammonds entered drag racing long before their retirement from the NBA; Hammonds left the Minnesota Timberwolves in 2001 and Nance the Cavaliers in 1994. Hammonds' first car was a truck, a '72 Chevy.

"I took some beatings just [from] running my mouth," said Hammonds, who raced near his Crestview, Fla., home. "In my mind, I thought I was going 200 mph. Now I really do 200 mph."

The number-one question fans ask Hammonds now is, strangely, the same that fans asked him while he was still with the NBA: "How do I fit in the car? That's still the number-one question, no matter where I go."

6/10/2008
Llewellyn Planning A Return To Pro Stock Motorcycle!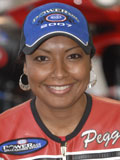 Peggy Llewellyn

Peggy Llewellyn, the popular San Antonio-based pro who finished fourth in last year's Pro Stock Motorcycle standings, is planning a return to the NHRA POWERade Series, most likely at the Mopar Mile-High NHRA Nationals in Denver July 11-13. Llewellyn, who was released from the Klement team at the end of 2007, will ride an S&S-powered Buell that is owned and maintained by the Guidera family's Rocklin Motorsports team.

"Ever since I found out I didn't have a ride for this season, I've been working hard to put something together," said Llewellyn, who scored her first victory at the O'Reilly Super Start Batteries NHRA Fall Nationals presented by Castrol Syntec in Dallas last October. "As everyone knows, the economy is a little tough right now, so it's been a tough road, but it looks like we're making progress. We've got a few things in the works -- nothing concrete, but there has been a lot of interest, so hopefully something will happen soon. In the meantime, I know how important it is to be out there racing, so I'm going to run a couple of races with Matt and see what happens from there."

Llewellyn made an appearance at the recent Torco Racing Fuels Route 66 NHRA Nationals in Chicago and made a pair of runs on Guidera's bike Monday following the event. Her first run, a planned early-shutoff pass, netted a competitive 7.17 at just 178 mph. She later ran a 7.07 at 187 on a run that was admittedly far from perfect.

"I told my guys that I took the scenic route on the second run, but it felt really good just to be back on a Pro Stock Motorcycle," said Llewellyn, who plans to race in Denver and at the Fram Autolite NHRA Nationals in Sonoma two weeks later. "I can't wait to get back out here."

"Peggy is great for the class, and we really need to have her back out here," added Guidera. "We've been talking for a while and finally agreed that she'd run in Denver and Sonoma. Denver is a perfect place to start because the natural elements seem to favor the V-Twins, so I would expect Peggy to be really competitive right from the start.

"Sonoma also works for us because that's the closest race to our home in Fresno, and it will be easier for us to get the additional support we need to run a second bike as far as additional crewmembers and things like that. Obviously, having a teammate should also boost our program because we'll have a second bike to get data from. I think this deal has a lot of potential, and hopefully we can find a marketing partner to make it all work."

5/20/2008
Craig Williams, Leon Youngblood & K.J. Jones Win & Runner-Up @ The PSCA California Nationals @ AAA Auto Club Dragway-California Speedway-Fontana CA. May 16-18!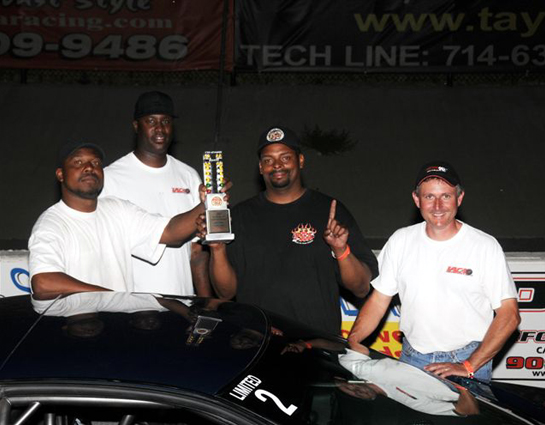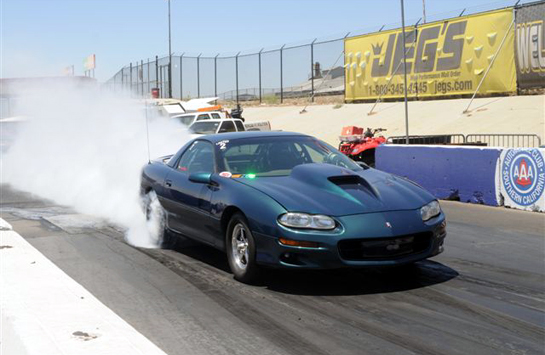 Craig Williams

Craig Williams took the win in Limited Street with a 9.314@ 150.72 over Gary Brandt 9.394@133.10.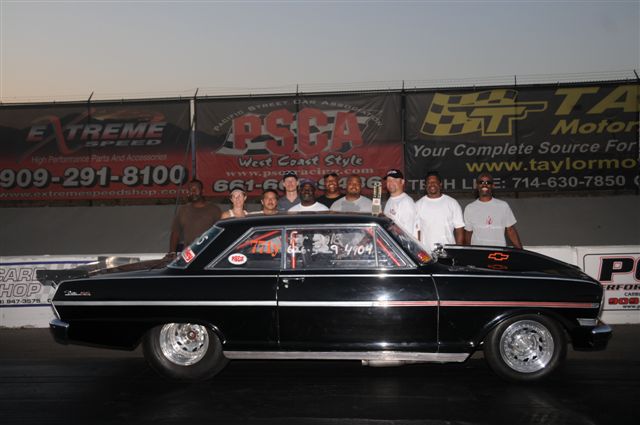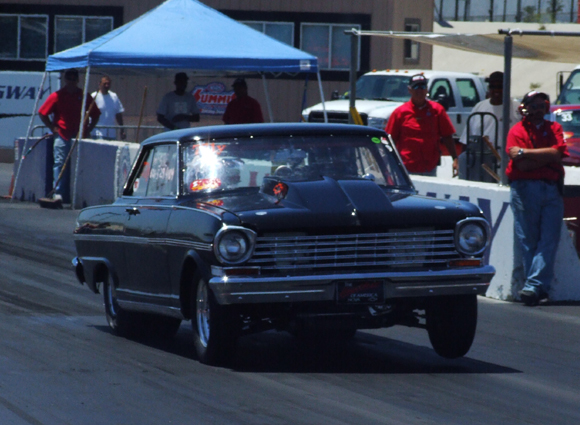 Leon Youngblood

Leon Youngbood took the win in Mean Street with a 10.644 @ 125.59 over Joe Bennett 10.621 @ 121.43.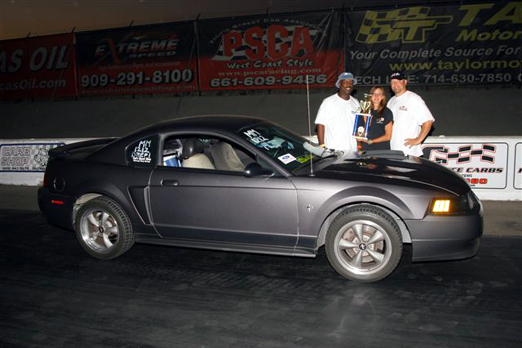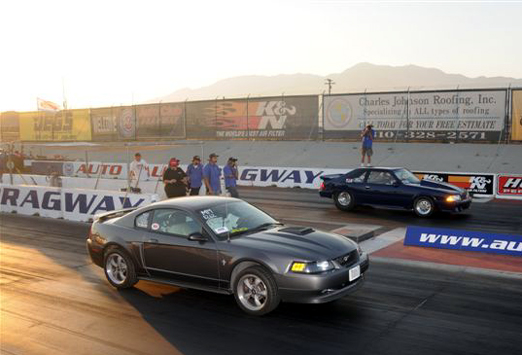 K.J. Jones

K.J. Jones was runner up to D. Marciano 10.699 @ 109.35 in Ford Mustang Maddness with a 14.609 @ 96.11.

5/13/2008
Tom Hammonds Race For Achievement Program Partners With Vance Middle School!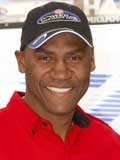 Tom Hammonds

Tom Hammonds, NHRA Pro Stock Car driver/owner and retired NBA player, will take his national school program, Tom Hammonds Race for Achievement, to Vance Middle School in Bristol, Tenn., on Wednesday, May 14, at 12:45 p.m. EST in conjunction with O'Reilly NHRA Thunder Valley Nationals.

Tom Hammonds Race for Achievement allows Hammonds to interact with students through message. Vance Middle School students will participate in an assembly where he will speak about the importance of education, sportsmanship, and leadership. After the assembly, fifty students will view the NHRA Pro Stock Chevrolet Cobalt and transporter.

During the assembly, Hammonds and Vance Middle School will be presented with a proclamation declaring it "Tom Hammonds Race for Achievement Day" in the city of Bristol, Tenn. Fifty students meeting set criteria will be chosen to receive an O'Reilly Auto Parts® Race Pack, filled with goodies supplied by program supporters (GM, Goodyear, and MacTools®), Tom Hammonds Hero Card, and two tickets to Friday's O'Reilly NHRA Thunder Valley Nationals race at the Bristol Dragway.

One student out of the 50 will be chosen to serve as an honorary crew member at the race. Per the teachers' and administration's recommendation, these 50 students' participation is based on maintaining a "B" average, good behavior, and no suspensions and/or unexcused absences.

In its efforts to promote student achievement, Vance Middle School will implement a race program designed to give students the opportunity to use lessons in science and math to build a race car, which they will race in late September 2008 at the Bristol Dragway. Vance Middle is the third school to participate in the national program, with four schools to follow in the race markets of Dallas, Charlotte, N.C., Memphis, Tenn., and Indianapolis.

Hammonds and Tom Hammonds Enterprises, LLC is dedicated to rewarding students for their achievement in the classroom. By doing so it builds positive behavior towards education, self- esteem and confidence that build strong students and ultimately good citizens. Overall, the program sees itself as being a part of the community team and will always be a voice for progress in student achievement. To date, Hammonds has had the pleasure of speaking to many students encouraging them to stay in school, and while in school, be the best student they can be.

4/28/2008
Antron Brown Score's Second Win In Top Fuel!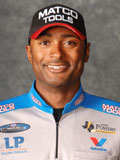 Antron Brown

Brown is quickly becoming the story in Top Fuel as he advanced to the third straight final and won for the second time. Brown, appearing his 36th overall career final, used the killer starting-line skills he picked up from years in Pro Stock Motorcycle to win his 18th career NHRA Wally. Brown took a .035 to .060 reaction-time advantage at the Tree and held on to the lead all the way down track, edging Tony Schumacher by .0096-second, 4.537 to 4.521. This is the first time Brown, who jumped up to second in points, has defeated Schumacher in three meetings between the two.

This weekend I had a little problem with my brakes, and my car kept rolling on me a little bit," said Brown. "I kept pulling the lever back, and it kept rolling a little bit, but I didn't let that disturb me. That made it pop some real good reaction times this weekend, so it made me look like I was doing good.

"In the final round, we were racing Alan Johnson, Tony Schumacher, and the whole Army team over there, and they're five-time world champions, so you have to give it everything you've got. As soon as I saw that thing just flicker yellow, I hit the pedal as quick as I could, and that thing took off and was going down Broadway; I didn't feel any hiccups on the racetrack, so I knew it was on a good pass. I didn't see Tony, but I heard him, so I knew he was right there. I was like, 'Man, come on, come on.' I went through the traps, saw that win light on, and I just went ecstatic. I couldn't get out of that car quick enough. It just felt fantastic."

Brown's 4.53 in the final was the last of four straight 4.5-second clockings in eliminations. He ran a 4.580 to defeat Dave Grubnic in round one and followed that up with a 4.591 win over Cory McClenathan and a 4.555 victory over Bob Vandergriff Jr.

Points leader Schumacher continued his fast start to the season with his third final this year. Schumacher, who won in Pomona and Gainesville, had the dominant car in eliminations, running back-to-back 4.55s in respective wins over Morgan Lucas and Hillary Will in the first two rounds and low e.t. of the weekend, 4.511, in his defeat of Rod Fuller in the semi's. Schumacher holds a 26-point lead over Brown.

3/31/2008
Antron Brown Makes History With Top Fuel Win!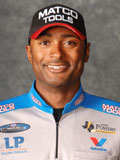 Antron Brown

Antron Brown capped off an historic Sunday afternoon at the 21st annual O'Reilly NHRA Spring Nationals presented by Pennzoil when he powered his Matco Tools dragster past Larry Dixon U.S. Smokeless dragster to become the first driver in NHRA history to win races in Pro Stock Motorcycle and Top Fuel.

Brown advanced to the final in the Matco Tools dragster in only his fourth Top Fuel race from the No. 12 spot, the lowest starting position in his brief Top Fuel career, with four consistent runs ranging from 4.541 to 4.605. Brown survived exceptionally close races against Doug Foley and Cory McClenathan in the first two rounds before running down Doug Kalitta in the semifinals and squeaking out a narrow 4.60 to 4.62 final-round victory over Phoenix winner Larry Dixon by a mere .0044-second. Brown accomplished the feat at the home track of team owner David Powers; Brown was runner-up here to Karen Stoffer in Pro Stock Motorcycle in 2004.

"Being able to live this dream is unreal," said Brown. "I was a little kid going to the Summernationals watching guys like [Don] Garlits, Kenny Bernstein, John Force, and Don Prudhomme, and now I have to stop and ask myself, 'Am I really here?'

"This team has been plagued in the second round all year, but we knew we were capable of winning. We had some really close races today. The margins of victory were so tight that it felt like Pro Stock Motorcycle racing at a faster speed."

3/18/2008
Ron Weems, Craig Williams & Charles Jackson Win & Runner-Up @ The PSCA's Season Opener @ AAA Auto Club Dragway-California Speedway-Fontana CA. March 14-16!

The PSCA season opener in Las Vegas was canceled due to rain and high winds, and Mother Nature threaten to do the same last weekend at AAA Auto Club Dragway at California Speedway. The bad weather interrupted Saturday qualifying but the weather held up for Sunday's eliminations to get the first race of the season finished.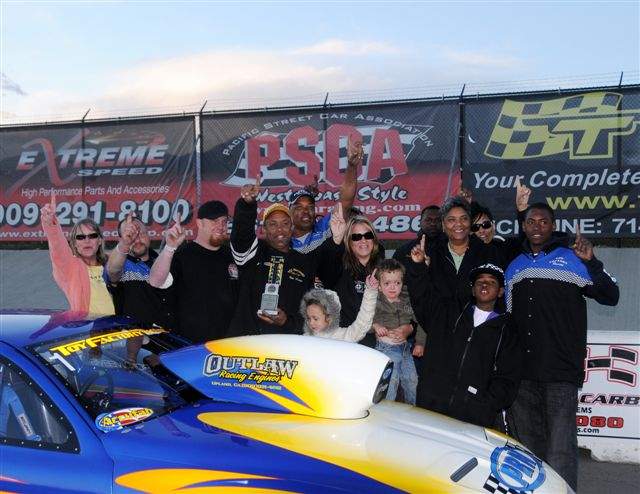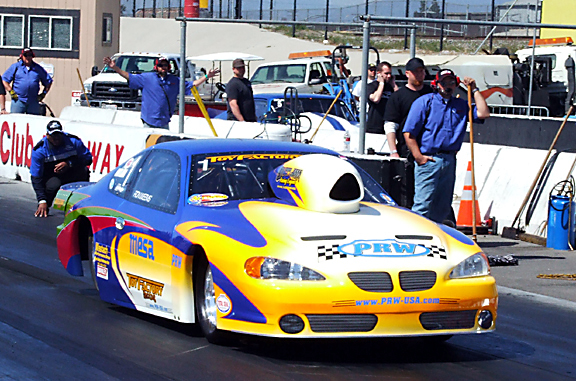 Ron Weems

Ron Weems took the win in Outlaw Street 10.5 with a 7.062 @ 195.76 on a single when Rich Zehring could not make the call.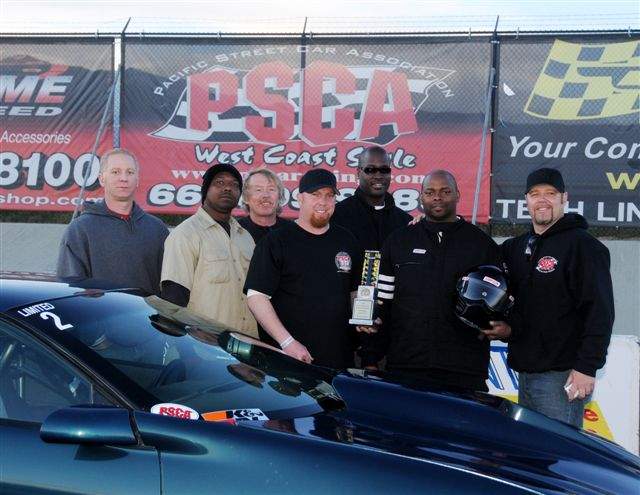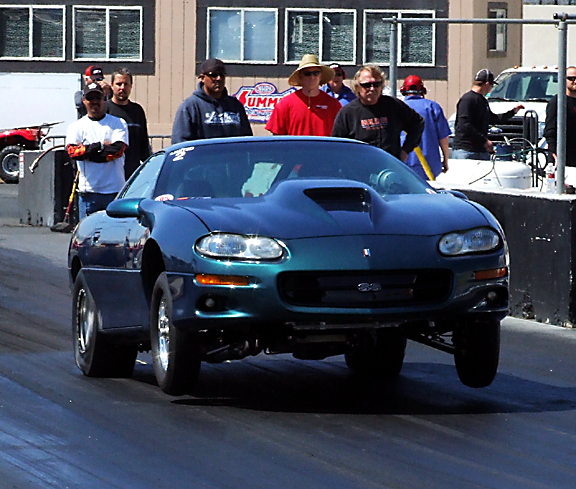 Craig Williams

Craig Williams took the win in Limited Street with a hole shoot 9.178 @ 154.94 over Gary Brandt 8.942 @ 149.63.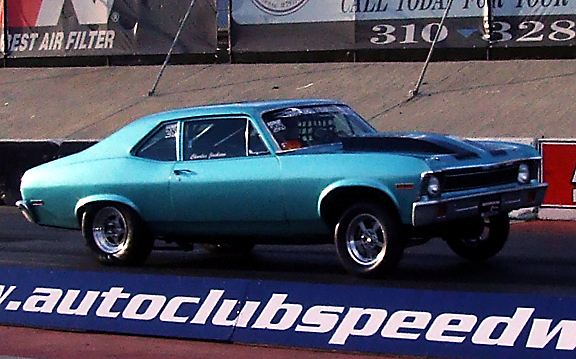 Charles Jackson

Charles Jackson won the 2007 World Finals make-up final round in Mean Street over Sergio Felipe on Sunday Morning then his 10.653 @ 126.64 was runner up to Ron DeHoop's 10.635 @ 117.79 in Mean Street @ the Spring Break Shootout.

3/12/2008
Rice Named Dragstrip Manager For The Auto Club Dragway!
Beth Rice has been promoted to the position of dragstrip manager of the Auto Club Dragway at the Auto Club Speedway, Speedway President Gillian Zucker announced.

Rice becomes just the fifth woman to currently hold the position of dragstrip manager at an NHRA-sanctioned track.

Rice, who brings over 15 years of experience in drag racing, joined the Auto Club Dragway staff as an assistant in 2007. Prior to that she served in various roles within the NHRA Northwest and Pacific Divisions.

2/11/2008
It's Official: Martin To Compete In ADRL!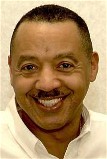 Harold Martin

Known by racers and fans alike as the "EFI Wizard," Harold Martin will compete in the ADRL Pro Nitrous class with a 2006 Grand Am built on a special racing chassis and powered by a unique 738-cubic-inch, electronic-fuel-injected and nitrous-oxide-boosted engine built in his own race shop.

He will represent the National Guard at all nine scheduled ADRL national events this year, joining Pro Extreme driver Joshua Hernandez on Team Rage.

2/8/2008
Top Fuel Rookie Brown Races To Top Spot!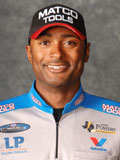 Antron Brown

In just his second competitive pass in a Top Fuel dragster, former NHRA Pro Stock Motorcycle star Antron Brown is on top of the drag racing world at the 48th annual CARQUEST Auto Parts NHRA Winternationals. Brown sped down Auto Club Raceway at Pomona Friday afternoon with a 4.495 at 330.07 mph in the Matco Tools dragster to surprise his peers and start a mini celebration in the David Powers Motorsports camp.

Brown looked like anything but the experienced drag racer he is in post-round interviews, excitedly telling stories of his class-leading run that pushed him past Day 1 leader Tony Schumacher.

"I'm dreaming right now," said Brown, who raced Suzukis for 10 years. "I'm afraid to go to sleep because I don't want to wake up from this. I'm just a kid from the country in Chesterfield, N.J., living the dream. This is always where I've wanted to be. It just took a long time to get here.

"Everyone keeps asking the same question: How's the transition from Pro Stock Motorcycle to Top Fuel? I'm a rookie Top Fuel driver but I'm not a rookie driver and when you have a team like this Matco Tools group around you with Lee Beard and the rest of the guys, it makes it pretty easy. It's way different from a bike because they ain't nothing on this planet that accelerates like this but I'm loving it."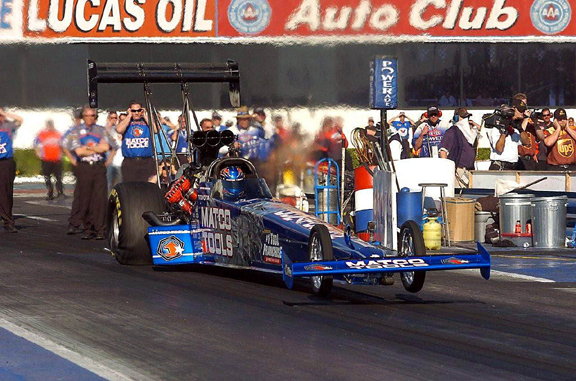 Photo By Tim Marshall

1/29/2008

NHRA's ESPN2 Shows Will Air Almost Exclusively In Prime Time During 2008!


As a show of its strengthening commitment to the NHRA POWERade Drag Racing Series, ESPN2/ESPN2HD will present 21 of the 24 races during the 2008 season in the coveted 7-11 p.m. ET prime-time viewing window.

This year marks the eighth consecutive year of NHRA's exclusive broadcasting partnership with ESPN. The season begins with the 48th annual CARQUEST Auto Parts NHRA Winternationals from Auto Club Raceway at Pomona Feb. 7-10.

Outside of races in Houston, Topeka, and Chicago, which are scheduled to air late Sunday afternoon, every NHRA POWERade Series race during the 2008 season will begin or end between 7 and 11 p.m. ET. During the last half of the season, NHRA will be featured in the same time slot, 7-10 p.m., for 10 of the final 14 races.

Additionally, the popular pre-race show that debuted in 2007, NHRA Race Day presented by Lucas Oil, will be back in 2008, once again being produced on-site to allow fans attending the Sunday race a chance to watch – and participate in – the show. It will air on Sunday race days at 11 a.m. ET on ESPN2/ESPN2HD.

In all, the network will dedicate more than 120 hours of original programming to the world's fastest, most powerful motorsport with live or same-day coverage of qualifying and the race on Sunday.

Among the highlights of NHRA POWERade Drag Racing Series coverage on ESPN2 and ESPN2HD is consistent time slots on Sunday evening for the final elimination rounds, with a majority in the coveted Sunday night prime-time slot. In addition, the network will dedicate 10 hours of coverage to the world's most prestigious drag race, the 54th annual Mac Tools U.S. Nationals at historic O'Reilly Raceway Park at Indianapolis Labor Day weekend, Aug. 27-Sept. 1.

The shows are developed by the production team at ESPN Regional Television, which has been producing NHRA programming since 2001. Paul Page returns to the broadcast booth alongside former drag racer Mike Dunn, who will provide expert analysis and insight on the racing action. Dave Rieff and Gary Gerould will return as pit reporters. Joining them at select races throughout the year will be veteran announcer John Kernan, who joined the NHRA broadcast team in 2007.

NHRA Race Day presented by Lucas Oil will be hosted again by Rieff and Dunn and originate from NHRA's Nitro Alley. NHRA Race Day presented by Lucas Oil sets up the day for fans at home with must-see matchups, interviews with the stars of the sport, racer features, news and analysis, a review of qualifying, and what to look for during the all-important Sunday action.

In addition to coverage on ESPN2 and ESPN2HD, NHRA POWERade Drag Racing will be aired on a tape-delay basis on ESPN Deportes and distributed internationally through ESPN International. ESPN2 is now available in more than 96 million households.

1/29/2008
Permit To Build Drag City Revoked!
The Banning, CA, Planning Commission has ended the dream of a dragstrip with the revocation of a use permit for the site. With 16 pages of supporting material ranging from missed payments to incomplete work on the site by the developers, the Planning Commission made its case and approved the revocation on Jan. 28.

To read the entire document go to http://www.ci.banning.ca.us/archives/32/Jan%2028,%202008.pdf. The dragstrip information begins on page 10.

1/26/2008
Brown Makes Necessary Runs To Earn Crossover Top Fuel License!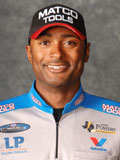 Antron Brown

Antron Brown made the necessary runs in his Matco Tools dragster to earn his crossover Top Fuel license Saturday afternoon at Firebird International Raceway near Phoenix.

The 16-time NHRA Pro Stock Motorcycle winner made two consistent 4.5-second passes on Saturday at the Phoenix-area drag strip to fulfill the requirements necessary to compete in the Top Fuel category. On his opening effort, Brown traversed the right lane at F.I.R. in 4.570 seconds at 292.58 mph, and on his final pass of the day, he clocked a run of 4.582 at 296.89 in the left lane.

"I am happy and ecstatic," Brown said. "I feel like a giddy 16-year-old who just got their driver's license. I'm getting a lot more confident in myself in understanding what's happening all the way down the race track. I know what to expect and my confidence level has really boosted.

"I feel relieved because there's a lot riding on me. We have such an all star crew starting with Lee Beard and my entire crew. They're doing a phenomenal job. I'm going to do my job to step up and do the best I can because I know we have a championship-caliber car and crew."

With the Matco team's primary goal accomplished, Beard and crew will continue to improve the performance of the Matco Tools dragster while getting Brown acclimated in his 330-mph rail. The team may debut a new 2008 Brad Hadman chassis early next week to make some test laps on the new car. The new Hadman car features the larger diameter frame rail tubing that NHRA has mandated in 2008.

"We weren't exactly sure where we were at horsepower-wise with this new 90-percent rule on Friday," Beard said. "The thing had numbers good enough to run in the high 4.40s. We didn't feel that we needed to push the car that hard to get Antron (Brown) his license. We're taking things one step at a time and the first step was to get his license. Now we're going to start working on the performance of the car."

1/24/2008
Harris Lands Major Support From NFL's Webster & Landry!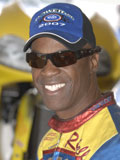 Redell Harris

The New York Giants and Washington Redskins may be fierce rivals in the National Football League's NFC East Division, but it won't prevent Redell Harris from proudly displaying the numbers of a prominent player from each team on his new S&S Buell Pro Stock Motorcycle during the 2008 NHRA POWERade Series.

Harris, a veteran two-wheel competitor, proudly announced the formation of his new team, one that features his cousin, Corey Webster, who plays cornerback for the Giants, and good friend LaRon Landry, the Redskins' free safety sensation and first-team NFL All-Rookie Defensemen.

We bought two new Buells and we are definitely looking forward to this season," said Harris, of Baton Rouge, La. "I have been an independent rider for 10 years but this is, financially, the best support I've ever had. We also have Master P, The No Limit Records and Lil' Romeo, All-Pro Sports, P Miller clothing, P Miller sportswear, Bazooka Speakers, Peterbilt of Baton Rouge, and Acura and Infinity of Baton Rouge working with our team.

"Now I have to be smart and get a good crew chief and do the best I can. I think the Buell makes me competitive immediately. I think the days of the Suzukis are very limited, at least for a heavy person. For a light person, I think it still is competitive."

Befitting their playoff status and family ties, Harris says Webster's CWeb 30 in Giants colors will be on the front of the motorcycle while the Redskins' colors are on the back with LaRon Landry Motorsports Dirty 30.

The 2008 Pro Stock Motorcycle schedule begins March 13-16 in Gainesville, Fla., allowing Harris time to fine-tune his Buell and team for the 17-race circuit.

Redell hasn't selected a rider for the second Buell, although he is looking. Already guaranteed 17 events this year, Harris' goal is a solid top 10 finish in November.

1/16/2008
NHRA Wins Diversity Award!
NHRA was named the Diversity in Motorsports Award winner Tuesday evening at the Fox Theatre in Detroit during the 12th annual Urban Wheel Awards, held in conjunction with the North American International Auto Show.

The Urban Wheel Awards ceremony is the only official event honoring African-Americans, Latinos and Asians during the North American International Auto Show.

NHRA drivers Tony Pedregon and Peggy Llewellyn joined NHRA vice president of public relations and communications, Jerry Archambeault, to accept the award on behalf of NHRA.

"On behalf of the 80,000 NHRA members, which comprise the largest and certainly one of the most influential Motorsports organizations in America, I would like to thank the Urban Wheel Awards for this recognition," said Gary Darcy, senior vice president of sales and marketing, NHRA. "This award comes at a time when NHRA is enjoying a period of enormous popularity and increased visibility and this is yet another example of that."

Pedregon, the defending and two-time NHRA POWERade world champion in Funny Car, is the second Hispanic driver in NHRA history to win a world championship title. Llewellyn became the first black female to win a Pro Stock Motorcycle event in 2007. She finished a career-high fourth in the championship points standings.

In addition to those drivers, NHRA features many other diverse participants, including J.R. Todd, who in 2006 became the first African-American to earn a Top Fuel victory and followed that rookie of the year effort with another outstanding season in '07, and fellow African-American Antron Brown, who is making the move to the 7,000 horsepower Top Fuel category in 2008 after earning 16 victories in a distinguished Pro Stock Motorcycle career. In Pro Stock, former NBA standout Tom Hammonds is a threat to win each race in his 200-mph Chevy Cobalt. In Funny Car, Pedregon's older brother, Cruz, won the Funny Car championship in 1992, and Todd Okuhara, who tunes Gary Scelzi's Mopar/Oakley Dodge Charger, is quickly becoming one of the category's most well-respected crew chiefs.

"NHRA has a strong history of showcasing talent from an array of diverse backgrounds and 2007 was certainly a year for us to celebrate that position, as evidenced by Tony's championship performance as well as Peggy's breakthrough season," Darcy said. "NHRA remains strongly committed to its rich heritage of providing top level racing opportunities to all people, regardless of ethnic background."

The Urban Wheel Awards honor diversity and excellence in the automotive industry. The proceeds benefit the Edward Davis Education Foundation, providing scholarships, internships and mentoring to students pursuing a career in an automotive-related profession.

1/9/2008
Torco Official Statement!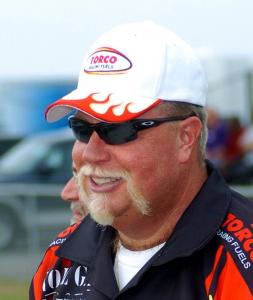 Evan Knoll

Torco Racing Fuels has announced an interruption for their 2008 racing season. The break will include sidelining all Knoll Gas Motorsports' teams, including those owned by Evan Knoll and sponsored by Torco Racing Fuels, Inc. for the 2008 season. However, the break will not affect event sponsorship in NHRA, IHRA, and other sanctioned bodies.

At the center of the interruption is the long-term health of Torco President and founder, Evan Knoll. Knoll, who suffered major injuries in a serious motor vehicle accident in November of 2004, has stayed at the helm of operations with Torco. Knoll has been in and out of Mayo Clinic and has also been working with several Neurologists. He continues to have in-home, state-of-the-art medical care when treatment is necessary and Knoll is currently unable to travel.

In taking a season off from the rigorous duties of being a primary sponsor and team owner of more than a dozen teams, Knoll will be able to concentrate on furthering his recovery. Additionally, the organization is hoping to plan, strategize, and regroup their team efforts throughout drag racing, thus strengthening their chances of world championships.

"We want to stress that this is only an interruption," stated Torco CFO, Latrell Preston. "We are not selling any of our racing assets including any of our race team properties, and we will also retain all leased property in preparation for 2009. We intend to remain a leader in the racing industry. In order to achieve the success we expect, we found it necessary to take a break with our teams. This is in no way an indication of us leaving the sport. We have a long-term commitment to the fans, racers and racing industry. With Evan's health being our main concern; the shaky oil market and world economy; and, our need to better strategize our teams, we will simply take a small step back."

"We are definitely not leaving drag racing," reiterated Preston . "With Evan's health concerns, and our company's rapid growth, we found it necessary to take some time to organize and better plan our efforts. We are keeping our primary event sponsorship in both Chicago and Richmond in NHRA, and keeping our existing series sponsorship in IHRA. This break is affecting our teams for this year only. We will be back in 2009 stronger and striving for a championship season."

Click to visit our sponsor's website
© Copyright 2004-2008 Black Dragracers.com All Rights Reserved.
Designed & Maintained by: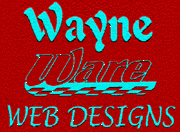 Sponsored by: