Click to visit our sponsor's website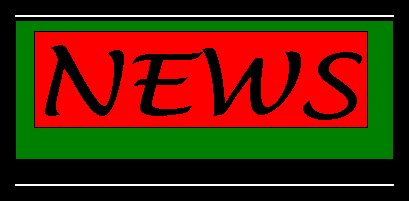 Get On Track!

Just can't wait for the next issue. Want to receive breaking news and find out whaz-up.

Come on racers, send us your press releases or any race news, photos or results. It's simple just Click Here so we can post it!!!!

If you've been off the web, you can go back into the News Archives 2005


12/28/2006
Irritated Drag Racing Fan Speaks Out!
I am writing with the hope that you will be able to help. As you may know the NHRA has announced that they will implement a "playoff" system for their points this year. There is a large and growing group of fans that is strongly against such a system. An online petition has been started at http://www.petitiononline.com/nhra/petition.html

The goal is to gather enough signatures which will then be delivered to NHRA as well as to Powerade. We hope that this will impress upon them the passion of the fans and our dislike of the playoff. We hope that they will listen and reverse this unwise decision.

In brief, some complaints against the proposed system are:

-Every National event is a playoff by design. It is a true win or go home scenario.

-In a true playoff, non playoff teams do not compete at the same time and against playoff teams.

-Nascar has had a similar system with less then stellar results. After an initial surge the first season, their TV ratings have dropped, especially during their playoff races. NHRA can not survive that type of ratings decline.

-This season saw the most amazing comeback ever in Top Fuel Dragster. Last season we saw a 3-way battle for Funny Car. Part of what makes these events so memorable is that they are special. To create a welfare points system with forced drama and fake excitement takes away from the sport. If every year comes down to the same thing then it loses any meaning and feeling.

-Fans want to know that their championships are real and earned throughout a season long effort. Under the new system a racer who has a few good races at the end of the season could win a championship. This season going into the US Nationals, which will start next year's countdown, the 8th place driver in 3 out of the 4 pro classes had a losing round record. Under the new system they will be eligible to run for a championship.

-Currently the entire season means something, every race, every round, every qualifying position. Under the new system, with losing records being able to get in, only the last 6 races mean anything now.

It is my hope that you will help spread the word. I have been able to access message boards as a way to get the word out however I need help getting this to a larger audience who can help make a difference.

Thank you
PJ Sapienza

12/18/2006

Hammonds Returns To His Hometown To Break Ground On New Shop, Race Team!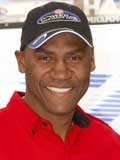 Tom Hammonds

Tom Hammonds lives to compete. Even as he sat atop a bulldozer Tuesday morning, set to break ground on his new racing headquarters inside the Holt Industrial Park in Crestview Fla., the 6-foot-9 former NBA star was in a competitive mood. Hammonds aimed the dozer toward the biggest tree he could find and proceeded to go one on one.

"This the culmination of a lot of hard work and a lot of prayers just to have a chance to build our own professional race shop," said Hammonds as he and his crew began clearing the area that will eventually house an 11,000-square-foot facility with an in-house engine program, a machine shop, offices and a showroom for the cars. "It's a dream come true. God willing, this is how I'm going to spend the next 30 years, hopefully going out there and racing, winning races and having fun."

12/13/2006
Royal Purple Joins Super Chevy!
Roger Gustin, President of AutoStar Productions, Inc., producers of the Super Chevy Show, announced the addition of Royal Purple Synthetic Oil and Lubricants as a sponsor for 2007. Gustin stated, "We are pleased to have Royal Purple as a sponsor of our Super Chevy Show's and we are proud to promote Royal Purple products throughout our 2007 tour."

Royal Purple Ltd. Is located in Porter, TX. "Super Chevy is a perfect fit for a company like Royal Purple that has so many Chevy enthusiasts. Our first company project car was a 1961 Chevy panel delivery truck. Even our company president owns a '69 rag-top Camaro," stated Mark McFann, Marketing Director for Royal Purple.

"We are very excited to have Royal Purple for the 2007 Super Chevy Tour. This is the first oil sponsorship of its kind in our history. We are looking forward to a great partnership for many years to come" said Greg Baumer, National Sales / Advertising Director of AutoStar Productions, Inc.

12/6/2006

Last Race @ LACR!




The Last Hangover Nationals at Los Angeles County Raceway will be held on Monday, Jan. 1, 2007. Right now the annual Hangover's will feature Jet Cars and Funny Cars with the "Crazy Horse" Mustang (pictured) and the "Predator" Plymouth Satellite Nostalgia Nitro Floppers in a match race. The drag strip will open at 9 a.m. on Dec. 30, 31 and New Year's Day.

The eminent closure of LACR is coming as the remaining lease on the drag strip goes through the end of April and may possibly extend for a few more months. However, the life of LACR will soon be over and parts of the spectator parking lot and pits have already been removed.

Proprietor Bernie Longjohn has announced the LACR Racers Banquet on December 17th at the Holiday Inn - Palmdale starting at 4 p.m. At this time Bernie has not made or shared any plans for a future drag strip in the area.

12/4/2006

Nicole Lyons!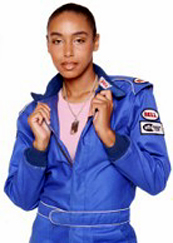 Nicole Lyons

Nicole Lyons has been nominated for "Sports Leadership of the Year" at the 11th Annual Multicultural Prism Award being held at the Henry Fonda Theater on December 10, 2006. The nomination is for all the efforts Nicole has placed in NHRA drag racing, her continued commitment to giving the Los Angeles community the knowledge of the sport, and her telling of the importance of having black race car drivers compete in the sport of racing.

Nicole will be a presenter at the Urban Awards to be held in Detroit on January 9th, 2007. The Urban Awards are being hosted by Vivica A. Fox. This huge award show is in conjunction with the North American Auto Show.

Nicole's reality show "The DNA of Racing" is now in post-production and will soon announce the major network it will be shown on, and Black Drag Racers.com will be the first to know. The show is now filming the second season which will focus on the purchase of a new Pro Stock car and all the hard work involved with Nicole coming out as a rookie in Pro Stock.

Nicole has just started a flurry of ad campaign with a up and coming black male Nascar driver which will kick off in January 2007. It will start with them gracing the pages of People, Sports Illustrated, Ebony and Essence, and they will then move on to major television and radio shows. Major sponsorship will be announced reflecting the two drivers in the new year.

11/30/2006

Mercadel Motorsports Has High Hopes For 2007 Season After One Year Bout With Katrina!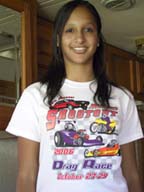 Rebekah Mercadel

Rebekah Mercadel, born in New Orleans, Louisiana and now living in Fort Worth, Texas (via Hurricane Katrina) is the driver of the Mercadel Motorsports Top Alcohol Jr. Dragster. She is making a name for herself around the country, but not in the way one would expect this 14 year old to perform. In 2004 she won the "Mahalia Jackson Music Award of Excellence." Although she is a talented singer, she has chosen to perform on a different stage… the DRAGSTRIP! She is one of about 8,500 National Hot Rod Association (NHRA) junior drag racers and one of a very few licensed minority top alcohol junior drivers in the country. Her race car is about fifteen feet long and goes from ZERO to 85mph in just SEVEN SECONDS!

11/29/2006

Antron Brown Gets Special Watch!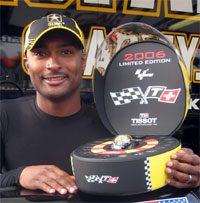 Antron Brown

Tissot, the Swiss watch-making brand, recently honored U.S. Army Suzuki rider, Antron Brown, for his outstanding performance during the 2006 NHRA POWERade Drag Racing Series season. Brown was awarded a commemorative MotoGP Watch which was packaged in a unique motorcycle helmet case.

Earlier this month, at the season finale in Pomona, Calif., Brown's bid to capture his first POWERade world title fell just short as he finished second to three-time world champion Andrew Hines.

"We want to congratulate Antron on what was still a fantastic season," said Tissot President Francois Thiebaud. "Antron inspires us all with his charisma, precision and constant drive to be the very best." (Report courtesy of NHRA.com)

11/14/2006

J.R. Todd Wins Auto Club Road To The Future/NHRA Rookie Of The Year Award!



J.R. Todd

J.R. Todd's surprising and impressive second-half performance was acknowledged Monday night when the 24-year-old Top Fuel driver was chosen the 2006 Automobile Club of Southern California Road to the Future Award winner -- NHRA's Rookie of the Year – at the annual POWERade Series awards ceremony.

Todd became the odds-on favorite to win the coveted prize and accompanying $20,000 check by winning three times in four final-round appearances over the last 11 races of the 23-race season.

Despite missing four races and not qualifying once, Todd parlayed his consistency into a climb from a low of 19th place in the standings all the way up an eighth place finish.

"To win an award that great drivers like Brandon Bernstein, Ron Capps, Gary Scelzi, Doug Kalitta and the late Darrell Russell have won means a lot to me," said the soft-spoken Todd, of Lawrenceburg, Ind. "I just hope I can come close in comparison to those drivers.

"There were some good rookie drivers out there this year and just to be nominated for the award is an honor ... and to be taking it home is more than I expected."

Others nominated were Alan Bradshaw, Max Naylor, and Hillary Will.

Todd's emergence may not have happened had Evan Knoll not approached team owner Dexter Tuttle with sponsorship assistance from his Skull Shine and Torco Racing Fuels companies seven races into the season.

"I really didn't give us much chance to win this award because we had planned to only run 12 races," said Todd. "We missed four races early in the year but when Evan came on board we knew we'd be running the rest of the season.

"By mid-season things really turned around for our team. Our crew chief, Jimmy Walsh got a good handle on setting up the car and the guys on the crew were flawless. I was getting more comfortable in the car as the year went along and, sure enough, we started to pick up some round wins."

Todd first caught the spotlight's glare at Denver in mid-July when he strung four round wins together and claimed his first victory. That win also was the first by an African American Top Fuel or Funny Car driver in NHRA history.

Two weeks later, Todd added his first exclamation point with another storybook win at Sonoma, Calif., defeating Tony Schumacher – the two-time reigning Top Fuel champion – in the final round for the second straight time.

Todd won again at Reading, Pa. and was runner-up in Las Vegas last month.

"We started opening some eyes, turned some heads and kind of surprised ourselves along the way," Todd said.

No one was surprised Monday night when Todd won the award.

"For more than 100 years, the Automobile Club of Southern California has represented integrity, commitment and professionalism to our millions of members. The Road to the Future Award has come to symbolize those same attributes in the sport of NHRA POWERade Drag Racing," said Thomas V. McKernan, president and CEO of the Auto Club. "To be nominated recognizes not only that a rookie driver had a noteworthy first season, but also that they demonstrated exceptional potential for the future."

11/13/2006
IHRA Requires Pro Class Competitors To Wear Head And Neck Restraints, Announces Pro Mod Rule Changes For 2007!
The IHRA has announced some sweeping changes in its rules for the 2007 season with the most important being that "All Professional Classes and Jet Exhibition Vehicles" drivers will be required to wear a SFI 38.1 head and neck restraint in 2007. They also killed one of the Agent's favorite IHRA classes, injected (no blower) Top Fuel.

The most new rules released related to the IHRA Pro Mod classes where they instituted a series of weight minimums that give "nostalgia" bodied cars a weight break and penalized late model cars including '63 'Vettes. They also are going to allow the nitrous cars to have engines of up a maximum of 820 cubic inches and will take any blower overdrive away.

WEIGHT MINIMUMS: Nitrous Oxide Entries: 2,425 lbs. Supercharged Entries: 2,700 lbs. Accepted Nostalgia body styles may deduct 25 lbs. from minimum weight. Example: '53 Studebaker, '55 or '57 Chevy and Buick. '38 Chevy and '41 Willys may deduct 50 lbs. from minimum weight. Late model entries add 25 lbs. to minimum weight. Example: Cavalier, Cobalt, Stratus, GTO, Mustang, etc.
CUBIC INCH LIMIT: Nitrous Oxide Entries: If 5-inch bore center combination is utilized then the cubic inch maximum is 820 cid OR if larger than 5-inch bore center combination is selected then the cubic inch maximum is 800 cid.
BELLYPAN: Permitted. Must extend beyond leading edge of engine and accessories and incorporate a 1-inch lip on the front edge of all units.
REAR-END RATIO: Supercharged Entries: 4.30 to 1 rear end ratio (final drive) maximum.
SUPERCHARGER CASE: OEM manufacturer's case mandatory. Billet cases prohibited. The top opening may not be exceed ten (10) inches in length.
ELECTRONICS / DATA ACQUISITION: No sensors may be used to monitor track position, track or tire temperature or ride height other than shock travel. Sensors are prohibited from use on wheels or wheelie bars or on any other moving part other than the drive shaft.
STARTING LINE CONTROL DEVICES: Electronic Starting line RPM limiters (2-step) are prohibited on supercharged entries.

11/13/2006
NHRA Pro Mod Program Returns For 2007!
The management for the NHRA Pro Mod exhibition series announced at their season ending banquet at Las Vegas that the series would be back for the NHRA 2007 season. According to the Agent's source who attended the banquet they are going to raise the amount of money paid to the winner of the event and may add two more races. No official press releases have come across the Agent's desk relating to the race schedule or official payout although their website has posted twice that the series will be back.

The Agent will go out on a limb and suggest that Dave Wood, his friend Jeff Lynn and Brad Anderson, who owns two cars including that of 2006 series champion Jay Payne, will once again take money out of their own pockets to continue the series. It's just a matter of them guaranteeing the purse and the vig to NHRA for "track rental" so that the series continues. Interestingly, Dave Wood, who owns a piece of the rival American Drag Racing League Pro Mod-based series, will almost certainly be a major supporter of the NHRA Pro Mods.

The only question remaining is what rules will the NHRA Pro Mods run under for the 2007 season now that IHRA has radically changed their rules. Is it possible that the IHRA, NHRA and the ADRL will all have different rules for their Pro Mod classes?

11/1/2006
NHRA Changes Date On '07 Schedule!
The NHRA has changed the date for the second appearance of the POWERade series at Las Vegas to Oct. 25-28, 2007, instead of a week earlier, which had previously been announced. The move means that the final two races in the new Countdown to the Championship will be run on consecutive weekends.
10/17/2006
Hitman Hits Tree To Take $10,000 10.5 Outlaw Crown @ World War IV!

Mike Hill

by Hank Schmitt
Montgomery, AL -
It wasn't going to happen twice to 10.5 Outlaw ace Mike Hill. He lost a $5,000 winner take all shootout Saturday night at Montgomery Motorsports Park's World War IV on a hole shot to fellow Georgian Steve Kirk. Hill had the faster ET (4.527 to Kirk's 4.529) but didn't match up on the tree.

The two staged a repeat Sunday night in the 10.5 Outlaw finals and Hill drilled the tree with an .010 for the win. His 2006 Mustang snarled its way to a 4.586 at 160.59 mph.

Hill's '06 Mustang

10/16/2006
Candyce Marsh To Make Her Professional Debut!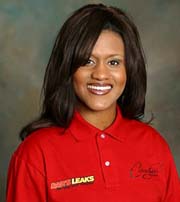 Candyce Marsh

After years of dedication and hard work in the motorsports arena, Candyce Marsh has realized her goal of earning her Professional Drag Racing License. Marsh will compete in the professional category called Pro Modified. She will make her debut as a Professional Racecar driver during the upcoming IHRA Universal Technical Institute World Finals at Rockingham Dragway – October 20-22.

"The journey of obtaining my professional license has been an experience. Everything I have done both on and off the racetrack has been in an effort to reach this goal and advancing my racing career. It presented challenges that I overcame and opportunities that were well worth the end result." said Marsh. "I've worked hard to prove myself as a professional sportsman, and, I'm grateful for having a dedicated group of individuals with the right expertise to help me to reach this accomplishment."

One of the criteria that Marsh had to meet in order to successfully reach her professional status was establishing a solid race program. Marsh also had to work to substantiate herself as a competitor by aligning herself with industry leaders. Throughout the years, she has been able to present a professional image through securing a professionally built racecar, transporter, and building relationships with world-renowned parts manufacturers. In addition, she partnered with ACDelco sponsored Harold Martin, who is recognized internationally for his technological advancements in motorsports. As a professional engine builder, Martin expanded Marsh's race program to include his revolutionary electronic fuel injected engines; thereby, enhancing her race car's capabilities.

"We've watched Candyce grow over the years and we're very excited to see her professional debut at the World Finals," said IHRA President Aaron Polburn. "She's worked her way to the top."

As part of the preparation for the World Finals, Marsh's team will be pulling together a competitive program they feel will ultimately drive them to the finish line. "It is an honor to be able to compete with some of the best professional drivers in the world. We know we have to be ready with our best."

Marsh, a Raleigh, North Carolina native, is always excited about racing at 'THE ROCK'. A few hours from home, she is expecting friends and family to share in the excitement of the weekend's events. "We are pumped about this weekend and showing our best to our hometown crowd," says Marsh.

In addition, early assessments are indicating that Marsh could be the First African American Female in the history of drag racing to become a professional race car driver. With numerous accomplishments already under her belt, Marsh could easily become the next "Tiger Woods" of motorsports.

10/12/2006

Finalists Named For Auto Club's Top Rookie Award!



J.R. Todd

J.R. Todd, Alan Bradshaw and Hillary Will in Top Fuel and Max Naylor in Pro Stock were the four drivers nominated for NHRA's 2006 Auto Club of Southern California Road to the Future Award.

The award, which is decided by a distinguished panel of auto racing journalists, is presented to the outstanding rookie driver in the NHRA POWERade Drag Racing Series four professional classes – Top Fuel, Funny Car, Pro Stock, and Pro Stock Motorcycle.

The 2006 Automobile Club of Southern California Road to the Future Award, along with a check for $20,000 and trophy, will be presented during the NHRA's annual championship awards ceremony on Monday, Nov. 13 at the Westin Mission Hills Resort in Rancho Mirage, CA.

10/10/2006
Lonnie Patrick Continues His Winning Ways @ Auto Club Dragway-Fontana!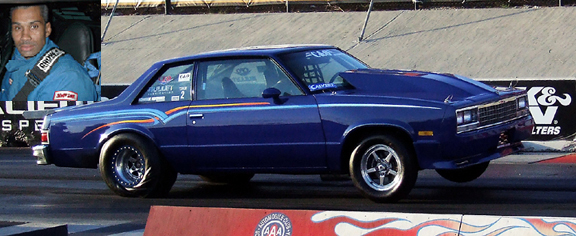 Lonnie Patrick's Chevy Malibu

After Qualifying #1 with a 8.168 @ 173.25 Patrick"Dominated" True Street. In round 1, Lonnie ran a 8.204 @ 174.57 round 2, ran a 8.195 @ 173.94 round 3, ran 8.213 @ 173.94 in the finals he takes the win over S. Zeinaty with a 8.197 @ 173.85 mph to Zeinaty's 9.662 @ 101.64 mph.
10/1/2006

J.R. Todd Win For The Third Time In Top Fuel!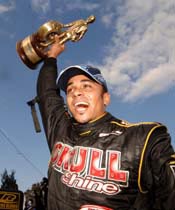 J.R. Todd

J.R. Todd put a lock on the Rookie of the Year balloting Sunday with his third Top Fuel victory of the year. He's only had 16 professional starts, but it's unlikely Todd will ever forget this day as he ran his final-round record to a perfect 3-0 with a string of career-best passes. After out-running Cory McClenathan in the opening round, he lowered his personal best time to 4.502 in a holeshot win against Tony Schumacher and then posted a career-best top speed of 327.82 mph versus Dave Grubnic. But he saved his best for last, dipping into the 4.4s for the first time to extinguish fellow Skull Shine racer Troxel with a 4.494 at 324.12 mph.

"I never thought I'd be standing here with three wins and people talking about Rookie of the Year," Todd said. "We were only going to run part-time this year but [sponsor] Evan Knoll stepped up his involvement and said straight out he wanted to beat Tony Schumacher. I was like, 'Well who doesn't?' but he's given us what it takes to do it.

"Jimmy [Walsh, crew chief] has this thing running so strong. I knew all I needed to worry about was doing my job at the starting line and we'd have a chance. He came on a tune-up last week in Dallas when we ran a 4.54 and it showed today. To run a 4.51, 4.50, and a 4.49 in one day is awesome."

9/29/2006
Evan Knoll Promotes Latrell Preston To Role Of Motorsports Director For Knoll Gas – Torco Race Fuels, Inc.!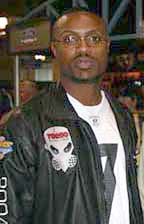 Latrell Preston

Evan Knoll, President of Knoll Gas Motorsports – Torco Race Fuels, Inc., has appointed Latrell Preston to the expanded role of Director of Operations for his Knoll Gas Motorsports – Torco Race Fuels conglomeration of companies.

Preston, who already serves as Chief Financial Officer, for Knoll's parent company General Sales & Service, will direct the motorsports day-to-day operations as well as manage the various sponsorships of race teams and sanctioning bodies. He retains his position of second Vice President of GSS.

Knoll pointed out that he's groomed Preston for the position since 2004 and the time is now to let him take control of the vast responsibilities.

"Latrell has been my right hand for the last two years and someone I fully trust and see more than capable of directing this company," Knoll said. "I probably would have pursued this sooner but we needed to fill some key infrastructure positions before we could step forward with this plan.

"I am very excited this opportunity is available. It makes sense that he controls my sponsorships because he's the one signing the checks anyway."

Preston, a University of Indiana graduate and basketball player, plans to keep the momentum rolling strong.

"Momentum means everything in this industry and we certainly have a lot working in our favor now," Preston said. "I am totally elated that Evan has entrusted me with this position. It has given me goose bumps just thinking about the future and the things we have planned."

Knoll Gas Motorsports – Torco Race Fuels, Inc., stands as one of the largest single sponsors in drag racing and extends its sponsorship interests to include off-road motorsports, moto-cross, off-shore boating and oval track racing.

For more information on Knoll Gas Motorsports – Torco Race Fuels, Inc, visit their website at http://www.torco.com/.

9/19/2006
Black Sunday Rain Date Scheduled For October 15TH!

Black Sunday falls victim to Sunday's torrential rains, but all is not lost!

Black Sunday, the largest African American drag racing event in the country, fell victim to Sunday's torrential rains, but all is not lost – a race date has been scheduled for Sunday October 15th at Gateway International Raceway (GIR) in Madison, Illinois.

Spectators are urged to keep their ticket stubs from that date because those stubs will be honored for admission into the event on October 15th. The 15th promises to be as exciting as this past Sunday's event with all of the Quick 16 cars and motorcycles slated to return as well as many racers from other classes. For those who were unable to attend on Sunday, September 17th, tickets for October 15th will be available for purchase at the gate on October 15th.

Other events that will also be included in the October 15th program will be the UBDRA charitable contributions to Faith House, East St. Louis Community Camp, Old Community Baptist Church Youth Program and the Emma L. King Foundation and lots of fun and excitement for the entire family. For more information contact:

Darrell Williams (UBDRA President) 314-968-1720 James Wilford 618-593-4226 Or GIR 866-35-SPEED (866-357-7333)

9/19/2006
Frank "Roscoe" Brown Passes!
The legendary Frank "Roscoe" Brown who hailed from Chicago and was a well-known crewman throughout the NHRA circuit, passed away earlier this month. From the mid 1960's until Sept 4, 2006, Roscoe crewed for a number of teams such as the late Doctor Byron Milton of Detroit, Michigan with the "Bad Medicine" Pro Stock Camaro and Clint Smith Super Comp winner at the 1984 Nationals in Atlanta, Georgia. He also crewed for well known Match Racer from Chicago"Big Drag", and one of Chicago's greatest Street Racers, "Raylo Riley". Roscoe continued his crewman ship with expertise for NHRA Stock Eliminator Racer Kyle "Reaction" Riley. Roscoe helped Kyle win 3 Division 3 NHRA points meets, and 2 Runner Ups at the Mid-South Nationals in Memphis,Tennessee. Roscoe will be missed all over the midwest for his great crewman ship.
9/18/2006
Bob Glidden And Richard Maskin Part Ways!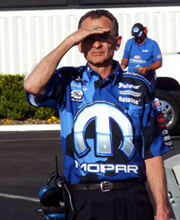 Bob Glidden

Ten-time Pro Stock champion and drag racing legend Bob Glidden has left his position with DART Engineering and Richard Maskin's race team. The parting, which comes less than two months after Glidden showed up with the team in Seattle. Both parties involved agree the reasoning for the split was just a difference of opinion and chose to leave it at that.
9/14/2006
Duce Staley To Field Two-Car Pro Stock Team In '07!

Duce Staley

Pittsburgh Steeler running back Duce Staley grew up watching professional drag racing with his father. Now, Staley has the opportunity to participate first-hand as an owner with the formation of Catch 22 Motorsports. Beginning in 2007, Catch 22 Motorsports will feature two drivers competing in the National Hot Rod Association (NHRA) Pro Stock Division.

While helping the Steelers defend their Super Bowl title remains his top priority and main focus, Staley is also looking at his entry into motorsports as a business opportunity. Staley's interest in the NHRA is long-standing, and he wanted to have more of an integral participation in the sport.

"I am very excited to establish this competitive racing team and am looking forward to engaging in a new challenge," said Staley. "The competition level in Pro Stock is so tight now; I believe that my experience with the elite competition in the NFL and the parity among NFL teams is transferable to the parity in NHRA Pro Stock."

"It is very exciting to see NFL star and Super Bowl champion Duce Staley become an NHRA team owner," said Tom Compton, president, NHRA. "With naming Jim Yates and Billy Gibson to his team Duce has selected two talented drivers and I wish the team much success as they pursue an NHRA POWERade Series world championship in Pro Stock."

Staley started his NFL career with the Philadelphia Eagles in 1997 after being drafted in the third round out of the University of South Carolina. Staley had seven productive seasons with the Eagles including three 1,000 yard rushing seasons, and three consecutive trips to the NFC title game. Staley signed with the Pittsburgh Steelers for the 2004 season where he rushed for 707 yards in his first seven games as the Steelers' starting halfback.

Established NHRA driver Jim Yates will compete as a Catch 22 Motorsports driver. Yates has won two NHRA Pro Stock Championships, and has finished in the top-two five times and in the top-five eight times in 10 years. Additionally, Yates has a 3.11 average finishing position, has won 25 NHRA POWERade national events and finished as a runner-up at an additional 35 events to date. Prior to establishing Jim Yates Racing, Yates was affiliated with another NFL star involved in motorsports – Joe Gibbs – as a member of Joe Gibbs Racing.

"It is incredible to have a driver of Jim's stature on my racing team," said Staley. "We're going to try as hard as we can to add more championships to both our resumes." Yates saw certain qualities in Staley that led him to think that this could be a mutually beneficial partnership. "A major factor that attracted me to Catch 22 Motorsports was the competitiveness Duce has shown on the field throughout his NFL career," said Yates. "I know he is going to do everything he can to make our team a success."

IHRA standout Billy Gibson, an up-and-coming NHRA driver, is the second driver for Catch 22 Motorsports. Gibson has experience in racing go-carts, streetcars, eliminator classes, pro-stocks, pro-modifieds, alcohol dragster, and alcohol funny car. Gibson started his racing career at age seven at the Virginia State cart series and has been racing ever since.

"Duce's involvement with motorsports is very positive for the sport," said Gibson. "He has name recognition with people who wouldn't ordinarily follow the NHRA and we hope to capitalize on his NFL fan base."

When looking at Gibson's career, Staley was immediately attracted to the experience the young driver will bring to the team. "There is really no substitute for Billy's vast driving experience," said Staley. "Billy has basically seen it all and will be prepared for any situation that comes his way."

In addition to the drivers, Catch 22 Motorsports has announced that Doug Kline will be the General Manager for the team. Additionally, Kline will work with the crew in the pits as he has throughout his career. When not on the race track, Kline co-owns Precision Chassis, Inc. in Temple, Pennsylvania, which offers a wide variety of race cars and services.

"Doug is going to be integral to the success of Catch 22 Motorsports," said Staley. "He brings 20 years of motorsports experience to the team and I am confident that we have an outstanding team in place to compete at the highest level of Pro Stock."

Kline looks forward to the opportunity of working with this ownership group and with their experienced drivers. "From the first day they contacted me, Catch 22 Motorsports has shown a tremendous commitment to success," said Kline. "I am very excited to be working with Jim, Billy, and Duce as well as the rest of the team."

Staley has also retained the services of TRESELER ZALBE LLC for marketing services to leverage motorsports sponsorships for Catch 22 Motorsports. TRESELER ZALBE LLC is a nationally recognized sports & entertainment marketing agency specializing in corporate consulting, event marketing, property representation, sponsorship activation and celebrity integration.

9/13/2006
NHRA Pacific SPORTSnationals Presented By K&N @ Auto Club Dragway @ California Speedway Sept. 28 - Oct. 1!

The best Sportsman racers on the West Coast will converge on Auto Club Dragway at California Speedway for the NHRA Pacific SPORTSnationals presented by K&N on September 28 - October 1.

Everything from Competition Eliminator, Super Stock, Stock, Super Comp, Super Gas and Super Street as well as the division's Top Comp and Super Eliminator categories will be showcased during the Auto Club Dragway at California Speedway event. A $5,000-to-win Mopar Hemi Shootout will also take place during the weekend.

Racers from throughout the region will vie for national recognition and a chance to accumulate national contingency points for end of season payouts. The event is similar to a national competition because competitors need a certain amount of grade points to qualify. One grade point is required to compete. All competitors should pre-register online. For more information on how to register, go to http://www.nhradiv7.com/. Entries will be accepted at the gate for a penalty late registration fee.

Competitor parking will begin as early as Monday, September 25th. There will be a track test n tune session on Thursday, September 28th. Only competitors who are eligible and participating in the race weekend may take advantage of the test n tune opportunity on Thursday.

Gates open each day (Friday - Sunday) at 8 a.m. Time Trials and Qualifying begins on Friday at 8 a.m. with Top Comp and Competition Eliminator Qualifying at 1 p.m. and 5 p.m. Stock Class Eliminations will take place throughout the day on both Friday and Saturday. Time trials and qualifying begins on Saturday at 8 a.m. with Top Comp and Competition Eliminator Qualifying at 11 a.m. Mopar Hemi Challenge Round 1 will take place at noon with eliminations starting at 2 p.m. and Top Comp and Competition Eliminator round 1 begin at 5 p.m. Eliminations will continue on Sunday.

When race fans purchase tickets to an Auto Club Dragway at California Speedway event, it always includes a pit pass and free parking. Thursday and Friday tickets are $10 per person, per day with Saturday and Sunday tickets at $20 per person, per day. Children 12 and under are free with a paid adult admission.

It was announced in November 2005 that the Automobile Club of Southern California signed a five-year entitlement agreement for the new quarter-mile strip, home to a very competitive Division 7 Junior Drag Racing program sponsored by the Auto Club and the AAA-sponsored NHRA Street Legal Drag Racing program. In addition to these events, NHRA's Summit Series, Pacific Street Car Association and Super Categories use the strip. Auto Club Dragway at California Speedway is a National Hot Rod Association (NHRA) sanctioned track.

Drag racing has taken place at California Speedway since 2001 where the dragstrip was previously located in Lot 1 behind the Speedway's main grandstand. An announcement was made in November that the strip would be permanently relocated to the North side of the facility in Lots 6 and 8 along. Construction began in February and Auto Club Dragway opened in June for Jr. Drag and Summit racing events. The dragstrip hosted an NHRA Lucas Oil Drag Racing Series Division 7 event on June 22-25, 2006, the first major NHRA event on the new strip. This weekend's NHRA Pacific SPORTSnationals will mark the first national competition on the strip.

For more information on Auto Club Dragway at California Speedway and the NHRA Pacific SPORTSnationals, please visit http://www.californiaspeedway.com/ or call 909-429-5060.

9/5/2006
McDaniel Wins Back-to-Back in Las Vegas!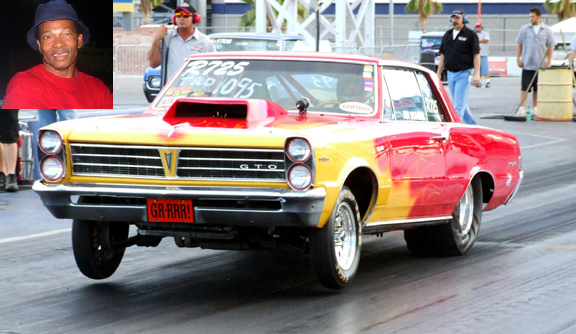 Ken McDaniel's 1965 Pontiac GTO


Las Vegas resident, Ken McDaniel, first win in the Trophy class came @ the PSCA "Summer Nationals" with a 12.366 on a 10.88 Dial-In over Jason Hacker 9.586 on a 9.19 Dial-In Las Vegas, NV. June 23rd - 24th, 2006. Ken second win came @ the PSCA Labor Day Nationals in Las Vegas, NV. Sept 1st - 3rd, 2006. McDaniels drove to victory in his 1965 Pontiac GTO with a 10.886 on a 10.95 Dial-In over Scott Parsons 12.166 on a 12.32 Dial-In.
9/2/2006
Hammonds Will Return To Pro Stock Racing In 2007!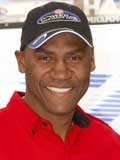 Tom Hammonds


After a three-year hiatus from the sport of drag racing, former NBA standout Tom Hammonds announced his plans today to return to NHRA Pro Stock in 2007 behind the wheel of a Rick Jones-built Chevy Cobalt. Hammonds last competed at an NHRA Pro Stock event in March 2003 in Gainesville, Fla.

"I'm excited about this program because for the first time, I will be able to put a full 100-percent effort into racing NHRA Pro Stock," said Hammonds. "When I raced before, I was still playing in the NBA, and then when I retired from basketball, I was devoted to completing the GM Minority Dealership program. I couldn't give my full attention to racing, and given the limited amount of time we had on the track, I still think we were pretty successful. I'm a big believer in that you get out of something what you put into it. If you devote 100 percent of your time and effort into something, you're going to get good results regardless of what it is. I'm confident that we can be competitive and that we will be successful."

"Team Chevy is proud to support Tom Hammonds upon his return to NHRA Pro Stock racing in 2007," said Fred Simmonds, GM drag racing marketing manager. "Tom was a valued member of our team when he raced his Pro Stock Chevy Cavalier several years ago, and we're looking forward to renewing our relationship with one of the class acts among professional athletes."

A former NBA power forward and two-time all-ACC basketball standout at Georgia Tech, Hammonds entered his first NHRA Pro Stock race in Englishtown (N.J.) in 1997 and qualified for his first 16-car field later that September in Reading (Pa.). Hammonds announced his retirement from the NBA in September 2001, then three weeks later, advanced to his first final round at an NHRA national event in Dallas. He made his second final-round appearance the following week in Las Vegas.

In 2002, Hammonds qualified a career-best second in Gainesville (Fla.) and Chicago (where he was runner-up to Bruce Allen). At the 2003 NHRA season opener in Pomona, Calif., Hammonds recorded a career-best speed of 202.52 mph. His best finish was in 2002 when he won 12 eliminator rounds and ended the season 14th in the points standings.

"Sitting on the outside looking in, the class has changed dramatically since I last raced in 2003," said Hammonds. "It was competitive when I raced, but now there are so many good teams with Greg Anderson, Warren Johnson, Allen Johnson, Jim Yates, the Cagnazzi program; they've all taken the sport to a higher level, and we'll have to be ready for that."

Following his sabbatical from the sport in 2003, the 39-year-old Hammonds completed final coursework in the GM Minority Dealer Development Program and opened Tom Hammonds Chevrolet in Darlington, S.C., in May 2004. He sold the dealership in December 2005 to focus full time on his Pro Stock drag racing career.

"We're going to have our own in-house engine program, and we're in the process of building a brand-new race shop in my hometown of Crestview, Fla.," said Hammonds. "The good thing about that is that it's only 10 minutes away from our local dragstrip, which will give us the opportunity to test. That will be a key component for us."

8/31/2006
Even Knoll Increasing Involvement With The IHRA!
Live Nation had the rights to first refusal of Bill Bader's 25% ownership in the company. All that Knoll needed to complete that purchase was the blessing of Live Nation and it came today.

"I want to do business with IHRA and Live Nation. After what has happened this week, there is no doubt the IHRA has the potential to be the hottest property in drag racing. I'm certainly going to do my part to ensure that comes to pass."

8/30/2006
NHRA To Institute 'Chase' Program For '07!
The NHRA announced today that they will change the way the professional class championships are determined next season. Taking a cue from NASCAR, they will feature three distinct periods during the 23-race season, with adjustments being made after each period.

"After the grueling 17-race schedule, the field will be reduced to the top eight in the points standings, for a four-race playoff series to determine the field of four who will ultimately vie for NHRA POWERade World Championships. This format makes every race in the NHRA POWERade Drag Racing Series schedule that much more important," said Tom Compton. "There is nothing in motorsports that rivals the traditional Sunday elimination brackets that have been a part of NHRA POWERade Drag Racing for years. By applying that elimination concept to determine the series points standings, we have by far the most intriguing and suspenseful battle for any championship in all of motorsports."

In the "Countdown to Eight," representing the first 17 races of the season, competitors in all four NHRA POWERade professional categories, Top Fuel, Funny Car, Pro Stock and Pro Stock Motorcycle, will battle each and every race to secure a position in the Top Eight in the points standings, with the final race to reach the "NHRA POWERade Countdown to the Championship" being the Toyo Tires NHRA Nationals at Maple Grove Raceway in Reading, Pa., Aug. 16-19.

Once set, the "Countdown to Four" begins at the most prestigious drag racing event in the world, the Mac Tools U.S. Nationals at historic O'Reilly Raceway Park at Indianapolis, Labor Day weekend. The Top Eight in each category will have their points adjusted. First place in the standings will begin the countdown with 2,070 points; second place with 2,060 points and so on to eighth place starting with 2,000 points. The "Countdown to Four," will consist of four races with the last race being the Torco Racing Fuels NHRA Nationals at Virginia Motorsports Park near Richmond, Va., Oct. 5-7. Following that race, the "Countdown to One" begins when the top four in each category have their points adjusted yet again. First place in the standings will begin the final two races with 3,030 points; second place with 3,020 points; third place with 3,010 points and fourth place with 3,000 points.

The championship will come down to Las Vegas and Pomona, where the championship will be determined between the final four points holders in each class.

In a welcome move for all professional racers NHRA also added $275,000 to the points fund. The Top Fuel and Funny Car classes will receive an extra $100,000 with Pro Stock getting an additional $50,000, and Pro Stock Motorcycle $25,000.

At the press conference held at Indianapolis, the NHRA also announced that a 16th Pro Stock Motorcycle event will be held at the Texas Motorplex.

8/30/2006
NHRA Moves 6 Events Next Season!
Among the many changes to the 2007 NHRA POWERade Drag Racing Series schedule is the relocation of the Pontiac Performance NHRA Nationals from National Trail Raceway in Hebron, Ohio to Norwalk Raceway Park, one of the premier drag racing facilities in the country, June 28-July 1. Located near Cleveland, Ohio and not too far from the metropolitan markets of Toledo, Ohio and Detroit, Mich., the new summer race optimizes the 23-race schedule bringing the excitement of the NHRA POWERade Drag Racing to not only the entire state of Ohio, but residents of Southern Michigan.

NHRA also announced significant changes to its schedule, moving the Summit Racing Equipment NHRA Southern Nationals at Atlanta Dragway to April 26-29, followed by the O'Reilly NHRA Midwest Nationals at Gateway International Raceway in St. Louis, May 4-6. The O'Reilly NHRA Thunder Valley Nationals at Bristol (Tenn.) Dragway, which traditionally held a late-April date, will move to May 18-20, while the NHRA Supernationals at Old Bridge Township Raceway Park in Englishtown, N.J., just outside New York City, will continue to run June 21-24.

Another change to the schedule will be the move of the Toyo Tires NHRA Nationals at Maple Grove Raceway in Reading, Pa. to Aug. 16-19, which will be the last race to determine the Top Eight positions for the NHRA POWERade Countdown to the Championship.

The O'Reilly NHRA Summer Nationals at Heartland Park Topeka (Kan.), will move off Memorial Day weekend to the following week, becoming a three-day event, June 1-3, followed by the NHRA Nationals at Route 66 Raceway, just south of Chicago.

Complete 2007 NHRA Schedule


Feb. 8-11 CARQUEST Auto Parts Winternationals Pomona, CA
Feb. 23-25 Checker Schuck's Kragen NHRA Nationals Phoenix, AZ
Mar. 15-18 ACDelco NHRA Gatornationals (PSM)Gainesville, FL
Mar. 30-Apr. 1 O'Reilly NHRA Spring Nationals (PSM)Houston, TX
Apr. 12-15 NHRA SummitRacing.com Nationals Las Vegas, NV
Apr. 26-29 Summit Racing Equipment NHRA Southern Nationals (PSM)Atlanta, GA
May 4-6 O'Reilly NHRA Midwest Nationals (PSM)St. Louis, MO
May 18-20 O'Reilly NHRA Thunder Valley Nationals Bristol, TN
June 1-3 O'Reilly NHRA Summer Nationals Topeka, KS
June 7-10 NHRA Nationals at Route 66 Raceway (PSM)Joliet, IL
June 21-24 NHRA SuperNationals (PSM)Englishtown, NJ
June 28-July 1 Pontiac Performance NHRA Nationals (PSM)Norwalk, OH
July 13-15 Mopar Mile-High NHRA Nationals (PSM)Denver, CO
July 20-22 Schuck's Auto Supply NHRA Nationals Seattle, WA
July 27-29 FRAM-Autolite NHRA Nationals (PSM)Sonoma, CA
Aug. 9-12 Lucas Oil NHRA Nationals (PSM)Brainerd, MN
Aug. 16-19 Toyo Tires NHRA Nationals (PSM)Reading, PA
Aug. 29-Sept. 3 Mac Tools U.S. Nationals (PSM)Indianapolis, IN
Sept. 14-16 O'Reilly NHRA Mid-South Nationals (PSM)Memphis, TN
Sept. 20-23 O'Reilly NHRA Fall Nationals (PSM)Dallas, TX
Oct. 5-7 Torco Racing Fuels NHRA Nationals Richmond, VA
Oct. 18-21 ACDelco Las Vegas NHRA Nationals (PSM)Las Vegas, NV
Nov. 1-4 Automobile Club of Southern California NHRA Finals (PSM)Pomona, CA
(PSM)-Pro Stock Motorcycle contested at this event
8/28/2006
IHRA Moves World Nationals To Mansfield, OH!
The International Hot Rod Association (IHRA) announced today a multi-year agreement with Mansfield Motorsports Speedway to host the World Nationals, the drag racing event formerly held in Norwalk, Ohio. One of the finest half-mile asphalt oval race tracks in the country, Mansfield Motorsports Speedway is home to a NASCAR Craftsman Truck Series race, and will begin construction of a world class drag racing venue to be built on the grounds.

"Moving the World Nationals to the state-of-the-art facility Mansfield Motorsports Speedway is constructing takes the event and IHRA to the next level," said IHRA President Aaron Polburn. "We've had major success in Ohio throughout the years, and without a doubt, Mansfield will continue IHRA's dominance in the state.

"This is a beautiful track, a true showcase of what a respected motorsports facility should look like," said Polburn. "The attention to detail the track owner put into this facility is comparable to the finest racetracks in America. If you like US 131 Motorsports Park, with its impeccable design and construction, you're going to love Mansfield Motorsports Speedway."

The track, located in Mansfield, Ohio, in the north-central part of the state, between its NASCAR event, Hooters Pro Cup event and other significant races, will have nearly 350,000 spectators through the gates by the end of 2006. Mansfield is located within an hour from Cleveland, Columbus, Akron and Canton, all major Ohio markets.

"Of all the aspects that make this facility great, it's our location," said Mansfield Motorsports Speedway owner Mike Dzurilla. "We're midway between Cleveland and Columbus, located 10 minutes from downtown Mansfield and close to a major highway. We'll have no curfew and plenty of parking and camping."

Topography surveys have been done on the grounds of Mansfield Motorsports Speedway and architects and engineers are in the midst of mapping out the details for the facility. While it will be a new drag strip, the infrastructure necessary for the operational functioning of running a race are already in place with the circle track.

"We have a staff of people here that are customer-service oriented towards racers, sponsors, sanctioning bodies and fans. In addition, the city of Mansfield is a major supporter of this facility," said Dzurilla. "This part of the U.S. is IHRA country. We'll make the racers feel welcome and give them a facility they can call home.

"With the addition of the drag strip, we'll now have a true motorsports park in Ohio," added Dzurilla.

The architects designing the drag strip at Mansfield Motorsports Speedway have built several various motorsports facilities, including US 131 Motorsports Park in Grand Rapids, Mich., home to IHRA's Torco Northern Nationals. IHRA and Mansfield Motorsports Speedway officials will announce the date of the event upon confirming construction details.

"We'll be getting a construction timeline within the next ten days and that will determine whether we can add this to the 2007 or 2008 schedule, although everyone's goal is 2007," added Polburn.

The track is located at 100 Crall Road, across from Lahm Municipal Airport, which boasts one of the largest runways in Ohio. For more information on Mansfield Motorsports Speedway, go to http://www.mansfield-speedway.com/ or call (419) 525-RACE

8/25/2006
Help Wanted @ The Strip!
The Strip at Las Vegas Motor Speedway currently is accepting applications for part-time employees to join its operations staff. Selected individuals will be part of the race operations team for a variety of local, regional and national events held at America's Greatest Drag Strip.

"Our schedule has grown and the variety of our events has expanded," said Chris Blair, LVMS Sr. Director of Drag Racing Operations. "We're looking for people who have friendly personalities, a strong work ethic and a great sense of pride in a job well done. You don't have to have a racing background to work for us; you just need to be a team player with a willingness to learn."

Positions currently available include: event announcers and announcer assistants; tech officials; and customer service representatives.All applicants should send a resume and cover letter to: The Strip at Las Vegas Motor Speedway Talent Search, 7000 Las Vegas Boulevard North, Las Vegas, NV 89115 or e-mail ewonnacott@lvms.com

8/24/2006
Frank Pedregon Gets Knoll Sponsorship!

Frank Pedregon Racing has reached a sponsorship agreement with Skull Shine/Knoll Gas-Torco Racing Fuels for Skull Shine to be featured on the Von Dutch Dodge Stratus Funny Car for the remainder of the 2006 NHRA and IHRA schedules. The sponsorship will begin at the NHRA Mac Tools U.S. Nationals in Indianapolis, Aug 30th - Sept 4th.
8/24/2006
NASCAR Sued For Racial Discrimination!
New York, NY, Tuesday, August 22, 2006 - David Scott, a former employee of Penske-Kranefuss Racing, Inc., filed a lawsuit against the National Association for Stock Car Auto-Racing (NASCAR) charging them with discrimination.

Mr. Scott, who is an African-American male, was employed as a motor coach operator by the Penske-Kranefuss racing team between the years 1998 and 2000. On his first assignment he transported the Penske-Kranefuss Inc.'s motorcoach to a motor speed way in Bristol, Tenn. where he suffered many disparaging racial comments that were directed towards him. While sitting with another motorcoach driver, David was approached by another driver, Ray Labee, who worked for the Terry La Bonte team, who exclaimed loudly: "Oh shit! I can't believe they hired another nigger!" Approximately one week later in Fort Worth, Texas, Ray Labee shouted another disparaging racial comment, "Hey Lamont, I mean, hey Leroy!"

David was subjected to fear, humiliation, harassment, and a racially hostile work environment from his very first assignment. Threats continued to build at the hands of Ray Labee.

Once the horrendous acts were brought to light, and NASCAR became aware that the media began seeking interviews with Mr. Scott, they offered David a job with NASCAR and sent their corporate jet to remove him from Watkins Glen, N.Y., site of a NASCAR race, to get him away from the media's accessibility. With NASCAR promising Scott a job with NASCAR, they kept him from bringing to light the horrific experiences he had been subjected to. They also kept the racing teams comfortable by not having Scott's presence at the races to make the other drivers uncomfortable.

"I believe NASCAR thought I would just go away, but I will not because I did nothing wrong. I like the sport and the people in the sport and I am not going to let the actions of a few knock me down, or get me off balance to focus on other things besides the discriminatory behavior of these NASCAR senior leaders," stated Scott.

David added, "I believed and kept believing what I was being told by NASCAR Senior Management. They told me I would always have a job with them and that they were my friends. They also said, 'Trust us. We are going to do the right thing'. I had no reason to believe otherwise, but in the end the result was entirely negative. I was lied to and strung on for many years."

Ricardo Aguirre of Codelia, Aguirre & Socorro, David Scott's attorney stated, "What is astounding is that in this day and age, one of the largest corporations in the sporting industry can get away with such a blatant racial discriminatory act."

Mr. Aguirre added, "If NASCAR was sincere about promoting diversity in racing, why couldn't they find a simple job within the racetrack for David Scott after they promised they would?" He added, "The answer is simple-NASCAR did not want David anywhere near the track because the color of his skin would possibly stir more trouble...so they victimized the victim again!"

8/22/2006

NHRA Top Fuel Sensation J.R. Todd To Host Bowling Fund Raiser For Racers For Christ, August 30th!



J.R. Todd

Rookie Top Fuel sensation J.R. Todd is going bowling for dollars and is calling on fans, friends and some of his fellow NHRA drag racing drivers to help him raise money for Team RFC Racers For Christ.

"We're going to have a bowling tournament – Wednesday, August 30th, at Sunset Bowl, 10809 E. US Highway 136, in Clermont – that, we hope, will bring in a lot of money for a good cause – Racer's for Christ." said Todd, a native of Lawrenceburg, Ind. now living in Avon, Ind.

Race fans are invited to watch and participate. A silent auction – featuring a special Chip Foose Mac Tools tool box, drag racing items and sporting event tickets – also will take place. There is a minimum $5 donation for those attending. Doors open at 6:45 p.m.

Todd's interest in bowling began when he was 14. "I was looking for something to do and I bowled for two or three years," he said. "I wasn't really serious about it; I just wanted something to do when I wasn't drag racing. My average was between 180 and 190.

"I'll occasionally get some of the guys from other teams together and we'll go bowling."

Top Fuel driver Morgan Lucas, Funny Car drivers Del Worsham and Phil Burkhart Jr. and several of their crewmen are among those who will on hand to help Todd in this first of what he and Racers For Christ promise will be an annual event.

Racers For Christ was established in 1971 and was incorporated as non-profit in 1978 as a fellowship for Christians in the sport of motor racing and has developed into a growing organization with international impact. The overall purpose of RFC's involvement in motor racing is to service emotional and spiritual needs. Realizing that racing is more than just a mechanized existence, team members strive to bring a more balanced perspective in providing inspiration and encouragement to motorsports.

8/22/2006
Weld Wheels Files For Chapter 11 Bankruptcy!
Weld Wheel Industries Inc. filed for Chapter 11 bankruptcy protection on Aug. 17 in the Bankruptcy Court of Western Missouri. The Kansas City, MO, company plans to sell its assets to American Racing Equipment Inc. in Rancho Dominguez, CA.

Weld Wheels, a family-owned business established in 1985, moved its location and expanded into a 290,000-square-foot facility in 2003. According to court records, the company is seeking court approval that would allow for the submission of competing bids, an auction and final sale hearing within six weeks. Still to be negotiated are how many of Weld's 380 employees would be retained by American Racing Equipment.

8/13/2006
Brown Wins @ Lucas Oil NHRA Nationals!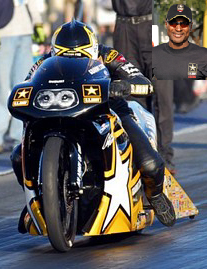 Antron Brown

After a runner-up finish at the last event in Sonoma, Calif., Brown made sure he took care of business here with a 7.108 to 7.159 win over 20-year veteran Johnson. The victory shuffled the top of the POWERade standings and moved Brown from an afterthought to the new leader.

Brown's fourth Brainerd victory lifted his final-round record to 2-2 on the year and 16-16 lifetime. He held the points lead earlier this year after the Atlanta race, which was his last win.

"I just wanted to get my head out of my butt this weekend," Brown said. "Believe it or not, I really felt sorry for Andrew [Hines] when he red-lighted in the first round because I've done it five times this year and I felt his pain. I got a couple of red-light wins today so that definitely helped my cause along.

"The only bummer of the day was my teammate [Angelle Sampey] winning her race and then getting thrown out because she was light. I think the rain screwed up the scales because we were all getting different readings. She just came up short.

"I'm really proud of Steve Tartaglia, my crew chief. It's just his second year as a crew chief and he's hanging with all the big boys. Any one of the top four bikes can win the title this year. It's going to be exciting."

Brown, moved from fourth to first and now leads Andrew Hines by 15 points. Chip Ellis is third, 45 points behind Brown.

8/8/2006

Hill Continues His Wining Ways!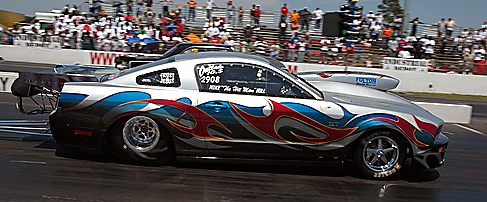 Mike Hill


ORSCA-Mike Hill added to his 2006 win column and his bank account Aug. 6, by beating Michael Robinson in the $6,500 Outlaw 10.5 final at Phenix City, AL. Hill, the number-five qualifier of just six entries, had a first-round bye in his '05 Mustang, then narrowly edged Jack Barfield and his recently purchased 2000 Camaro before going on to pick up his $5K winner's share with a 4.62-second pass against the 4.79 by Robinson in the VIP Camaro.
8/7/2006
Lonnie Patrick Win @ The PSCA Extreme Speed West Coast "Nationals" August 4th - 6th @ AAA Dragway at California Speedway-Fontana, CA!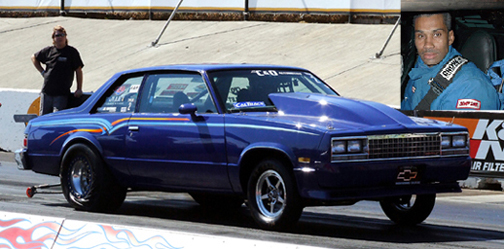 Lonnie Patrick's Chevy Malibu

#2 Qualifier Lonnie Patrick takes the win over Manny Figueroa with a 8.416 @ 172.36 mph to Figueroa's 8.998 @ 113.85 mph in True Street.
7/30/2006

Todd Wins Again!!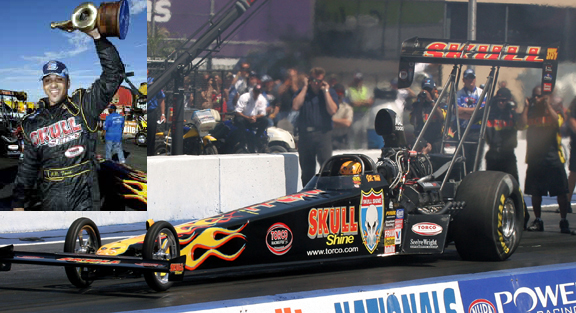 J.R. Todd


Top Fuel rookie J.R. Todd upset three-time POWERade champion Tony Schumacher for the second time in three weeks Sunday in the final round of the Fram-Autolite NHRA Nationals. Just as he did in Denver 14 days ago, the 24-year-old Todd simply outran Schumacher, taking this win in 4.619 seconds at 309.27 mph to Schumacher's 4.679 at 316.01 mph.

Racing in just his 11th national event, Todd is now 2-0 in final-round appearances in his Skull Shine dragster with both wins coming against Schumacher. The two men have faced each other in each of the last four national events, with each man winning twice.

"You couldn't write it any better than this," Todd said. "Beating Tony and that team once for your first trophy ever is like a dream. To do it twice in three races is unreal. I can't even believe this is happening. You work so hard just to get to this level and you don't even think what it will be like to actually win.

"I knew when Evan Knoll stepped up and gave us the backing to run full-time that we were really increasing our chances to win rounds and maybe even a race. This is beyond my expectations. Two races ago people were asking me where the driver was. Now they're screaming my name. It's so cool.

"I'm not thinking about rookie of the year. I'm more excited about being three rounds out of the top 10. If we can finish in the top 10 and keep running like this, the rookie of the year deal should take care of itself."

7/28/2006
Brown Joins Six-Second Club!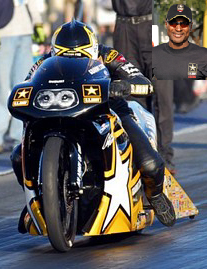 Antron Brown

Antron Brown became the third Pro Stock Motorcycle rider in drag racing history to post a six-second run Friday when he traversed Infineon Raceway in 6.983 seconds during the first round of qualifying at the FRAM-Autolite NHRA Nationals.

Brown's 6.983-second pass at 191.51 mph on his U.S. Army Suzuki was remarkable, but the track record remains with point leader Andrew Hines, who posted a 6.968 at last year's race. Nevertheless, Brown is the third member of the NHRA Mickey Thompson 6-Second Pro Stock Bike Club and will receive a $2,000 bonus from the tire maker for his effort.

7/16/2006

J.R. Todd Makes NHRA History!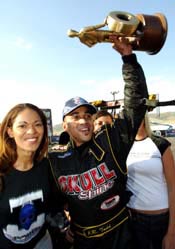 J.R. Todd

Rookie J.R. Todd upset Tony Schumacher Sunday afternoon at the Mopar Mile-High NHRA Nationals to score his first NHRA POWERade Series Top Fuel victory in just his ninth career start. Todd, who with the victory becomes the first African-American to win an NHRA Top Fuel title, never trailed in the race at Bandimere Speedway, dismissing the three-time series champion with a performance of 4.906 at 291.63 mph in his Skull Shine/Torco Race Fuels dragster to Schumacher's 4.966 at 306.33 mph in the U.S. Army dragster.

Todd went deep into the sand trap after his semifinal win over Larry Dixon, but several crewmen from the Valvoline/David Powers Motorsports team as well as a few from the Bud camp were waiting in Todd's pit to help the Torco team get their car turned around in time for the final.

"You never expect to get your first NHRA win by outrunning Tony Schumacher in the final," Todd said. "I didn't even know how to act down there. I was stunned. To beat that team straight up is almost unbelievable.

"It's been a wild weekend. It's so hard to race up here but we qualified real strong with a 4.63 that placed us No. 2. Today was a different story. It was so hot out there and I had to pedal the car every round except the final.

"A lot of teams came over to help us and we would not have made it up for the final without their help. I didn't realize I had so many friends out here. They were talking about me being the first African-American to win in Top Fuel but out here it's all equal, especially when the helmet goes on."

7/6/2006

Brian Olatunji And Von Dutch Ready To Rock The Motor City Nationals @ Milan Dragway!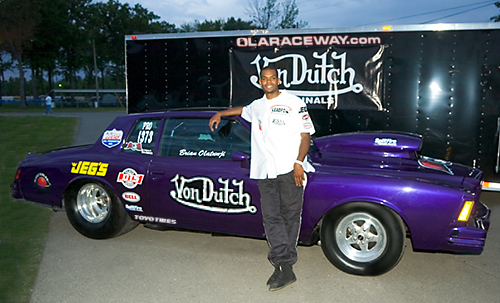 Brian Olatunji


24 year old aspiring Top Fuel Funny Car driver Brian Olatunji and Team Leadfoot Motorsports are heading into the 4th Annual Suzuki Motor City National presented by GM Performance Parts at Milan Dragway, which will be held July 7-9, 2006. With Olatunji currently holding a Top Alcohol Funny Car license, he and his Von Dutch / Olaraceway.com Chevrolet Monte Carlo Super Rod entry are ready to turn the drag racing world upside down as well as turn heads in the process. "This race is arguably our biggest of the season because of it being so close to home and a national event. The Super Rod class is filled with tremendous talent and I look forward to competing against the best in the world," commented Olatunji.

Much preparation for this weekend has come from Friday night heads-up battles, IHRA Division 3 races and a killer tune-up prepared by Johnny Broaden, Brian's uncle and crew chief. "Our Von Dutch/Olaraceway.com entry is ready to rock," Olatunji shared. In the mist of all the rocking, provided courtesy of the IHRA eMax drag racing series, the team is looking to roll over the competition, with the help of their 468 Cubic Inch Big Block Chevy engine. Be sure to stop by the Von Dutch / Olaraceway.com pit area during the event as Olatunji is always eager to meet new fans.

6/22/2006
Pioneering Racer Durham, #48 On NHRA's Top 50, Passes!

Malcolm Durham

Malcolm Durham, recognized by many as drag racing's first black superstar and voted number 48 on the list of NHRA's Top 50 drivers in 2001, died June 22 after a battle with lung cancer.

When Durham, one of the Lifetime Achievement honorees at this year's Holley NHRA National Hot Rod Reunion presented by DuPont Automotive Finishes, was featured as the subject of a "Where Are They Now?" article in National DRAGSTER in 1997, it was fittingly the same year that Major League Baseball dedicated its season in honor of the 50th anniversary of that sport's first black player, Jackie Robinson.

Though Durham was given the nickname "DC Lip" in the mid-1960s in an attempt to exploit the type of press generated by Muhammad Ali, then known as Cassius Clay, Durham was in actuality a soft-spoken, hardworking individual whose storied match race accomplishments were the result of many long hours of hard work.

Raised on a family farm in Goldsboro, N.C., he gained his initial mechanical experience working on tractors. He began racing in 1957 at Easy Street Dragstrip in Newton Grove with a 225-horsepower '56 Chevy.

After moving to Washington D.C., Durham took automotive courses at a tech trade school and campaigned the '56 Chevy at Aquasco Speedway with great success.

He first gained attention within drag racing circles in 1962 when he began campaigning a 409-cid '62 Chevy with Z-11 heads while working as a mechanic for Hicks Chevrolet, and he won nearly 90 percent of the races he entered. After moving from the repair department to car sales, Durham was able to devote more time to racing and obtained the first 427-cid Z-11 '63 Chevy available in Washington D.C. Driving with the name Strip Blazer 1 painted on the sides of the car, he improved to a 12.01 the first time out at 75-80 Drag-A-Way late that year and defeated both Dave Strickler's A/S Chevy and Bill Jenkins' A/FX entry. Before long, Durham became a regular on the East Coast match race circuit and campaigned against such racers as Don Nicholson, Sox & Martin, the Ramchargers, Hayden Proffitt, Strickler, and Jenkins.

After Chevrolet dropped out of racing at the end of 1963, Durham shoehorned his Z-11 engine into a midsized '64 Chevelle (Strip Blazer II) to run as an independent campaigner. Said Durham, "It was my answer to Ford's 427 Thunderbolts. We had the engine moved back eight inches from the stock location, but we did it in a way that few people could detect."

Ronnie Sox and Buddy Martin had won the A/FX title at the 1964 Winternationals, but Durham's Chevelle beat them on consecutive evenings at 75-80 and Cecil County, then defeated them three more times at a New York match race.

Durham kept pace with the Funny Car revolution of 1965 by updating the Chevelle with 1965 sheet metal and adding injectors and nitromethane. Those changes netted bests of 9.56 and 150 mph.

In 1966, Durham switched to a tube-frame Camaro, which took him to a win at the UDRA Nationals at U.S. 30 and, after he extended the wheelbase by 10 inches, dropped him into the eight-second zone.

With the addition of a supercharger in 1967, Durham improved to bests of 7.98, 178, then spent the off-season completing a new Logghe-chassised Camaro.

The new entry proved to be one of his best rides, clocking 7.5-second elapsed times on a regular basis in 1968, and it broke the 200-mph barrier in 1969.

Durham also competed in Pro Stock with a '73 Vega that clocked a best of 9.17. He later converted the car to B/EA, but then quit racing when he sent his son Bernard to Furman University.

Durham returned with an '84 Pro Stock Camaro that became airborne in a bad accident in Rockingham in 1985, which prompted him to retire as a driver.

A dedicated father, Durham worked tirelessly to help his sons establish professional careers. Bernard earned a degree in computer science, Raymond a degree in automotive engineering, and Byron a degree in engineering at the University of Maryland.

The Durham family returned to drag racing in 1989 with Malcolm driving a nostalgia version of his '65 Chevelle and Bernard campaigning in Super Gas.

Of the challenges Durham faced as being the first black drag racing star, he said, "We encountered some problems in the South because those people didn't want to accept me. But for me, being a black was actually a plus because it made me unique, and I tried to capitalize on that as much as possible. During the late 1960s, I averaged $800 per appearance, and that made me one of the highest-paid drivers in the business."

Services information is pending. In lieu of flowers, the family has asked that donations be made to oncology units or to the American Cancer Society.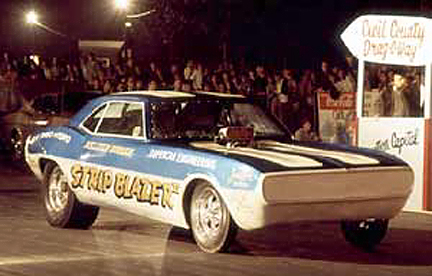 Durham's Strip Blazer II

6/22/2006

AAA Auto Club Dragway @ California Speedway Officially Reopens!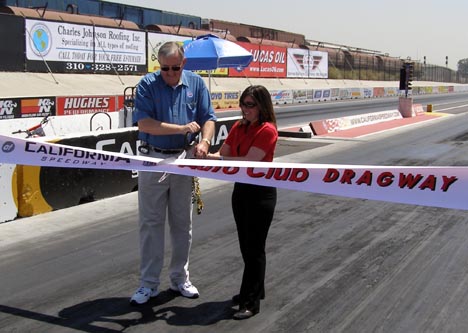 Tom McKernan & Gillian Zucker

Going into its fourth event since moving to a new location on the property, Auto Club Dragway at California Speedway has officially reopened for competition. Speedway President Gillian Zucker and Automobile Club of Southern California President and CEO Tom McKernan did the ceremonial ribbon cutting. Thanks to the AAA funding, construction of the new dragstrip was moved along on a fast track and in record time, being completed in approximately 60 days under Director of Operations Mike Yurick and Track Manager Dave Danish.

After the ceremonies, Fast Jack Beckman took Gillian Zucker on an 8.70 pass down the quarter mile at over 150 mph in a Frank Hawley Driving School two-seat dragster.

According to Division Director Mike Rice, over 600 competitors are expected for this weekend's NHRA Lucas Oil Drag Racing Series Division 7 event.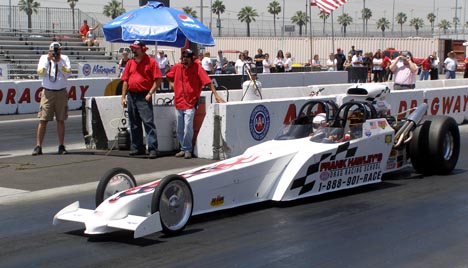 Jack Beckman & Gillian Zucke In Frank Hawley
Driving School Two-Seat Dragster

6/20/2006
Shake-Up At SFI Top Fuel Chassis Committee; More Data Obtained About Top Fuel Chassis!
In an effort to get more and better information to issue specs on Top Fuel and Funny Car chassis, the SFI Foundation has split the chassis committees so that there will be a group for the nitro classes and a group for the non-nitro. According to a SFI spokesman, the new group for Top Fuel chassis are Murf McKinney, Brad Hadman, Chuck Let, Ty Baumgartner and a Swedish builder by the name of Mats Eriksson. Dave Uyehara, Don Long and Bob Meyer were dropped from the committee.

According to Arnie Kuhns at SFI, despite what the rumor mills are grinding out, the sole reason for the change was to get the chassis builders that built the most cars per year on the committee and no other. Another SFI representative spoke about their ongoing efforts to change the specs for Top Fuel chassis as well as some recommendations for specs to alleviate some of the chassis stress issues.

6/13/2006
O'Reilly To Rename IRP!
The NHRA is expected to name O'Reilly Auto Parts as the title rights sponsor for Indianapolis Raceway Park on Wednesday during a press conference. This is what is being reported by the Indianapolis Star.

The full article can be accessed at IRP News.

6/8/2006

First Race @ AAA Auto Club Dragway Huge Success!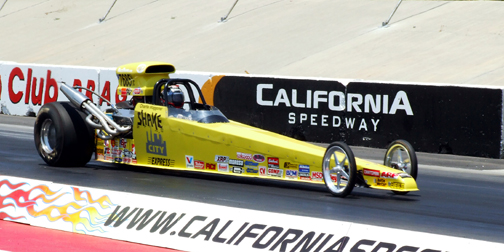 Charlie Waggoner


The first race of 2006 at the AAA Auto Club Dragway at California Speedway was a huge success as over 400 race cars wanted to try out the new dragstrip that Dave and Kathy Danish and crew have put together.

The concrete was poured only three weeks ago and the track was finished with the assistance of Brian Smith and Chuck Pettit of Crainco, Inc. to put the K-rail in place.

Track manager, Dave Danish, oversaw the relocation of the Fontana dragstrip in record time.

The first racers on the new surface were the Southern California Super Assn. Super Eliminator Super Comp Super Street and So. Cal Pro Gas, plus Top Alcohol Motorcycle.

Complete photo gallery coming soon.

6/6/2006

Patience And Perseverance Outweigh Trouble And Traffic For Brian Olatunji And Leadfoot Motorsports!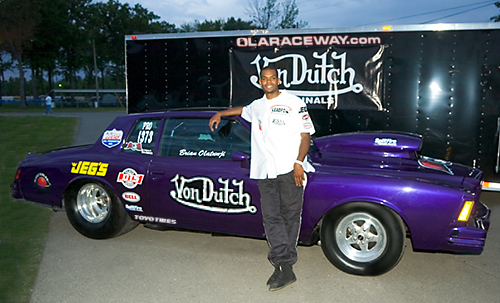 Brian Olatunji


After spending three and a half hours trapped in a truck with the scorching sun piercing through the windshield, all the signs said to give up. But traffic jams, freeway closers and discomfort couldn't keep Brian Olatunji and Team Leadfoot Motorsports away from the 2nd Skinny Kid Race Car's Heads-Up Race of the season, held on June 2, 2006 at Milan Dragway. The usual trip to Milan Dragway is a short jaunt from Detroit no more than an hour where the team's race shop is located. "We almost turned around and went home but we knew our fans were waiting for us [at Milan] so we pressed on, besides giving up is never an option. We owe it to our fans as well as our sponsors," said Olatunji.

And right he was. Thousands of drag racing fans attended Friday night's festivities and numerous were pleased to see Olatunji's black polished 28ft. trailer roll onto the grounds. After unpacking, all of Leadfoot Motorsports team members dispersed into their individual tasks for the night while Olatunji signed autographs for his awaiting fans. "I wanted to make sure I had a hero card and a signature… I think they might be collector's items one day," revealed one fan.

With the traffic pushing the aspiring top fuel funny car racer behind schedule, no one was sure if Olatunji would be able to get into the driver's seat of the team's Von Dutch Olaraceway.com backed Chevy Monte Carlo at all that night. But before the sun fully set, Olatunji made one pass down the strip and now he and crew chief Johnny Broaden are anxious for the next race. "We broke a few pieces but those are easily replaced. We'll be tested and ready for the [IHRA] Division 3 race in a couple of weeks," assured Broaden.

Good fortune seemed to also be with the marketing aspect of Leadfoot Motorsports. "We weren't sure if any models were going to show up due to the traffic problems Michigan is having right now," event planner Desiree Harrison shared. However two striking models made the journey to Milan and wowed the crowds while attracting them to the Leadfoot Motorsports pit area for its 1st merchandise raffle of the season.

By the end of the night, barbeque, laughs and stories had been shared by all, especially those who have supported Olatunji through the years. Before journeying home, Olatunji enjoyed a loving hug from his number one fan through all the years, his mother. "I couldn't be prouder of my son; [racing] has been his dream since he was five years old…and now it's starting to come.

5/26/2006

Prudhomme And Miller Will Part Ways!


Having enjoyed one of the longest running sponsorships in the history of NHRA Drag Racing, Don Prudhomme Racing announced that Miller Brewing Company will not return as the primary sponsor of two-time NHRA Top Fuel Champion driver Larry Dixon and Don Prudhomme Racing's Miller Lite dragster upon the conclusion of the 2006 season. The 11-year partnership between Miller Brewing Company and Don Prudhomme Racing began in 1995 with great success as Dixon burst on to the scene, winning four races including the U.S. Nationals, en route to NHRA Rookie of the Year honors.

Jackie Woodward, Miller's vice president of programming, media and marketing assets, said this was a difficult but necessary decision as the company strives to make the most effective use of its marketing expenditures. "We want to thank Don Prudhomme, Larry Dixon and the entire Prudhomme Racing team for being such great partners and brand representatives over the past 11 years," Woodward said. "It's been an honor to be associated with them –- including NHRA Top Fuel championships in 2002 and 2003 -- and we look forward to celebrating several successes on the track together during the rest of this season."

Don Prudhomme's Snake Racing team is currently exploring potential primary sponsorship partners for the 2007 NHRA season and beyond.

5/25/2006

NHRA Upholds ESPN2 Evidence, Phillips Credited With Second Round Victory @ Columbus!


Pro Stock Motorcycle competitor Michael Phillips of Baton Rouge, LA has been informed by NHRA Senior Vice President, Racing Operations Graham Light that he has been awarded the on-paper-only second round win over Matt Smith of King, NC at last weekend's Pontiac Performance Nationals in Columbus. Along with the appropriate semifinal round purse Phillips will also receive the adequate number of points, "I would've rather won on the track 'cause that might've been my weekend said Phillips."

A stop-action shot of Phillips' Suzuki appearing to be clearly ahead of Smith's Buell at the finish line on the ESPN2 telecast of the event on Sunday evening (as seen by the above photo). Needless to say, that stop-action shot resulted in a lot of talk, and also got Phillips's attention.

"When I hit fourth gear I kind of heard his bike fading a little," Phillips said. "But then, after we made the turnoff neither one of us knew who won until his guys got down there and said he got the light.

"I usually leave the race track on Sunday evening, but something just told me to stay there and watch the show. Me and my brother were sitting' there, and when that came up I said to myself, Oh, no, here we go again, and with the same bike (in reference to Smith's later overturned "victory" at Indy last year).

"You know, they were definitely having troubles with the lights all weekend. When we came up to the starting line we both put our top lights on, and then he moved in and lit the second light. When he did that my light also came on, and I hadn't moved. It kinda stunned me, so I jumped on the throttle. It hadn't even hit the two-step when the light went green. It took the clutch right out of my hand. Actually, my light would have been a whole lot better if the lights hadn't been messed up.

"I tried to call NHRA Sunday night, but of course, nobody answered 'cause they weren't there. After that Graham called my dad and told him they were going to give me the win and the money."

According to several sources, Light was not aware of the apparent finish line timing malfunction until Monday morning, but then took immediate steps to rectify the situation as much as he could. Sources close to Phillips' family indicate that Light expressed his regrets about the situation during his call to Michael's father.

While Undercover Brother was watching the race, he said that race should be protested because it was clear that Phillips had won the race. There was no way the distance between Smith's front tire and the finish line could have been made up by him before Phillips crossed the finish line.

5/25/2006

Mike "The Hitman" Hill Wins Again!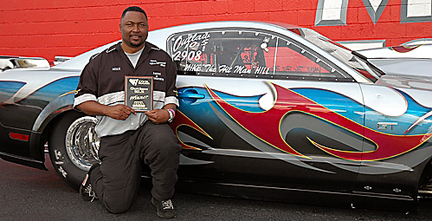 Mike Hill


Mike "The Hitman" Hill is on top of the world these days. His new Race Factory 2005 Mustang is performing like a dream and he recently became the father of a new baby girl. But it takes more than that to get this drag racing hitman excited. "I'm enjoying it," was about all the soft-spoken, but hard-driving Hill had to say after his latest conquest.

Consistency was Hill goal for the day and he managed that with runs of 4.667, 4.684, 4.669, and 4.677, good enough to set low E.T. in three of the four elimination rounds. Still, he wasn't taking Miller for granted. "I knew Craig would be tough and I know I saw him through the middle of the racetrack, but probably about the 330 is where I made my move. Then I just hoped I wouldn't see him again."

Hill secured his third major win with a .042 rt 4.677 et @ 161.67 mph to Craig Miller's .047 rt 4.723 et @157.96 mph on May 21st in the ORSCA Outlaw 10.5 final at Carolina Dragway-Jackson, SC.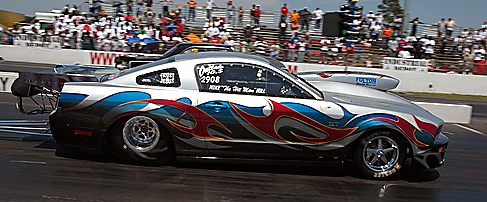 With Three Major Wins This Year, Hill Has Already Topped $67,000
In Prize Money

5/22/2006

Progress @ California Dragway!


Black Dragracers.com received this photo today of the new California Dragway in Fontana, CA.

The top end is paved all the way to Cherry Avenue and painted with perimeter lines, the 330 concrete launch pad and burnout boxes surfaces have been ground, and the tower is moved into position and is wired up.

According to track manager Dave Danish the drag strip is on schedule for the Super Eliminator kick-off event on June 3-4.

Black Dragracers.com photographers will be there with cameras in hand.

5/18/2006
Torco Race Fuels To Sponsor NHRA Event @ Virginia Motorsports Park!
Torco Racing Fuels, the Decatur, MI-based manufacturer of high performance fuels, has signed a multi-year agreement to become the title sponsor of the NHRA POWERade Drag Racing Series event near Richmond, VA.

Torco also sponsors the NHRA Top Fuel dragster driven by current points leader Melanie Troxel, Top Fuel rookie J.R. Todd, Funny Car driver Mike Ashley, and Pro Stock driver Dave Connolly. The inaugural Torco Racing Fuels NHRA Nationals will be held Oct. 6-8, at Virginia Motorsports Park.

5/17/2006
NHRA 2nd Favorite Form Of Motorsports In ESPN Sports Poll!
In an ESPN Sports Poll released this week, fans ranked NHRA as their second-favorite type of motorsports attraction behind NASCAR. NHRA received 13.4% of the votes from fans polled from January-December of 2005 to secure the second position, while NASCAR led the poll with 59.5 percent. Motorcycle racing came in third with 9.7 percent, followed by Formula 1 (6.3%); IRL (6.1%); Champ Car (1.4%); and other racing series (.04%).

A 2004 ESPN Sports Poll produced similar results when 57.6 percent of fans named NASCAR as their favorite motorsport, while 13.9 percent chose NHRA drag racing.

5/16/2006

Don Schumacher Adds Terry Adams To Pro Stock Team!


Don Schumacher announced today that Terry Adams has been named assistant crew chief on his two-car Mopar-backed Pro Stock team. Adams, who most recently served as crew chief on Dave Connolly's Pro Stock car, will assist crew chief David Nickens on entries driven by Richie Stevens Jr. and rookie Shaun Carlson.

"He's going to help us make calls on both cars," Nickens said. "He's very good at reading the track, so he's got a lot to add to the team." Adams, 51, will commute to the Indianapolis-based DSR Pro Stock shop from his home in North Wilkesboro, NC, and will attend each of the remaining events of the 2006 NHRA POWERade Drag Racing Series.

5/11/2006
CARQUEST Auto Parts Stores Offer Discounts To CARQUEST Auto Parts NHRA Nationals!
CARQUEST Auto Parts Stores in the greater Chicagoland area are now offering NHRA POWERade Drag Racing Series fans a chance to enjoy the CARQUEST Auto Parts NHRA Nationals at a discounted price.

The event will take place June 8-11, 2006 at Route 66 Raceway in Joliet, Ill. Fans who visit a participating CARQUEST Auto Parts location prior to the event can pick up a coupon good for a $8 off Advance Purchase or $6 off Gate Purchase of a Friday and Saturday general admission ticket.

No purchase is necessary and coupons are limited to participating CARQUEST Auto Parts stores.

5/10/2006

J.R. Todd's New Look!


This is the new look for J.R. Todd's SKULL Shine/Menard's Top Fueler scheduled to run in Columbus next weekend.

Tood will appear on NHRAToday this weekend.

5/10/2006

Black Sunday Comes To Indy!




Annual, One-Of-A-Kind Drag Racing Event Is Coming To Indy

The United Black Drag Racers Association (UBDRA), organizers of the one-of-a-kind Black Sunday drag racing event announces that the race will be coming to Indianapolis. "It is only fitting that the nation's 'Place to Race' should also play host to the largest African American drag racing event in the country," says Darrell Williams, President of the UBDRA. This year the inaugural Black Sunday in Indy will be held at one of the NHRA's premier venues, Indianapolis Raceway Park on May 12, 13 & 14th.

Now in its eleventh year, this event has attracted thousands of racers and spectators to the St. Louis Metropolitan area where the event was started. Event participants have traveled from all four corners of the country to partake in this wonderful 'family reunion-like' drag racing event. "Taking the event on the road, will allow even more drag racing enthusiasts to experience this unique event," says Williams.

The United Black Drag Racers Association was established in 1994 to organize and promote the Black Sunday race that started in the early 80s as a race for bragging rights by some local African American racers in St. Louis. Now a 501c3 organization whose mission is to preserve and promote the sport of drag racing in a positive manner, the UBDRA uses drag racing as a mean of giving back to the community by giving the proceeds from the race to local and national charitable organizations. With the proceeds from the 2005 race, the organization donated nearly $30,000 to worthwhile organizations, including over $8,500 to the 100 Black Men of Metropolitan New Orleans to assist victims still struggling to overcome the devastation of Hurricane Katrina and unveiled an Annual Scholarship to provide financial assistance for minority students going to college or vocational training programs.

"IRP is always looking for new and exciting events that raise the stature of the track in the community," said Mike Myslinski, director of operations, at IRP. "We feel the UBDRA is a tremendous addition to our race season and we look forward to this year's event and hosting them for years to come."

Financial contributions are just one of the ways that the UBDRA is involved in the community. They also participate in car shows, parades and school presentations which demonstrate the organization's values and educate the community regarding safe driving and positive, substance-free recreational activities.

For more information about the organization or the Black Sunday race, contact Joyce Pickett, UBDRA Public Relations Committee Chair at 314-868-9879.

5/10/2006
Famoso 'LODS' Event Rescheduled!
Due to delays in the re-paving process at Auto Club Famoso Raceway, the Lucas Oil Drag Series event originally scheduled for May 19-21 has been rescheduled to August 25-26. The event will feature a unique format in that Top Alcohol Dragster and Funny Car will get three qualifying passes on Friday at 3, 6, and 9 p.m. and run eliminations on Saturday evening beginning at 5 p.m.

All other categories will receive two runs on Friday beginning at 10 a.m. and one Saturday morning, with eliminations beginning at 2 p.m. The track will host a test and tune on Thursday, August 24 from 3-9 p.m.

5/9/2006
Scott Geoffrion Passes Suddenly!
Scott Geoffrion, 40, died May 8 of an apparent heart attack while hospitalized in Southern California for observation with breathing problems and a fever. Geoffrion drove a Pro Stock car for Warren Johnson from 1987 to 1991 and then drove for the Wayne County Speed Shop/Dodge Boys team with Darrell Alderman. He had most recently driven a Ford for Hurley Blakeney.

According to his family, wakes will be held Thursday in California and Monday, May 15, at the Vander Plaat Funeral Home, 257 Godwin Ave., Wyckoff, N.J. His funeral will be Tuesday, May 16, at Immaculate Conception Church, 900 Darlington Ave., Mahwah, N.J., at 10 a.m. The services are open to the public.

Geoffrion is survived by his children, Kyle and Alexa; brother, Rick; sister, Michele; and parents, Richard and Jeanne.

In lieu of flowers, the family has requested that donations be made to the Drag Racing Association of Women, http://www.drawfasthelp.org/.

5/7/2006
Antron Brown Wins In Atlanta!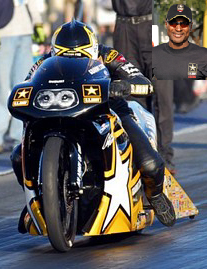 Antron Brown

In a classic Suzuki versus Harley final, Brown decided the race with his riding ability by stealing away the win light on a holeshot. Brown left with a near-perfect .005-second light against Hines' .038-second reaction time, and held on for the win with a 7.098 et @ 187.44 mph to Hines' quicker but losing 7.089 et @ 187.94 mph.

The win was the first for Brown this year and the 15th of his career, drawing him level at 15-15 lifetime. He is now the POWERade points leader.

Brown's U.S. Army Suzuki was quickest of the first two elimination rounds with a track-record 7.045 in the opening session and a 7.065 in the quarterfinals. Then Hines' Vance & Hines Screamin' Eagle Harley-Davidson V-Rod came to life, earning him lane choice in the final with a 7.057 in the semi's, which was .003-second quicker than Brown's pass.

5/4/2006

J.R. Todd To Fly Skull Shine & Torco Colors!



J.R. Todd

Tuttle Motorsports has announced that Skull Shine and Torco Racing Fuels are now the team's primary sponsor which will enable driver J.R. Todd to compete full time on the NHRA Powerade tour. Thanks to the generous support of Evan Knoll through his line of Skull Shine car care products and Torco Racing Fuels, they now have the necessary backing to make a run at a top ten finish.

Knoll, who has become one of the most active and prolific supporters in professional drag racing, sponsors teams in Top Fuel, Funny Car, Pro Stock, and Top Alcohol. Todd's new paint scheme will be similar to that of current NHRA points leader Melanie Troxel, who also carries the Skull Shine banner. Tuttle Motorsports team owner Dexter Tuttle is very appreciative to be included in Knoll's fast growing family of racing teams. "We are very thankful for the opportunity that Evan and everyone and Torco Racing Fuels is giving our team. We are also appreciative for all of the other contributions Evan has made to the sport through both race car and event sponsorship." Tuttle said.

Currently, the cars are being painted and the trailers are getting vinyl wrapped in preparation for the Pontiac Performance Nationals in Columbus Ohio, May 18 -21. From there, the team will compete at all of the remaining NHRA Powerade events.

4/28/2006
Brian Olatunji & Leadfoot Motorsports With Planet Color And Von Dutch Racing Set To Compete @ Milan Dragway!
Brian Olatunji is eager to get back behind the wheel of the Leadfoot Motorsports Chevrolet Monte Carlo sponsored by Von Dutch to do battle. The Leadfoot Motorsports team has been hard at work preparing a completely new combination as well as the announcement of a barrage of marketing partners who have joined the Leadfoot Motorsports family.

"The Skinny Kid Race cars heads-up race at Milan Dragway is the ideal venue to debut for our 2006 racing campaign. This is my home track and I look forward to the thousands of fans that I know will turn out to see the fastest door-slammers in the Midwest compete. This venue gives all of my family and friends the opportunity to come out and enjoy what is sure to be a great time," said Olatunji.

Olatunji and Leadfoot Motorsports are ecstatic about the upcoming season and rightfully so with the addition of Von Dutch Originals as the teams primary sponsor.

"Von Dutch is the most awesome company in the world to be associated with. I have to give Kai at Von Dutch credit because he has believed in me and my program from day one. Besides that the apparel represents the true racer and is the hottest on the market!"

4/27/2006
B&M Racing Acquires McLeod Industries!
B&M Racing & Performance Products has acquired McLeod Industries. McLeod, founded in 1971 by Red Roberts, manufactures and distributes a full line of clutch assemblies, flywheels, hydraulic throw-out bearings, bellhousings and rail shifters. B&M has been a manufacturer of high performance automatic transmission, shifters and cooling products for more than 50 years.

"This is the beginning of B&M's transformation into the one-stop driveline supplier to the automotive performance aftermarket," said Jim Adolph, VP of Marketing for B&M Racing. "We intend to supply our customers with all their driveline needs from the flywheel back."

4/25/2006
Ron Weems Runner-Up On Friday Night And Win On Sunday @ The Strip!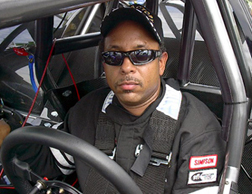 Ron Weems

Ron Weems and the Toy Factory race team were runners-up @ the PSCA Mickey Thompson Tires WinterNationals make-up race on Friday, April 21st. The Deeds Performance "Las Vegas Nationals" were held April 21 - 23 at The Strip in Las Vegas, NV at which Ron Weems and his team took the win in Outlaw Street 10.5 over Rich Zehring.

Weems posted a 7.588 @ 182.70 mph over Zehring's 7.691 @ 195.87 mph for the win.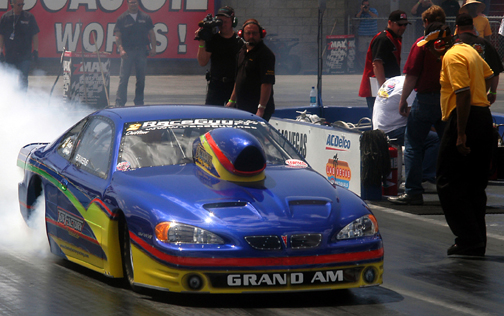 Ron Weems Grand Am

4/25/2006
Want To Go To England?
For enthusiasts and business people interested in seeing the best of European drag racing for themselves, Drag Racing Europe - The Trip To England will take place in September. Carefully engineered to fit between NHRA's Mac Tools US Nationals and Toyo Tires Nationals, The Trip To England will focus on the FIA European Finals at Santa Pod Raceway (Europe's first permanent drag strip, celebrating its 40th anniversary), when the cream of European drag racers will be in town for the most vital event on the calendar.

FIA championship classes will include Top Fuel, Top Methanol, Pro Stock and a full 16-car field of Pro Mods. There'll be bikes too: UEM champions will be crowned in Top Fuel Bike, Pro Stock Bike and the fabulous Super-Twins ("Nitro Harleys"). Plus, there's a complete supporting program, including Fuel Funnies, spectacular Jets and an array of Sportsman classes.

Trip To England guests will enjoy all the action in the finest style with Santa Pod's official VIP hospitality program.

Guests will be treated to a broader view of Britain's racing heritage with visits to the Williams F1 Grand Prix Collection and the Brooklands Motorsport & Aviation Museum, the historic birthplace of British motorsport and aviation located on the site of the world's first purpose-built auto racing circuit.

The Trip departs the USA on Wednesday September 6th and returns on Wednesday September 13th. The price is from $1995 per person (based on 2 sharing room, excluding flights) and includes ground transportation and hotels -- with two nights in Central London for guests to enjoy the capital city at their leisure.

The Trip To England is being sold exclusively by American Express Travel Services representative, PASSPORT TO TRAVEL, of Modesto, Calif. (contact: Renee Rollins). For more information, please telephone (209) 571-5606 / toll-free (800) 456-3378 or e-mail renee@passport2travel.com.

To receive a detailed itinerary by email, please request to trip2england@aol.com.

4/22/2006
Ronnie Sox Passes!
Ronnie Sox, long regarded as one of the greatest four-speed drivers ever and voted No. 16 on NHRA's list of Top 50 drivers, passed away April 22 after a long battle with cancer.

The longtime racing partner of Buddy Martin was the winninest Pro Stock driver (with nine victories in 23 events) during the short-lived four-speed era (1970-72), and he also claimed six additional Super Stock victories from 1967 to 1969. His skills as a four-speed driver in match races, ranging from his lumbering full-sized Chevy's in the early 1960s to his injected, nitro-burning Barracuda Funny Car in 1966, are also part of drag racing lore.

The Lenco transmission came on the scene in 1973, and Sox was no longer able to utilize his competitive edge with the four-speed. Sox and Martin raced their Hemi Barracuda and Colt vehicles in Factory Experimental for a few seasons before shutting down their racing operation in 1975.

Sox continued to drive on his own in IHRA competition in the 1980s and early 1990s and made a brief return to NHRA in 1998, when he reunited with Martin to campaign a Dodge Dakota in Pro Stock Truck and also drove Bob Reed's four-speed '68 Barracuda, which was painted in traditional Sox and Martin colors.

4/21/2006
Crazy Horse Rides Yet Again!
Here's a photo of the 2005 Goodguys Funny Car Champion "Crazy Horse" Mustang Nitro Nostalgia Funny Car owned by SoCal's George Doty. This year Doty has teamed with veteran nitro tuner Eddie Flournoy (shown) who wrenched on Hall of Famer Jim "Jazzy" Nelson's fuel coupes and roadsters in the 1950's. The team is campaigning the flopper out of Doty's Harley's and Hot Rods shop in Inglewood, CA, and has yet to name a driver. According to Doty they are ready with plenty of parts for the Goodguys Pomona Nitro Nationals on May 5-7

To learn more about Eddie Flournoy click Here.

4/21/2006
Construction @ The Auto Club Raceway-Fontana Underway!
Word is that Auto Club Raceway @ Fontana manager Dave Danish, confirmed that construction has begun on the newly relocated strip. According to Danish the quarter mile of asphalt has been ground and trenches are being dug for the additional power needed for lighting and the tower. Over the next week or so the concrete launch pad will go in and plans are for the NHRA Lucas Oil Drag Racing Series divisional event to be held as scheduled on June 23-25, 2006.
4/21/2006
Famoso Raceway Facelift Underway!

Famoso Raceway's facelift is well underway as the track surface has been completely ground and NHRA structural engineer Wayne McMurtry has completed his inspection of the subsurface. Next they'll be paving and sealing areas of the subsurface prior to laying down the track surface asphalt. At this time plans are still in place for the scheduled Junior Dragster Division 7 Race on May 6-7, 2006.
4/19/2006
NHRA, Motel 6, Brut, And Nitro Fish To Select Ultimate Nitro Fan @ 10 Events!
NHRA, official hotel partner Motel 6, Brut, and Nitro Fish Wear will team up to select the Motel 6 Ultimate Nitro Fan at 10 events on the 2006 NHRA POWERade Drag Racing Series schedule. In conjunction with the Ultimate Nitro Fan experience, the Brut and Nitro Fish Wear teams have offered access to their teams. Fans can register for the Ultimate Nitro Fan sweepstakes online at UltimateNitroFan.com or link to the registration website through Motel6.com, BrutRacing.com, Nitrofish.com or NHRA.com's FanZone.

"We've been involved in many motorsports series, and it seems drag racing fans are the most passionate about their racing," said Eric Studer, vice president of marketing service for Accor North America. "As official sponsors of NHRA, our friends at Brut and Nitro Fish Wear agreed we should acknowledge this love of the sport. So we designed a racing experience usually reserved only for major sponsors, team members, or VIPs like Tom Bodett."

Beginning with the Pontiac Performance NHRA Nationals presented by Summit Racing Equipment on May 18 in Columbus, one fan per event will be selected in advance as the Motel 6 Ultimate Nitro Fan. The Ultimate Nitro Fan will receive two tickets for each day of the event, a full NHRA-guided tour of the track and its facilities, and will meet one of two major Professional teams — the Nitro Fish/Werner/Orange County Choppers/Motel 6 Top Fuel team or the Nitro Fish/Orange County Choppers/Motel 6 Pro Stock team.

"We are excited to offer this behind-the-scenes, interactive experience to a lucky fan at select NHRA POWERade Series events," said Glen Cromwell, vice president for national event marketing, NHRA. "At each of the designated events, the Ultimate Nitro Fan will be included in pre-race ceremonies and will be able to enjoy a backstage pass like no other. NHRA POWERade Drag Racing Series fans are the best in motorsports, and we are thrilled to be able to offer this exciting program that rewards their loyalty."

Highlighting Saturday's visit for the Ultimate Nitro Fan will be a trip to the VIP starting-line viewing area during a Top Fuel or Funny Car qualifying run. Also, Nitro Fish/Motel 6 drivers Clay Millican and Mike Thomas or Brut Racing's Ron Capps will provide a behind-the-ropes tour of their team's pit area. Team drivers will meet with the winner for a photo opportunity and will present the winner with a special Nitro Fish Wear and Brut gift package.

To conclude the ultimate motorsports experience, the Ultimate Nitro Fan contest winner will be introduced on stage with the Professional drivers during Sunday's pre-race ceremony and will assist in presenting the Motel 6 Who Got the Light? award to the winning driver. The introduction and award presentation will be broadcast at the track on the Motel 6 Vision video display.

Sweepstakes races are the Pontiac Performance NHRA Nationals presented by Summit Racing Equipment (May 18-21) in Columbus, the O'Reilly NHRA Summer Nationals presented by Castrol GTX (May 25-28) in Topeka, the Schuck's Auto Supply NHRA Nationals presented by Lucas Oil (July 21-23) in Seattle, the Fram Autolite NHRA Nationals (July 28-30) in Sonoma, the O'Reilly NHRA Mid-South Nationals presented by Pennzoil (Aug. 18-20) in Memphis, the Mac Tools U.S. Nationals (Aug. 30-Sept. 4) in Indy, the Toyo Tires NHRA Nationals (Sept. 14-17) in Reading, the O'Reilly NHRA Fall Nationals presented by Castrol Syntec (Sept. 21-24) in Dallas, the ACDelco Las Vegas NHRA Nationals (Oct. 26-29) in Las Vegas, and the Automobile Club of Southern California NHRA Finals (Nov. 9-12) in Pomona.

4/18/2006
Castrol Custom Ride Giveaway!
A pearlescent "Castrol green" Mustang will be awarded as Grand Prize in the 2006 Custom Ride Sweepstakes presented by Castrol SYNTEC and radio and television personality Funkmaster Flex. Contestants can enter online at www.castrol.com/customride through Nov. 4, 2006.

A random drawing will be held on Dec. 1, 2006

4/18/2006
Glidden, Schumacher Go Their Separate Ways Part Two; Accusations Fly!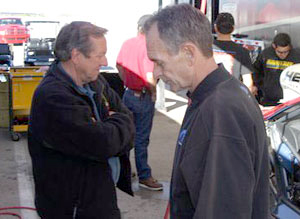 Don Schumacher & Bob Glidden

The conversation that led to the termination of Bob Glidden as crew chief for Don Schumacher's Pro Stock operation only lasted about 15 seconds.

Don Schumacher basically told me that he had decided to fire both me and Rusty," Glidden said.

Schumacher pointed out that an ultimatum from Glidden made his decision for him. The veteran team owner admitted that a lengthy conversation had taken place last Thursday when he asked Glidden's opinion regarding bringing in David Nickens to manage the red car driven by Shaun Carlson.

The "Red" car as many call it has long been a staple of controversy since Jeg Coughlin, Jr., vacated the seat last year.

"Bob called me back on Friday and basically gave me an ultimatum if I brought Dave in," Schumacher said.

Glidden denies any such ultimatum was given. His contention was that if someone was going to be brought in for the "Red" car then someone likewise needed to be brought in for the "Blue" car. He would have preferred to work in the shop only.

"It was made clear to him from advice given by Etta [Glidden] that I should not even go to the races and just stay behind at the shop. My deal with the guys at the race track was pathetic and it was killing me.

"Schumacher was at the shop on Thursday and asked to look at the computer. We showed him run after run what was going on. That's when he brought up the Nickens deal.

"I told him that I was already racing against four or five cars that I've given my forty years of knowledge to...[Larry] Morgan and his lease customers…I told him that Nickens is in the business to sell parts. He then told me that Nickens was not in the Pro Stock engine business. I told him that he doesn't do Pro Stock engines because he doesn't have the knowledge.

"If he tinkers around with our stuff for a little while he will. I told him to bring in someone to handle the blue car. None of this has to do with Rusty. Rusty is a young guy - he's 37-years old and needs a job. Schumacher just flat out @#$%&% him. Schumacher just twists things to make them right in his mind."

Glidden pointed out the dismissal came as no surprise to him. He admitted that he spent much of the night of his dismissal watching movies and relaxing.

"I knew someone was going to eventually have to take the fall for this stupidity," Glidden said. "The only person left was me."

Glidden wouldn't say if he was given a fair chance, but was quick to point out, "When I started this deal about a year and a half ago there wasn't even a nut or a bolt, wrench or anything. Rusty and I worked our lives away to build this thing from nothing to what it is today.

"We could be as quick as anyone on the race track. I wasn't given the option to pick drivers to win races. It was what it was. I think there was a time we reached 90 to 100 hours a week and I think at the end of the season I got a $500 bonus."

The dismissal comes at a time when the Carlson-driven car qualified for the first time after four consecutive DNQ performances. For Schumacher, that success came a little too late as he commented, "I have built a program to win championships, not just qualify."

Glidden says that he'd return to Pro Stock racing if adequate sponsorship came along, but can't afford to do it on his own. As for directing another team, he's somewhat leery.

"I'm at the mercy of who I help," Glidden said. "I worked very hard in the middle of the year directing the manufacture of a new cylinder head and block. We have five of those engines built and ready to go now. Schumacher didn't need me any more.

"That's the problem I will have no matter where I go."

Glidden admitted that he's laid the groundwork for others to succeed more times than once.

Schumacher pointed out that he would have rather handled the situation in a face-to-face manner, but the ill health of his mother has him staying close to home. The dismissal of Glidden was something Schumacher pointed out was a tough decision to make. He added that he thinks the world of Bob and Rusty Glidden but things just couldn't continue the way they were headed.

"I'm only trying to improve this team," Schumacher said. "I was just trying to find someone to take over this Red car which was a thorn in Bob's side."

4/18/2006
Mark Williams Enterprises To Sponsor 'Bounty Hunter' Program!
Mark Williams Enterprises will be the sponsor of a new "Bounty Hunter" contingency program for the Lucas Oil Drag Racing Series in NHRA Division 5. There will be a "bounty" placed on the reigning champions in each of the eight categories contested at the six divisional events in 2006. The racer that defeats them will receive bounty money, which is dependent upon the number of Mark Williams products they use. All participants must have the "Mark Williams Bounty Hunter" decals on their vehicles. They are available through the West Central Division office, M-W Enterprises, or at participating L.O.D.R.S. tracks.

Additionally, racers will accrue points throughout the year and the racer with the most points will receive a $3,000 "factory scholarship" to offset expenses in 2007. For more information contact the Division 5 office at 816-795-8055.

4/17/2006
Glidden, Schumacher Go Their Separate Ways!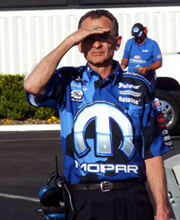 Bob Glidden

Don Schumacher today announced that he has hired engine builder and former driver David Nickens to replace Bob Glidden as manager and crew chief on DSR's two Pro Stock teams that compete in the NHRA POWERade Drag Racing Series, effective immediately.

Glidden's son Rusty has also left the Pro Stock team, which will remain operating out of the Indianapolis Pro Stock shop.

"It was time to make a change in our Pro Stock effort," said Schumacher. "Bob Glidden and I talked about it at length and I believe it was the right decision. Bob is willing to help out with the transition in any way he can."

Of David Nickens, Schumacher said, "David has a strong and longtime working relationship with Mopar, and that is a plus. I welcome him to our operation and look forward to continuing to upgrade the performance of both the Team Mopar/Valspar and Team Mopar/SRT Dodge Stratus Pro Stock cars."

The driver roster remains the same, with Richie Stevens Jr. driving the Team Mopar/Valspar entry and Shaun Carlson the Team Mopar/SRT Dodge.

4/17/2006
ADRL Finals Rained Out!
After battling rain and electronic gremlins for most of the second day of the ADRL race at St. Louis, the rain finally became the provisional Top Eliminator for the event when it forced ADRL head man Kenny Nowling, to postpone the final rounds in both Pro Extreme and Pro Nitrous until the second round of qualifying at the sanctioning body's next event at Memphis Motorsports Park on May 19-20.

Nowling explained his decision, "It just didn't look like the rain was going to stop and rather than keep people around for possibly racing on Easter Sunday I decided to move the final rounds to Memphis."

4/17/2006
Anti-Freeze Not Permitted In Race Cars @ LVMS!
Chris Blair, Sr. Director of Drag Racing Operations has issued a statement advising racers that anti-freeze and/or any other coolant additive (i.e. "Water Wetter") will not be permitted in race cars that compete at The Strip at Las Vegas Motor Speedway. Anti-freeze only will be permitted in street-legal, licensed and insured vehicles that are driven to the track to participate in street-legal classes. Any participant (other than street-legal racers) found to be using anything other than water in their cooling system will be disqualified from the event and face loss of competition privileges. This is a zero-tolerance policy. The LVMS tech inspectors will make random checks of all participating classes for the remainder of the 2006 season.
4/12/2006
Durham To Be Honoree @ The National Hot Rod Reunion!

Malcolm Durham

Durham who answered to the nickname of "The D.C. Lip" during the early years of his career of match racing on the East Coast. This summer he will answer to the moniker of honoree.

Malcolm Durham will serve as an Honoree at the upcoming National Hot Rod Reunion, June 16-18, Beech Bend Park, Bowling Green, Ky.

"It's a great honor and means a lot to me," Durham said. "Any time you are recognized for achievements on the racetrack by the NHRA, it is a special event. I never won a Wally when I was racing and to be honored at the National Hot Rod Reunion is a crown jewel for me. The Reunion is an opportunity for me to look back at the history of drag racing. I think the Wally Parks NHRA Motorsports Museum, Steve Gibbs, and Bob and Eileen Daniels are doing an excellent job of preserving the history of the sport and recognizing individuals who played a vital part to its development. The Reunion will continue to be one of the key events that I look forward to in years to come."

Durham began his drag racing career in 1957 with a '56 Chevy in his native North Carolina. After moving to the Washington D.C. area he worked as a mechanic at Hicks Chevrolet and campaigned a 409 '62 Chevy. In 1963 Durham became a car salesman and ran the first in a long series of cars nicknamed the Strip Blazers. When Chevrolet dropped out of racing, Durham dropped his 427-inch engine in a '64 Chevelle and hit the match-race circuit, beating such stars as Sox and Martin two nights in a row at Maryland strips.

Durham advanced to the Funny Car ranks in the late '60s, always with Chevy-bodied machines and eventually clocked 7.50s at more than 200 mph. Durham briefly raced a Pro Stock Vega in the early '70s before taking a break to put his son through college. Durham returned to drag racing in an '84 Pro Stock Camaro. Sadly, a bad crash prompted his retirement.

Durham admits that he's encouraged by the drag racing fans that hold on to the history of the sport. He's not surprised that Race fans still remember him after all these years.

"I'm not really surprised because when I was racing fulltime, we raced three to four times a week across the U.S., from coast to coast," Durham said. "In the early days when I was match racing, I received a lot of exposure from the media and that led to a loyal fan base. When I retired, I knew I still had a lot of fans and support from the performance industry and media. I hoped my accomplishments would be recognized, but I never imagined the effort the NHRA has put into preserving the history of drag racing."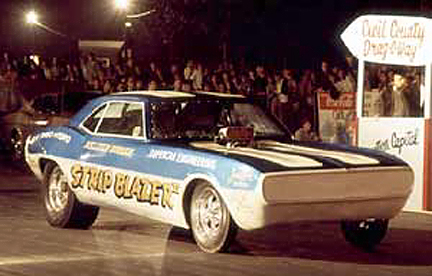 Durham's Strip Blazer II

4/7/2006

Super Chevy Show @ Pomona!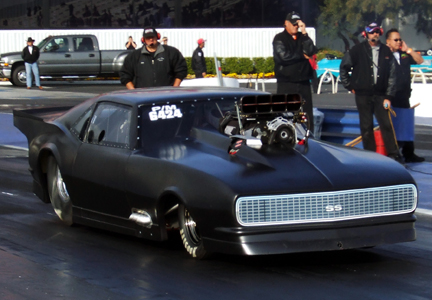 Nitro Coupe Winner Trevor Lowe


Canadian Trevor Lowe claims Chilliwack, British Columbia, as his hometown. It's not anywhere close to Auto Club Raceway at Pomona, but Pomona is where Lowe notched a win April 2 in the Super Chevy Show's 2006 stop at the high temple of drag racing.

Lowe qualified second in the field Saturday behind 2004 champ Randy Adler with a 6.315 at over 225 miles per hour and kept the consistency on race day with only one run out of the 6.35 range. In the finals, he faced former Nitro Coupe Champ Dan Nickelson and his '03 Corvette. Lowe did the trick with a 6.350 run at 225 miles per hour. Nickelson had traction issues and ran a 7.455 at 166.56 miles per hour.

In the Bracket One Finals, it was an all door car affair as Long Beach, CA racer Mike Blodgett took the win over Scott Hudson of Yorba Linda. Blodgett's '72 Nova dialed a 11.46 and ran a 11.485 at 123.70 miles per hour. Hudson lost on the tree and ran a 10.656 on his 10.65 dial at 131.61 miles per hour. In the Bracket Two wars, Bob Chagnon of Temecula, CA took the win in the finals over Robert Smith of Valinda, CA. Chagnon, driving an '88 Beretta, dialed a quarter mile 10.44 and ran a 10.564 at 114.64. Smith drove an '80 Chevy Stepside truck and rumbled to a 12.581 run on his 12.45 dial at 110.61 miles per hour.

In the Street-Legal DOT class, the 2005 Pontiac of Gary Hairfield of San Diego ruled the roost at Auto Club Raceway. He defeated Ontario, CA racer Sam Johnson in the finals. Both racers dialed correctly, as Hairfield predicted a 12.81 and ran the number with a 12.818 at 106.32 miles per hour. Robinson dialed his '57 Chevy in at 13.43 and ran a 13.438. The difference in the race lay on the starting line and Hairfield's .034 versus a .066 for Robinson.

The Super Chevy Crew is pausing to load up on fried peanut butter and banana sandwiches before heading to Memphis Motorsports Park for an April 21-23 event. AutoStar Productions President Roger Gustin reminds racers that any GM brand is welcome in the Super Chevy Show's bracket program.

Check Out The Super Chevy Show Photo Gallery Click Here.

3/25/2006
American Suzuki Motor Corporation Named Official Motorcycle Of IHRA!
The American Suzuki Motor Corporation, who sponsors and manufactures defending AMA Supercross World Champion Ricky Carmichael's motorcycle, has expanded its involvement with the Motor Sports Division of Live Nation by entering into a multi-year agreement to become the "Official Motorcycle of IHRA."

American Suzuki has also committed to title sponsorship for the eMax Drag Racing Series event in Milan, Mich. That event will be named the Suzuki Motor City Nationals presented by GM Performance Parts. This is a multi-year commitment as well.

"We are thrilled to have a worldwide brand like American Suzuki Motor Corporation take an active interest in our business," IHRA President Aaron Polburn said. "Suzuki has been such a giant in the racing industry for a very long time, it is a very big deal for us to have them on board as our company continues to grow."

3/23/2006
Mays Triumphs @ Gainesville POWERade Fan Nationals!

Fan Nationals winner Timothy Mays, center,
joined the Gatornationals Pro winners in the
POWERade winner's circle at Gainesville
Raceway.

Recently flexing his competitive muscles behind the wheel of a Funny Car racing simulator at the 37th annual ACDelco NHRA Gatornationals, Florida City's Timothy Mays, 19, beat out hundreds of participants to become the local POWERade Fan Nationals event champion. Now, Mays – the first African-American in Fan Nationals history to be crowned an event champion - will travel to Auto Club Raceway at Pomona at the end of the season to compete for the national championship.

A second-year student at Miami Dade College, Mays will ultimately be one of 23 event champions from dragstrips across the country to compete to become the series champion. He and one guest will travel to the 42nd annual Automobile Club of Southern California NHRA Finals in Pomona Nov. 9-12. There, Mays will compete in a series of qualifying rounds for the chance to claim the title of POWERade Fan Nationals series champion.

"I have been attending NHRA races for 16 years, so this is really neat to win the Fan Nationals," Mays said. "My favorite drivers are John Force and Joe Amato, so it's awesome to win when Force's team did so well. I can't wait to go to Pomona later this year."

The second season for the POWERade Fan Nationals Series, the competition is a dream come true for NHRA fans like Mays who have longed to race behind the wheel of an NHRA Funny Car. The competition lets fans power a simulated Funny Car to feel what it's like to roar down the track. Each simulator is equipped with a high-performance, hydraulic racing simulator system that creates a realistic experience for fans.

In the competition, contestants tear down a virtual quarter-mile boulevard to compete for the best time. Drivers are eliminated in a series of qualifying rounds throughout the race weekend until the POWERade Fan Nationals event champion is crowned. At the end of the NHRA season, each of the event champions, along with two wild-card winners, will meet up in Pomona to face off in a series of side-by-side races until one driver emerges victorious and becomes the POWERade Fan Nationals series champion.

"The Fan Nationals event lets NHRA fans like Timothy take the wheel in our specially designed POWERade Funny Cars and feel what it's like to roar down the track at 300 mph," said Ben Reiling, senior manager, Sports Marketing, Coca-Cola North America. "He raced hard, and we're excited to crown him as our Gainesville champ. He is in for an incredible experience at Pomona, and we wish him the best of luck competing for the overall POWERade Fan Nationals championship title."

3/23/2006
Pro Nitro Serves Restraining Order On Pro Racing Fuels!
A judge in the U.S. District Court, District of Nevada, yesterday issued a restraining order against Jim MacMonagle and his company, Pro Racing Fuels, LLC, from representing themselves as being connected with Pro Nitro, LLC, which is owned by Don Schumacher.

MacMonagle reportedly was at the March Meet with logos on products and uniforms which looked very much like the Pro Nitro logo. Although Schumacher and MacMonagle were once partners, they have since gone their (very) separate ways. The two companies are in no way associated, so be sure you know from whom you are getting your fuel.

3/20/2006
Free Test & Tune!
A rebirth of weekly exhibition programs on Wednesday nights has been put together by Sullivan Racing Inc., in conjunction with Great Lakes Dragaway ownership.

The family oriented show will feature the 06 comeback tour of Danny Sullivan's original Chicago Rush jet dragster, Chicago Rush Gen II driven by Mike Faser of the Chicago Fire nitro fuel altered fame, Bill Lutz and his Damn Yankee jet dragster, and Fran Peppler in her Rock N Roll Thunder jet funny car.

Also live bands are scheduled with a variety of different music. Great Lakes Dragaway will be running a special discount for different makes of cars every Wednesday.

Professional and exhibition vehicles wishing to test for free on Wednesday nights should contact Sullivan Racing Inc. 2 weeks prior to testing at dan@sullivanracinginc.com. More info available at http://www.wednesdaynightfire.com/.

3/19/2006
Lyons Uninjured In Crash On 3rd Day Of Drag Racing School!

Nicole Lyons

"Dale is an exceptional and amazing instructor. He really is patient and takes the time to make sure you're comfortable and everything is right before you move on. I'd be willing to pay him to come out for 3 months straight to just practice, practice, practice when I get sponsorship and my team put together". These were the words Nicole Lyons had to say about Dale Brinsfield after attending Dale Brinsfield's Drag Racing School (DBDRS).

On Wednesday, March 15, 2006, Nicole Lyons was uninjured after hitting the wall in the Chevy Cavalier belonging to DBDRS @ Rockingham Dragway-Rockingham, NC. Prior to hitting the wall, Nicole had cut 0.003 lights and posted the best 60' times (1.053) the Cavalier had ever seen. When interviewed about the accident, Nicole gave the following statement: "On Wednesday, the temperature was around 45 to 50 degrees all day. The track was only prepped a little pass the starting line. It was freezing cold out there, and there were only two Pro Mod guys out there running in addition to us. Every time they attempted to make a run they were all over the place. So, here I go. Something told me, " You wouldn't even run your own car in these conditions." But when you're trying to rush to get your license because you're a day behind due to bad weather and car problems, you're trying to hurry up and get it done.

Initially, Dale thought since I'd never driven a clutch car, I wouldn't be able to do the burnouts. He said it took him 3 classes at Roy Hill's school to get his license, and I was doing in the first class what he had completed in three. So on Wednesday, when I was putting it down the way I was (the burnouts and the 60 foot numbers), everyone was in shock. So even though the conditions weren't to my liking, when Dale told me to go, I listened because he was the teacher. I launched the car and put it in second gear. As soon as I put it in second, it immediately turned left and headed straight to the wall on the other side. As soon as it did that, I shoved the clutch in with all my might. Once it's doing what it's doing, you're just hanging on. I was hoping we would stop and everything would be okay. The instructors were trying to say I turned the wheel, but when I punched in second and it turned, it went the way the wheels were already turned. It was just a lot of factors. There may have been some other measures I could have taken, but being a rookie driver I did the best I knew how. I was encouraged by one of the Pro Mod guys who told me to keep doing what I'm doing, and don't let this stop me. He said he hadn't seen anything like what I had been doing. He said there are two types of racers: Those who have wrecked, and those who are going to wreck.

I was killing it in this car, better than the instructor had done himself. They were telling my husband that we were going to be so rich, it was crazy! After the wreck the Pro Mod guys that were loose all day said the track was bad, and they were going to just go home. If there was another car available that day, I would have come straight out of the ambulance and back onto the track. I'm ready to continue my quest for my pro stock license and running my team!

To see the actual crash, keep your eyes open for Nicole's upcoming reality show, "DNA of Racing". They were filming while she attending DBDRS.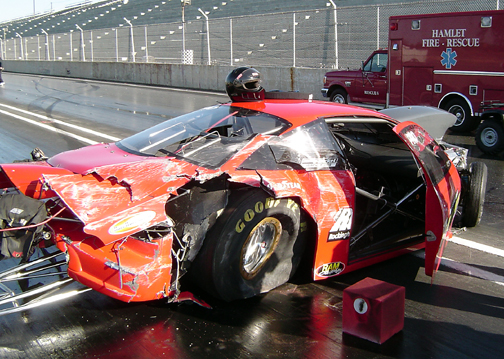 "Front Passenger Side Hit The Wall, And Then The Car Spun
And Hit The Rear"

To learn more about Nicole click Here.

3/19/2006
47th March Meet Cancelled!
Wet track conditions caused by "weepers" (pockets of water seeping through tiny cracks in the asphalt) forced Goodguys/VRA officials to cancel all racing at the 47th March Meet. Water from weeks of rain continued to seep through the racing surface today even though the weather conditions were perfect for racing.

The day started off with some sportsman eliminations and continued with round one of top fuel. Conditions were fine with Visalia's Brad Thompson running Low ET of the meet at 5.862. After a couple more hours of racing water started seeping up through the racing surface in several areas causing the cancellation of the event.

Goodguys officials deemed the race cancelled at 1:30pm. There will be no rerun.

The 47th March Meet got off to an inauspicious start when it was postponed a week due to rain. The rerun this weekend was not much better with most of the first two days washed out due to passing rain showers.

"It's as frustrating as it gets," said Goodguys President Gary Meadors. "The racers and the officials both agreed that the conditions were not suitable for further competition."

The next Goodguys West Coast Championship Series event, the 9th Pomona Nitro Nationals, is scheduled for May 5-7 Auto Club Raceway @ Pomona.

3/19/2006
NHRA Issues Oil Down Prevention Notice!
The NHRA issued a letter to nitro teams on Sunday morning increasing their requirements for lower containment devices.

With many team's alleging the rev-limiters are the reason for the increased parts attrition, the NHRA will step up enforcement starting in Houston. The letter requires the "engine diaper" to cover the entire oil pan, both sides of the cylinder block and the oil pan.

3/9/2006
Goodguys March Meet Postponed Until Next Week!
With snow predicted this weekend for the area of southern California where the famous "Grapevine" is located, John Drummond of the Goodguys has announced that the March Meet will be postponed for one week. Since the snow will probably mean the closing of the steep pass through the mountains, rather than have participants and fans unable to attend or stuck on the highway, the organization has decided to wait a week for the weather to clear.
3/8/2006
Nicole Lyons To Attend Dale Brinsfield's Drag Racing School March 13-15; Her Preparation Begins For Pro Stock!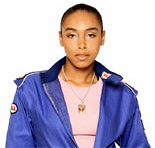 Nicole Lyons

Nicole Lyons will be one of the first students at Dale Brinsfield's Drag Racing School (DBDRS) at Rockingham Dragway-Rockingham, NC on March 13-15, 2006. Dale Brinsfield was formerly an instructor with Roy Hill's Driving School. Hopefully she will achieve her Pro Stock license in the Jerry Bickel built Chevy Cavalier powered by a Fulton Race Engine that the school has recently acquired. Attending DBDRS will provide the underlying know how and ability for Nicole to achieve one of her dreams, that of becoming a pro stock driver. This will be accomplished with personal one-on-one analysis and instruction by Dale Brinsfield himself. Lyons will be bringing with her the film crew from the soon to air "DNA of Racing" Reality TV Show. The show will debut on one of four major networks currently competing for the exciting 13 episode series.

Nicole will also attend the IHRA Spring Nationals April 21-23 at Rockingham Dragway-Rockingham, NC she will fly in from California to drive Dale Brinsfield's Drag Racing School (DBDRS) Chevy Cavalier in Top Sportsman.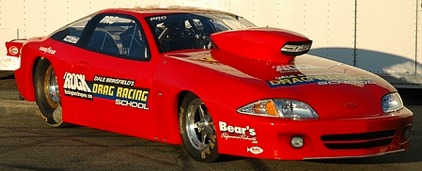 DBDRS Pro Stock Chevy Cavalier

To learn more about Nicole click Here.

3/8/2006
Automatic Pro Mod Assn Sets Schedule!
Ronnie Davis, president of the new Automatic Pro Mod Association, has released the 2006 schedule. The series begins March 18 at Huntsville Dragway and continues April 15 at Carolina Dragway; May 20 at South Georgia Motorsports Park; June 9-11 at Farmington Motorsports Park; June 17 at Carolina Dragway; July 4 at Montgomery Motorsports Park; July 22 at Silver Dollar Raceway; Aug. 19 at Carolina Dragway; Oct. 7 at Rockingham Dragway; and Oct. 14 at Huntsville Dragway. For more information go to http://www.automaticpromods.com/.
3/7/2006
VP Introduces Contingency Program For IHRA!
VP Racing Fuels has announced a contingency program for IHRA competitors for the 2006 season. A continuation of the program started midway through last season, it will be administered independent of IHRA, according to Bruce Hendel, Global Sales Manager for VP.

"Because IHRA has an exclusive agreement with its Official Fuel sponsor, it precludes us from working directly with IHRA to administer this program," continued Hendel. "So we'll manage it ourselves, and ask racers simply to provide the appropriate documentation to us." Contingency postings include the following: TF, NFC, PM, FC and PS -- $500 for winner and $100 for runner-up; TS, TD, SS, STK, QR, SR, HR and TSTK -- $300 for winner and $100 for runner-up; ET winners will receive $100 and runners-up $50.

VP's program will be effective at the first national event on March 24 in San Antonio, TX. Information regarding fuel for IHRA races can be obtained by calling the appropriate VP regional warehouse, each of which is listed on its website at vpracingfuels.com. Racers currently sponsored by VP are not eligible for contingency payments.

3/6/2006
Lend America Named Official Mortgage Source of NHRA!
Mike Ashley's Lend America mortgage company has signed a multi-year agreement to become the Official Mortgage Source of NHRA. Lend America professionals will be at all NHRA national events to answer mortgage questions and provide consultation for racers and fans.

Lend America is an associate sponsor for Ashley's Funny Car and also is one of the sponsors of the new NHRA Pro Mod exhibition series.

3/6/2006
Pro Racing Fuels Backs VRA Funny Cars!
Jim McMonegal's Pro Racing Fuels LLC was named the Official Fuel Supplier to the Goodguys VRA racing series for the 2006 season.

The deal includes sponsoring the nostalgia Nitro Funny Car and A/Fuel classes as well. Pro Racing Fuels outbid Don Schumacher's Pro Nitro fuel company for the privilege.

3/6/2006
Roush Returns To Drag Racing With NMRA!
A motorsports note in the St. Louis Post-Dispatch on Mar. 4, 2006, confirms that Jack Roush will be returning to drag racing this year. He will field a multi-car team for the National Mustang Racers Association Denso Ford Drag Racing Series. Roush says he never lost his love for drag racing and the new venture will be a way to spend time with his son, daughter and son-in-law.
3/3/2006
Martin Looking For Second ADRL Win!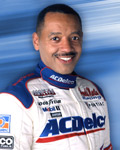 Harold Martin

After winning the American Drag Racing League (ADRL) season-opener in Valdosta, GA, two weeks ago, Harold Martin and the ACDelco Pro Mod Pontiac Racing team returned to their shop in New Hudson, MI, to prepare for their next event. Based on their success, one would think normal maintenance procedures would be in order, but the Martin Motorsports crew had other ideas.

Determined to continually raise the bar, the team spent considerable time since the last race looking for ways to improve their performance even further. Based on these efforts, they head into this weekend's RacingJunk.com DRAGPALOOZA II in Houston, TX, with their sights set on a quick return to the winner's circle.

"We learned some very useful information in Valdosta and have worked extremely hard since then, analyzing the data and further expanding the set-up that we were racing there," stated Martin. "The ADRL really puts on a good show with superior competitors and it provides an excellent venue for our ACDelco Pontiac Pro Mod team to win a race in front of some great fans, while simultaneously testing new set-ups and comparing performance levels against some tremendous race teams."

The ADRL two-day events are run on Fridays and Saturdays.

3/2/2006
Taylor Announces Formation Of Pro Stock Team!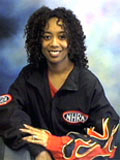 Cynthia Taylor

On the heels of current successes by women in motorsports, including Melanie Troxel's Top Fuel victory at the season-opening CARQUEST Auto Parts NHRA Winternationals, Minorities Empowered Nationally Through Organized Racing (MENTOR) announced this week the formation of the first African-American female-owned NHRA Pro Stock team.

The announcement originally was scheduled for later in the year, but MENTOR founder Phil Coleman said everything was just about in place.

"It is time to cut the baby from the cord and let her fly on her own," said Coleman. "This is truly a historic period."

Team owner Cynthia Taylor (CynTay Motorsports) is a former certified senior-level administrator/manager in the Detroit-area school system and former marketing and public relations director for African-American Pro Mod driver Ronnie Hood. The Detroit/Indianapolis-based team will take delivery of its new ride this summer and make its debut at the Mac Tools U.S. Nationals. The driver will be selected from among three "naturally gifted Pro Stock/Pro Mod-ready African-American and Hispanic drivers."

Coleman emphasized that the program was part of a long-running driver-development initiative. "As our name implies, we are mentors," he said. "Our drivers range in age from 17 to 27, and all have been in the six-second zone. We have the technical expertise, a winning crew chief, equipment, and skill sets to go rounds. We also have a strategic alliance with good friends Roy Hill and Ron Jones [Roy Hill's Drag Racing School], who have been instrumental in our program's development for many years."

"I have always been a pretty good communicator and recognized long ago the importance of surrounding myself with people who excel in their respective fields. I feel like I have accomplished this goal," said Taylor, who has actively promoted MENTOR and NHRA Youth & Education Services (YES) presented by U.S. Army nationally in the last several years. "Phil [Coleman], Ronnie [Hood], and Roy [Hill] are brutal hard-core Pro Modified racers in another sanction, and it is just a matter of incorporating their skill set to NHRA Pro Stock-style racing. Besides, Roy and Ronnie proved long ago they know how to win in the NHRA."

DMI Technologies is the team's primary sponsor, but, added Taylor, "Like every other team out here, money is always an issue. CynTay Motorsports has enough funding for several races this year and will be looking to add additional corporate sponsors."

3/1/2006
Andy Robles Succumbs!
Popular Southern California racer Andy Robles passed away in his sleep last week. The 48-year-old Robles, owner of Rosa Maria's Mexican restaurants, was a mentor and sponsor to dozens of Jr. Dragster competitors, supporting them through raffles and fund raisers that went directly to the kids, and was heavily involved in the yearly Del Cox Classic race for Jr. Dragsters. The Yucaipa resident also raced his own Super Comp dragster sponsored by Lucas Oil and a Jr. Dragster with his son. Services are pending at this time.
2/18/2006
Super Chevy Show Off And Running For 2006; Next Stop, Pomona! The best way to win a championship in any racing series is to win not only often, but also to win early. Making a statement by walking away with the first event or two of the season can put "Big Mo" on your side and mess with your opponents' minds.

Holley, New York driver Dave Tomasino did the trick at Bradenton Motorsports Park February 11-12 when he overcame a tough field and less than great weather to take both the top qualifying slot and the win in the first Nitro Coupe battle of the Super Chevy Show's 2006 season.

Tomasino and his American flag-themed 1969 Camaro were the class of the field from the first qualifying shot. He was more than a tenth of a second faster than #2 qualifier (and 2005 world championship runner-up) Randy Adler of Tinley Park, IL. Tomasino's qualifying shot was a 4.135 at 176.88 in a session run at 1/8 mile.

When it came time for eliminations on Sunday (2/12), Tomasino turned in the fastest time of the day in the finals with a 6.676 second blast at 218.49 miles per hour to defeat Nitro Coupe veteran Mike Swinarski of Hamburg, NY. Swinarski's 1957 Chevy Nitro Coupe couldn't get traction and the race was no contest.

The Super Chevy Show had some awesome 300-mile per hour side by side jet races at Bradenton with Canadian Lou Pereira and his "Terminator" jet dragster duking it out with "Queen of Diamonds" driver Jessie Harris. In addition, Bob Hall brought out a piece of history for the fans in Bradenton with quarter-mile passes in his famed "Paddy Wagon" wheelstander.

The racers in the Super Chevy Show's bracket contest showed the winter layoff hadn't hurt them at all. In the Mr. Gasket Bracket One final, winner David Scigliuto turned in a stellar .002 light and needed every bit of it as runner-up Tim Hattaway of Palmetto, Florida was right there with an .003. Speaking of great lights, Rob Brazil of Reddick, Florida had an .002 light in his street legal '67 Chevelle in the DOT finals.

The Jr. Dragster final was a family affair with Camron and Carah Reigelsperger of Sarasota, Florida going at it. This time around, it was Carah's turn in the winner's circle as Cameron turned on the reds.

The Super Chevy Show takes a couple of weeks to move to the left coast with an event at Auto Club Raceway at Pomona, just outside Los Angeles March 31 - April 2. For more information on the event, go to http://www.superchevyshow.com/.

2/17/2006
O'Reilly Auto Parts To Sponsor 7 Super Chevy Shows!
O'Reilly Auto Parts has signed on as title sponsor of seven of the Super Chevy Show events for 2006. O'Reilly's first event will be April 21-23 in Memphis, TN, with other events at Huntsville, AL; Atlanta, GA; Bristol, TN; Indianapolis, IN; Chicago, IL; and San Antonio, TX.
2/10/2006

NHRA Rookie J.R. Todd Number One Qualifier In Top Fuel!



NHRA Top Fuel rookie J.R. Todd's professional debut couldn't be going better. The 24-year-old rookie outran all the veterans Friday afternoon with a 4.508 quarter-mile pass. He assumed the No. 1 qualifying position at the 46th annual CARQUEST Auto Parts NHRA Winternationals at Auto Club Raceway at Pomona. Fellow rookie Hillary Will was the number two qualifier with a 4.518.

"I just wanted to come here and qualify," Todd said. "We weren't thinking about running low e.t., but we'll take it. If I do my job and don't screw up, we might have some fun on race day.

"It dropped a cylinder down track, so we probably got cheated out of a 4.49, but to run a 4.50 and be No. 1 is great.

"This is what I've always wanted to do. I don't let the pressure of running against guys like Tony Schumacher and Larry Dixon get to me. I try not to even think about it. But it is very cool."

2/9/2006
NHRA Seeks Electronics Specialist!
NHRA is looking for an electronics specialist to join its expanding corporate technical team. Responsibilities include sanctioning body rules; inspection and policing procedures; data analysis; equipment specification for race vehicle electronics in all NHRA competition classes; and training of field personnel on related issues involving Sportsman racing categories.

The qualified candidate will have a bachelor's degree in electronics or electrical engineering or equivalent training; more than two years of experience in electronics, preferably in a drag racing environment; and strong communication skills. Also expected are knowledge of performance automotive ignitions, diagnostics, and data acquisition. Familiarity with MSD, Racepak, Pi, and MoTeC systems is desired. This position requires travel to 23 national events and to visit teams and manufacturers as needed. Interested applicants should send a résumé to careers52@nhra.com.

2/5/2006
Last Race At California Dragway!

Sunday, Feb. 5, was the last drag race for California Dragway in Fontana, CA, at its current location. On Monday the K-rail and bleachers will be taken down for the upcoming NASCAR Auto Club 500 on the banked speedway. Track manager Dave Danish watched over the scheduled sportsman test-n-tune where Division 7 racers readied for the Winternationals.

According to Sr. Director of Operations Mike Yurick, he only has two weeks to prepare for the NASCAR event and currently they are working with the city and county for necessary approvals to relocate the quarter mile north of its current location to parking lots 6 and 8. The new track will be renamed Auto Club Dragway at California Speedway and is scheduled to re-open in May.

2/3/2006
Riley To Take Off 2006 Race Season!
Division 3 Stock Eliminator racer Kyle Riley, has decided to take off the 2006 race season to further the family's trucking business Kyle's looking forward to returning to NHRA class racing in the near future.
1/31/2006
Mac Tools Renews Sponsorship Of Prestigious U.S. Nationals At Historic Indianapolis Raceway Park!
Mac Tools has signed a multi-year agreement with the NHRA to extend its title sponsorship of the U.S. Nationals. The Mac Tools U.S. Nationals will be held Aug. 30-Sept. 4 at historic Indianapolis Raceway Park.

The tool company also is the primary sponsor for Doug Kalitta's Top Fuel dragster (shown) and provides associate sponsorship for several NHRA competitors, including John Force, Brandon Bernstein, Larry Dixon and Del Worsham, among others.

1/31/2006
DynoMax Experience At Super Chevy Show Events!
Roger Gustin, President of AutoStar Productions, Inc., producers of the Super Chevy Show, announced the addition of DynoMax Performance Exhaust to their contingency sponsorship list for the 2006 season.

DynoMax Performance Exhaust, located in Monroe, MI, will attend five events in 2006 with the "Power Speaks For Itself" Exhaust Experience. The DynoMax tour experience features a 53-foot tractor-trailer equipped with sophisticated, hands-on technology demonstrations. The display will be at the Super Chevy Show in: Bristol (June 23-25); Indianapolis (July 14-16); Chicago (Aug. 11-13); San Antonio (Sept. 29-Oct.1); and Gainesville.

1/24/2006
"Dyno Don" Nicholson Passes!
Legendary drag racer "Dyno Don" Nicholson passed away this morning after a battle with pneumonia and Alzheimer's. Nicholson, 78, was an engine builder and driver whose talent and skills have seldom been surpassed.

He began his career on the circle tracks and dry lake beds in the 1940s before moving on to quarter-mile competition. A pioneer in what have now become some of the most popular classes in the sport, including Funny Car and Pro Stock, Nicholson was a major player throughout the 1960s and '70s.

Nicholson still holds the record for final-round appearances in the most NHRA eliminator categories, scoring wins or runner-up finishes in Funny Car, Pro Stock, Super, Comp, Stock, and Street.

1/23/2006
Harley-Davidson Named Official Motorcycle Of The NHRA!
In a landmark announcement, Harley-Davidson, the only major U.S.-based manufacturer of motorcycles, has signed an exclusive, multi-tiered sponsorship package with NHRA that includes designation as the Official Motorcycle of NHRA, title sponsorship of the popular NHRA Sportsman Motorcycle Series and an extraordinary promotion that will provide NHRA fans the chance to win Harley-Davidson motorcycles, it was announced today by officials of the world's largest motorsports organization.

In the multi-year agreement, the first of its kind for Harley-Davidson, the official status provides Harley-Davidson the opportunity to utilize the NHRA logo in advertising and promotional campaigns. Through the official program, Harley-Davidson also will receive signage at all national events, and will be featured in many NHRA-driven marketing initiatives.

A cornerstone of the Harley-Davidson program will be the introduction of an interactive display in NHRA's "Nitro Alley" which will allow fans to get a taste of the Harley-Davidson experience through engaging product displays, racing and technical seminars and a special dyno-drag racing simulator using V-Rod motorcycles.

NHRA will execute a unique promotion where a Harley-Davidson motorcycle will be given away at 15 different NHRA POWERade Drag Racing Series events. A grand prize motorcycle will also be presented to a lucky fan culminating an overall national drawing. The promotion will be activated through media and marketing partners in each market.

Harley-Davidson will also develop and promote NHRA-themed ticket packages for motorcycle enthusiasts. Packages will include discount tickets, special parking and event hospitality.

In addition, Harley-Davidson will become the title sponsor of the NHRA Sportsman Motorcycle Series, which will be contested in four of NHRA's seven divisions within the NHRA Lucas Oil Drag Racing Series.

"We are extremely excited to welcome the Harley-Davidson Motor Company and its vast dealer network into the NHRA family of sponsors," said Gary Darcy, NHRA senior vice president for sales and marketing. "It is the perfect partnership. Nothing says 'Made in America' more than Harley-Davidson and the National Hot Rod Association. We are thrilled with the many activation tools Harley-Davidson is bringing to NHRA and we feel this new partnership provides a great opportunity for Harley-Davidson enthusiasts to go for a ride as they take in the sights, sounds and smells that are as unique to NHRA Drag Racing as the sound of a Harley-Davidson on the open road."

1/22/2006
NHRA Top Fuel Newcomer J.R. Todd Led First & Second Day Of Professional Testing Among The Dragsters @ The NHRA Nitro Blast-Off @ The Strip!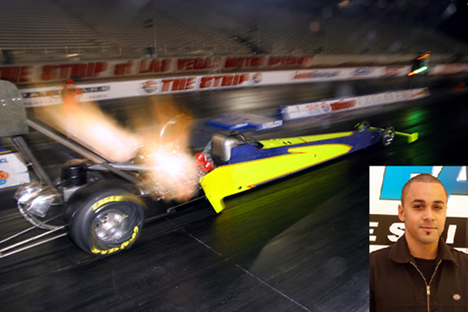 J.R. Todd


NHRA Top Fuel newcomer J.R. Todd was tops on Friday's testing among the dragsters with an early-lifting 5.075 @ 196.87 mph. Todd also led Saturday, the second day of professional testing with a 4.631 @ 277.94 mph at the NHRA Nitro Blast-Off at The Strip at Las Vegas Motor Speedway behind the wheel of the Menards-sponsored dragster.

More photos from the Nitro Blast-Off at The Strip Coming Soon!!

Day 1 (Friday) best elapsed times and speeds.

Top Fuel
JR Todd: 5.075 @ 196.87 mph mph
Mike Strasburg: 7.031 @ 121.97 mph
Larry Dixon: 8.681 @97.91 mph
Brandon Bernstein: 10.168 @ 81.37 mph
David Baca: 11.548 @ 78.50 mph
David Grubnic: 11.876 @ 77.59 mph
Doug Kalitta: 11.746 @ 82.86 mph
Hillary Will: 12.078 @ 72.37 mph

Day 2 (Saturday) best elapsed times and speeds.

Top Fuel
JR Todd: 4.631 at 277.94 mph
Doug Kalitta: 5.272 at 181.54 mph
Mike Strasburg: 5.709 at 163.79 mph
Hillary Will: 7.029 at 109.38 mph
Arley Langlo: 7.681 at 109.17 mph
Larry Dixon: 9.466 at 95.03 mph
Clay Millican: 11.237 at 72.69 mph
David Baca: 11.393 at 83.46 mph
Brandon Bernstein: 11.736 at 75.17 mph
David Grubnic: 11.856 at 74.85 mph

Day 3 (Sunday) best elapsed times and speeds.

Top Fuel
Doug Kalitta: 4.553 at 319.98 mph
Larry Dixon: 4.593 at 273.44 mph
Brandon Bernstein: 4.626 at 317.27 mph
Hillary Will: 4.634 at 255.58 mph
David Grubnic: 4.802 at 217.07 mph
David Baca: 4.941 at 217.60 mph
Clay Millican: 4.945 at 200.71 mph
Mike Strasburg: 6.158 at 140.18 mph
Morgan Lucas: 8.486 at 101.96 mph
Doug Foley: 13.540 at 60.00 mph

Day 4 (Monday) best elapsed times and speeds.

Top Fuel
Hillary Will: 4.483 at 324.83 mph
Brandon Bernstein: 4.510 at 326.08 mph
David Grubnic: 4.671 at 317.05 mph
J.R. Todd: 4.692 at 249.03 mph
Larry Dixon: 4.845 at 215.86 mph
Clay Millican: 4.924 at 222.07 mph
Morgan Lucas: 6.496 at 123.19 mph
Doug Foley: 7.670 at 92.00 mph
Mike Strasburg: 10.048 at 83.80 mph

The next major test session event is the National Time Trails, Jan. 28-30, at Firebird International Raceway in Phoenix.

1/20/2006
Two Events Added For Fontana!
Auto Club Dragway in Fontana, CA, was named the "Best Lucas Oil Division 7 Track" at the Pacific Division Banquet on Jan. 7. The dragstrip will continue in its present location through February. A new facility is being built on the north side of California Speedway and will hold its first event in May. The new Auto Club Dragway at California Speedway will host two additional NHRA event in 2006. A Lucas Oil Drag Racing Series Division event will be held June 22-25 and the NHRA West SPORTSnationals will be Sept. 29-Oct. 1
1/20/2006
Las Vegas Adds Sportsman Event!
A new sportsman drag racing event will be held at The Strip at Las Vegas Motor Speedway. The Las Vegas NHRA Sportsman Open, will be contested on Saturday, June 17.

In addition to the sportsman event on Saturday, the track also will host The Las Vegas NHRA Bracket Open on Sunday, June 18. The Father's Day event will offer competition in traditional bracket classes as well as provide an opportunity for drag racing associations to compete at The Strip.

"The complete class schedule and purse payout structure will be released in early March once we finalize details with the various associations interested in the race," said NHRA Pacific Division Director Mike Rice. "We hope this unique opportunity will open the door for a wider range of participation from non-traditional NHRA racers.

1/9/2006
IHRA Delays Adding Turbos To Pro Stock!
The IHRA Competition Department has announced that turbocharged entries will not be part of the Pro Stock program this year.

"After much deliberation, we've decided to delay the inclusion of small cubic inch turbocharged entries into what is a very competitive Mountain Motor Pro Stock program," said IHRA Director of competition and Technical Services Mike Baker.

Instead, the 2006 racing season will be used to obtain information essential for the successful introduction of this non-traditional combination into the naturally aspirated class, perhaps leaving the door open for the turbos to enter in '07.

1/9/2006
O'Reilly Auto Parts Named Title Sponsor Of NHRA Midwest Nationals At Gateway International Raceway!
After signing a long-term deal as recently as last year, the title rights sponsor for the NHRA race at Gateway International Raceway, Sears Craftsman Tools line, has taken their leave of the NHRA.

A recent announcement from NHRA signaled the end of the Sears company's involvement and announced the signing of the O'Reilly Auto Parts chain as the new title rights sponsor. The race will now be known as the O'Reilly NHRA Midwest Nationals. By signing up as the title rights sponsor at St. Louis the O'Reilly chain's name is now attached to six of NHRA's national events.

1/4/2006
Big Racing Coming to the Carolinas in the Near Future?
A new drag strip, situated just outside Spartanburg County in South Carolina, is slated to open in early 2006. Broad River Dragway will be located just an hour from Charlotte, North Carolina and Columbia, South Carolina.

The track is scheduled initially for eighth-mile competition but from what we understand, enough land is available for expansion into a quarter-mile. This would mark only the second drag strip in Union County since the tracks in Buffalo and Chester shut down. If the name Chester sounds familiar, it's the place where Don Garlits suffered severe burns in an accident back in the 60s.

Nearby Spartanburg County holds the honor of being home to 25 world championships spread among nine different drivers. Only one track, Greer Dragway, remains in operation and is under IHRA sanction. Spartanburg Dragway closed in 1983. During its two decades of existence it was sanctioned by the NHRA, AHRA and IHRA.

The official website for the new track can be found at Broad River Dragway.

Click to visit our sponsor's website
© Copyright 2004-2006 Black Dragracers.com All Rights Reserved.
Designed & Maintained by: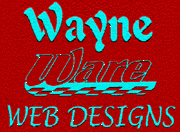 Sponsored by: