Advertisement
Click Logo For Information
NHRA Selected As A Finalist For The Diversity In Motorsports Award!
Winner Will Be Announced At The 11TH Annual Urban Wheel Awards
January 03, 2007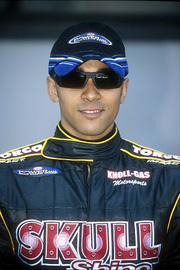 J.R. Todd

The National Hot Rod Association, which has set the bar among Motorsports sanctioning bodies in the field of diversity, was selected as one of two finalists for the prestigious Diversity in Motorsports Award following a 2006 season that was highlighted by the emergence of Auto Club Road to the Future winner J.R. Todd.

The other finalist is the Urban Youth Racing School and the winner will be announced next week, Tuesday Jan. 9, 2007, at the 11th annual Urban Wheel Awards ceremony, which will take place at the Max M. Fisher Music Center in Detroit. The Urban Wheel Awards ceremony is the only official event honoring African-Americans, Latinos and Asians during the North American International Auto Show.

In addition to Todd, who won three times as a rookie, the 2006 NHRA POWERade Series season marked the resurgence of brothers/team owners Cruz and Tony Pedregon, who combined to win four races, and the superior performance of crew chief Todd Okuhara, who tuned the Matco Tools Dodge Charger that set both ends of the Funny Car national record.

"NHRA has a strong history of showcasing talent from an array of diverse backgrounds and 2006 was certainly a year for us to celebrate that position," said Tom Compton, president, NHRA. "We continue to move forward and grow and with the addition of team owner Duce Staley and the return of Pro Stock driver Tom Hammonds in 2007, we are extremely excited about the future."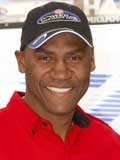 Tom Hammonds
Staley, the longtime NFL running back for the Philadelphia Eagles and Pittsburgh Steelers, comes to NHRA as the owner of a two-car Catch-22 Pro Stock team while Hammonds, who enjoyed a successful 12-year career in the NBA, returns to NHRA as the driver/owner of his own Pro Stock team. Hammonds started 82 NHRA POWERade Series races from 1996-2003 with three runner-up finishes.
As for 2006, NHRA's commitment to providing opportunity to African-Americans, Latinos and Asians manifested itself in a number of impressive ways:
-- African-American Top Fuel driver J.R. Todd won three events and finished in the top 10 in the final POWERade Series standings to earn the Auto Club Road to the Future award, given annually to the top performing rookie. His first win in Denver made him the first African-American to win an NHRA POWERade Series Top Fuel event;
-- Latino brothers Cruz and Tony Pedregon, former POWERade world champions who own and operate their own Funny Car teams, won a combined four events and advanced to eight final rounds in 2006 and each finished in the top 10 in the final POWERade Series standings;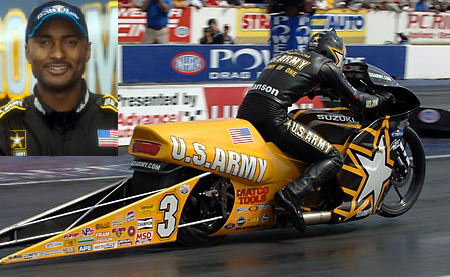 Antron Brown
-- African-American Pro Stock Motorcycle rider Antron Brown won twice, reached the final round at five of 15 events, and came within two round-wins of earning his first career POWERade Series world championship;
-- Asian-American crew chief Todd Okuhara tuned Jack Beckman's Funny Car to both ends of the national record (4.662 seconds, 333.66 mph) at the final race of the 2006 season, the Auto Club NHRA Finals. He also was in the winner's circle twice in 2006 (once each with Whit Bazemore and Beckman) with three runner-up finishes.
And if you investigate further, you'll find Top Fuel driver David Baca and Funny Car driver Frank Pedregon (Latinos) and Pro Stock Motorcycle riders Michael Phillips, Redell Harris and Peggy Llewellyn (African-American). And the face of diversity extends beyond the POWERade Series to include numerous competitors in the various sportsman series, which are the lifeblood of the National Hot Rod Association.
NHRA has built a reputation as an organization that is colorblind. If you can turn a wrench or turn a quarter-mile in 4.5 seconds, you'll have an equal shot to compete and there may be no better example than Todd. The pilot of the Torco Racing Fuels Top Fuel dragster began drag racing at 10 years old in NHRA's O'Reilly Auto Parts Junior Drag Racing League, worked his way up through the sportsman series, and currently drives in the NHRA's top professional series, the NHRA POWERade Series.
"It came down to whether I could do the job. It had nothing to do with race," Todd said. "That's the good thing about NHRA POWERade Series drag racing, it's a performance sport so … whoever's in the left or right lane, whether they're female or African-American or Latino or whatever, it doesn't matter. The different organizations are forming programs whereas NHRA has always been on top of that, going back 20 years."
The Urban Wheel Awards honor diversity and excellence in the automotive industry. The proceeds benefit the Edward Davis Education Foundation, providing scholarships, internships and mentoring to students pursuing a career in an automotive-related profession.
Headquartered in Glendora, Calif., NHRA is the primary sanctioning body for the sport of drag racing in the United States. It presents 23 national events through its NHRA POWERade Drag Racing Series. The NHRA has 80,000 members and 140 member tracks. The NHRA-sanctioned sportsman and bracket racing series provide competition opportunities for drivers of all levels. The NHRA develops the stars of tomorrow by offering the NHRA Lucas Oil Drag Racing Series, NHRA Xplod Sport Compact Racing Series, NHRA Summit Racing Series, NHRA Street Legal Program presented by AAA and the NHRA O'Reilly Auto Parts Jr. Drag Racing League for youths ages 8 to 17.